Goat Semen Will See You in Hell
Listen to the Peruvian black/death legends new LP, 'Ego Svm Satana.'
To the delight of all those who value piss-poor production values and bestial black/death riffs, Anal Vomit, Radioactive Vomit, Sabbatic Goat, and Goat Semen have all released or promised to release new records this year, and early listens to most cof them onfirm the obvious: they fucking rule. Sure, it's incredibly easy to poke fun at some of extreme metal's more OTT naming choices (Anal Blast, anyone?) and sure, sometimes they can go a little too far (still not down with Murder Rape) but just because a band's moniker may strike you as a tad absurd, that doesn't mean that their music isn't deadly serious. Case in point: Goat Semen, Peru's most legendary black/death metal cadre.
Led by Erick Neyra, the Lima quartet has been churning out sonically apocalyptic splits, demos, and EPs since 2000, laying dormant between 2007-2013. Finally, with help from new label Hells Headbangers, are preparing to release the band's first-ever full-length, Ego Svm Satana, which you can listen to in its entirety right here:

Noisey caught up with Erick over email to talk writing, South America's metal scene, and his thoughts on naming his band "Goat Semen."
Noisey: So, of course, the biggest question on peoples' minds is: why did it take so long to release this album?
Erick Neyla: The changes in the line up, the few time that we had available for rehearsing, and finally the time we took to have all compositions finished just the way I really enjoyed them before recording them. It took some years...it's quite odd how many years it took, but I think the album resulted the way we wanted it! Raw. brutal. and dark, yet with that corrosive South American violence...we firmly wanted to hold as warfare flag since we founded the band in 2000!
When did you actually start writing the songs for Ego Svm Satana—have you been working on it piece by piece over the years, or did you write everything recently?
I think the album started to be properly composed since 2009, when we had almost finished Ego Svm Satana riffs, and since then when Beleth took the guitars, and Necros joined the band is when we properly started to complete the composition of the songs included in the album, except for "Warfare Noise," "Madre Muerte," and "Holocausto," which were already completed before Hellfucker (second Goat Semen guitarist) joined the band. The final compositions and lyrical arrangements were finished during 2011 and 2012!
How does living in Lima affect your songwriting? From the outside looking in, it seems like a pretty stable place, but of course, every city has its dark side.
Lima is now a socially and politically steady city, though you have to live here to understand what we call steady; there is a kind of chaos and roughness that you have to go through if you have to walk out in the streets. But I think the songwriting home city inspirational aspect comes from what we lived in the 80s and the first half of 90s, when violence and blood were everyday images in newspapers and TV news. There was a lot of political confrontation and subversive violence in the streets. I think that this form of life is just understood by Colombia and Peru. Each city in South America has its own social problems, but I just mention what happened during those years here, and this was the birth place for some of the most brutal bands that came from Peru, like Hadez, or Mortuorio. Beside this, ancient Peru is something inspirational in the sense of their rituals, their gods, their links and understanding of the forces of nature and their worship and beliefs on those.
For this album, you worked with Arthur Rizk, who's also worked with Inquisition to achieve the same kind of clean yet still necro sound that we find on this album. What made you decide to work with an outside producer, and how did the experience affect the way you recorded this album?
I think Arthur appeared just in the right moment for the album mix and mastering process. He just one day sent me a message to the Goat Semen Facebook, and he mentioned he liked GS, and have worked with Inquisition. We had just started to make some preliminary mixes, but I think due to the fact that the equipment from the studio where we started to make the process was not the best at its 666% , I talked with Beleth and decided to send the files to the USA and work with Arthur. It took like five days to send all the tracks in files to Arthur, and a process of two months more or less to conclude the mix and mastering process. I will always be thankful with him to give such a help to Goat Semen, he did a great job and managed to capture the right atmosphere for the band but still kept the primitive violence the band had in its aura since the demo.
It seems like the scene in Lima is very close—Goat Semen shares members with Evil Damn, who shares members with Disinter, and so on—but the overall South American metal community is also incredibly strong and widespread. Are you in contact with other South American black/death bands? Who are some of the more interesting bands coming out of the region right now?
The Peruvian scene is not such close, but needs to learn more English to throw some more news about their bands out of the boundaries! Disinter is an old great death metal band, who released two demos in the 90s which are such classics here!! Their first demo Laments from the Castle of Sorrow is such a brutal classic for me! They disbanded in early 90s and I had been good friend with Nimer (guitarist of the band) and also I knew Mario Psicorragia who was playing bass for Evil Damn; he asked me if I was interested to sing for Evil Damn, where the guitarist were Ordep and Nimer (both ex-Disinter), I actually did not remember in which moment Mario mentioned this to me, as I was drinking in a bar when he told me this, but next day he phoned me again and made me remember. One week later we were rehearsing the songs, and one month later I invoked Satyricon for the drums in 2004 and this resulted in the brutal Lovecraftian death metal band Evil Damn. I am in contact with many different bands and maniacs from Argentina, Colombia, Brasil, Ecuador, Chile and Bolivia. The South American scene is growing stronger now. Check out Morbid Macabre (Col), Bode Preto (Bra), Nekromanteion (Bol), Infernal Curse (Arg), Force of Darkness (Chi), Morbid Slaughter, Evoked Terror, Grave Desecration, Two Face Sinner, and Morbosatan (Peru).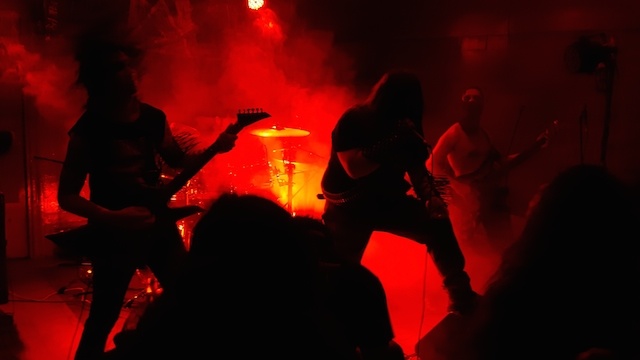 The "goat" theme has always been strong within your music, from song titles and lyrics to the band's own name. You even released a 4-way split with three other international "goat" bands—Goat Vengeance, Goat Messiah, and Goat Wrath. In pre-Inca times, ancient Peruvians worshipped snakes, and goats have served as religious sacrifices, food, and clothing for many other Peruvians. Where does your own goat worship come from?
I chose the Goat "entity" as part of the band's, let's say, ideology, based on the Goat of Eliphas Levi, due to its deep symbolism expressed through all its anatomy, and the horns which symbolism and shape is very linked to the male and active nature of creation. In ancient Peru there was a strong link with nature and its forces; these were worshipped and the major beasts of the Andean area were represented in anthropomorphous images in ancient cults; puma, condor, and the snake, being the lords of earth, air and water subliminally linked to the human being as ONE! This old cult has been subtly represented in the cover artwork of the album Ego Svm Satana too if you notice it. The Goats bands compilation, we participated in was because a German friend invited us and then we accepted gladly! I think there were just two releases of this nature up to what I know.
Now that fifteen years have gone by and you're making a greater push to get Goat Semen's music heard, do you have any regrets about naming the band...Goat Semen?
Even if I had to chose again the name for a band I had to form this next month, Goat would be the first name to give birth to the beast again! I have never regret on naming the band Goat Semen, I still think it fits perfectly for the purposes of this. Thanks for the int erviewand support given. Hail the Goat! See you in hell!
'Ego Svm Satana' came out 2/24 via Hells Headbangers.
Kim Kelly is hailing goats on Twitter - @grimkim