Skaters Return with "Mental Case" and a Brilliant New Video Starring Alia Shawkat
The NYC band make a triumphant return with this awesome new tune and yeah, you know Shawkat—it's Maeby Fünke from 'Arrested Development' / Alana's doppelgänger in 'Broad City.'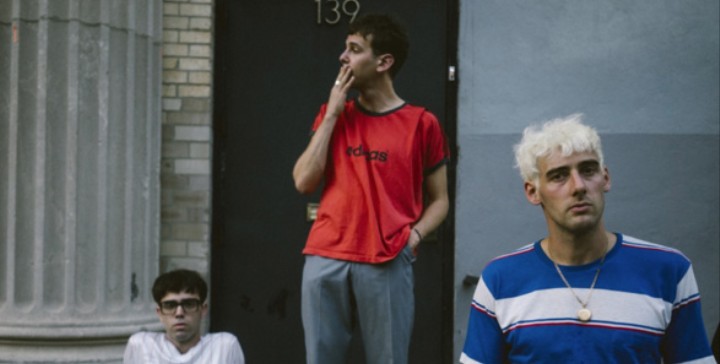 Schwing! Skaters are back, back, back. The NYC-based band released one of our favorite records of 2014—Manhattan—the key to its appeal being a killer combo of bratty swagger, punk snarl, and a hooky pop sensibility. Listen to songs like "Schemers" and "Miss Teen Massachusetts" for evidence. Since their debut dropped at the top of last year the band have traipsed all over the States and beyond, but a change is a-coming. Free from the strictures of a major label deal, the band are riding the crest of an incredibly prolific period, writing and recording some 50-odd songs, and "Mental Case," the video for which is premiering below, is the first taster of what's to come. ("Save Her Something Special" was a teaser tune which dropped a couple months back.)
"We just got off of Warner Bros. Records and are back to releasing music independently," explains singer Michael Cummings. "While the label money was nice it's nice to have freedom again to do whatever we want when we want to do it. We made this video in four hours for like $100 with our friends and I think it's the best one we've made yet. Enjoy."
You'll recognize the star of the video—Alia Shawkat—as Maeby in Arrested Development / Alana's doppelgänger in Broad City. Decked out in a sweet 70s blouse she strolls the streets of Greenpoint, Brooklyn, and comes face to face with an onslaught of couples in love and making out. So. Much. PDA. Ugh. Why does that always seem to happen right when your own love life is going anything but according to plan?
As for the tune itself, its sweetly melancholic—all echoed beats and wistful piano chords. It's a love letter of a pop song, an ever so pursuasive sonic missive trying to convince someone to take a leap of faith because there are no guarantees, right? Don't be a pussy: take a chance.
Directed by Giuseppe Furcolo with cinematographer Danilo Parra (who directed the "Miss Teen Mass." video)
Skaters play the Knitting Factory in Brooklyn on 11.19.