Stream the Vicious Blackened Hardcore Debut from Slaves BC, Nice Metal Twitter's Favorite Band
Their Twitter game is strong, but their furious blend of black metal, sludgy doom, and hardcore is even stronger.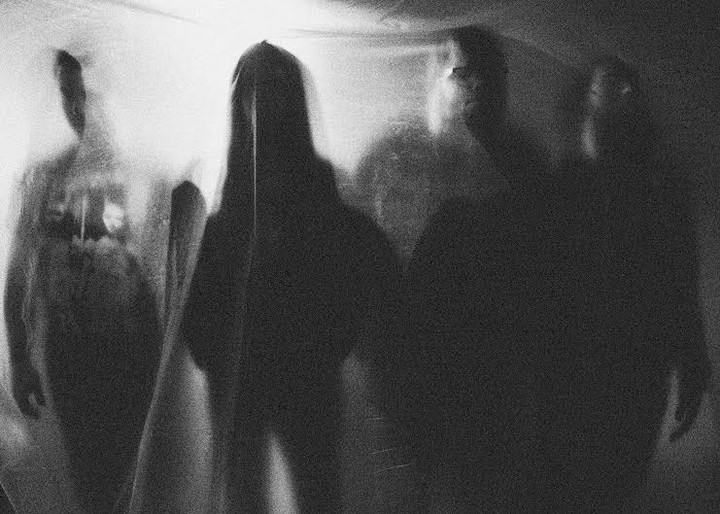 Slaves BC is a picture-perfect example of a band that knows how to use social media to its advantage without seeing slimy or desperate. They first landed on my radar a few years back after I met a few of the guys at a show in Pittsburgh, and have remained one of my favorite Rust Belt DIY heavyweights. The band also built up a nice following online while they wrote and recorded what would become their debut album by actively engaging with both fans and writers, and forming actual relationships instead of just spamming our timelines with Youtube links or memes. There's a reason so many Slaves BC albums were gifted during the first few days of the #MetalBandcampGiftClub movement—they're a sick band in and of themselves, but the people involved in that particular corner of the metal internet obviously wanted to give something back, and show the band their appreciation (and thanks to that outpouring of online support, the band was able to order new T-shirt designs for their upcoming support tour —talk about a win-win).
Suffice it to say, their Twitter game is extremely strong, and that may sound like a silly thing for an extreme metal band to care about, but it's incredibly helpful for smaller bands who are operating without the advantage of a well-known label or PR company. As a writer, I'll be honest: if you're nice to me (even when you don't want something), and understand the kind of music I cover, and then eventually, politely, ask me to check out your album, I will do so—and I know that many, many other music writers feel the same.
Twitter can be a wretched, heartless place, so when you stumble across a band who make excellent music and are also pleasant to chat with
when you're bored at work, you're going to remember them.
However, that sort of social media finesse only goes so far. There are no guarantees in this business; you can be the sweetest band in the world, but if your record sucks, all the faves and RTs in the world won't save you. Luckily, Slaves BC fucking rules. All is Dust and I am Nothing is a concept album centered on the book of Ecclesiastes, which is appropriately bleak subject matter for the band's vicious, doom-infected blackened hardcore. Their tempos range from a blistering, blasting sprint to a hyper-distorted Cro-Magnon stomp, alternately cramming in black metal's intensity, hardcore ferocity, and sludgy doom's lumbering gait (or sometimes all three). As much as I appreciate the breakneck parts, I daresay that Slaves BC find their strongest footing when they hammer down tense, simmering riffs in a torturous slow-to-mid-tempo (see "There Is Nothing for Me Here" if you never want to feel happiness again). All is Dust and I am Nothing is an impressive warning shot fired into a crowd of lazy genre-mashers; Slaves BC show that they are deadly serious about their craft and their career, and you'd do well not to get in their way.
Veritas Vinyl is running preorders for All is Dust and I am Nothing now, and the official release/ship date is February 16. God has turned his back on us.

Kim Kelly is on Twitter, obviously.