Introducing Sibling Trio James Davis and Their Video for "Co-Pilot"
These three LA siblings will have you hooked 24 seconds in.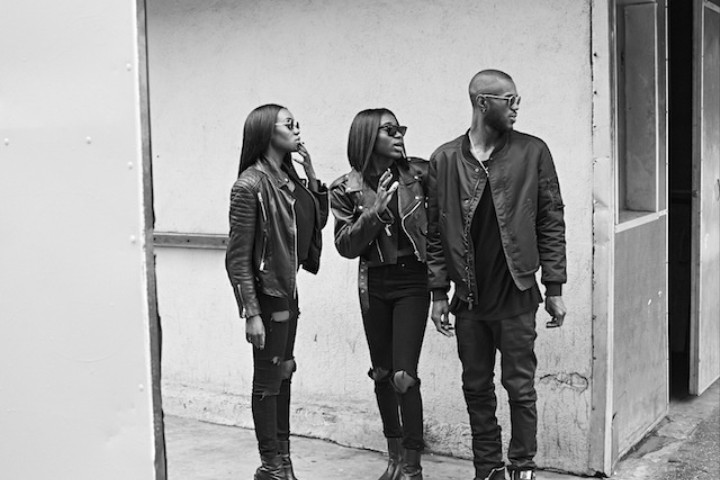 James Davis: Jess, Rey and Auston.
It hits 24 seconds in, when Jess sings: "Come on and get high with me / Oh baby we don't need no weed…" Attention is snagged, this sounds so good, rich and special like an old vinyl crackling to life, so duskily gorgeous you imagine it's a sample, but this is a hook penned by LA-based fraternal twins Jess and Rey and their brother Auston Reynolds. Do you miss Frank Ocean? Well this will make your heart ache like "Thinkin' Bout You." This debut single is heart-on-its-sleeve simple in sentiment—as Auston explains, it's about being high on love: "Being with that someone who makes you forget all about your stress, worries and cares. She's that special."
But who are these Motown-signed siblings who are hiding behind a male solo artist's moniker? Read our interview below and find out.
Noisey: Jess this isn't your first time working professionally in music. What were your experiences in the industry before James Davis came to being? How have those experiences informed the music you make and your choices moving forward?
Jess: I was signed at 15 and put in artist development which helped my work ethic. Working with Harold Lilly [a songwriter who's written with Beyoncé, Alicia Keys, and more] was a part of my artist development. He taught me the history behind soul music and helped develop my sound and style of performing probably without realizing. My twin and brother had a close view into what went on during that time and we all learned that politics are everywhere and business comes before relationships—which was hard to learn as a kid, but understood completely as an adult. My former record deal is what caused us to look out for an even clearer deal when we were offered our deal as James Davis. Being signed at 15 was a blessing and a lesson. True shit.
What was the first formative musical experience you guys shared?
Jess: I remember being in rehearsal with my twin years back when we were the only two in our band, our brother was there just to hang out, Rey and I couldn't stop bickering with each other and my brother just got in front of the mic and started humming a melody he had in his head. I stopped yelling at Rey and started harmonizing with Auston then Rey grabbed her guitar and found the perfect chords and I got on the tom and kept the beat. We stared at each other while we sang for what felt like hours. I had chills all over me. I knew then we had something that could cause a person to feel something.
What do you each bring to the table, not necessarily musically, but more temperament-wise, that makes you guys work as a trio?
Jess: I believe my brother gives genuine mystique to our trio personality wise because he's quiet, observant and content with himself—at least this is my take on him. The way I see my twin is as the responsible one, but in a boss type of way because she's on our shit and extremely efficient. I'd have to let my twin or brother tell you what I bring to our trio.
Rey: Jess brings her focus of excellence which makes us strive to be great in all things.
Motown has such a rich history. How does it feel to be part of their legacy and are there any Motown artists who have been particularly inspirational?
Rey: What's crazy is I was mentored by Leon Ware who is responsible for writing several hits for Motown artists back in the day, so when I found out we were being offered a deal from Motown I was thrilled to be a part of such a legacy.
I understand that James Davis is a family name but what's the story behind?
Rey: The name derives from both our mother and father; James is the middle name of all the men on our father's side including Auston. Davis is our mother's maiden name. I think the name best describes who we are and where we come from, the experiences from both our parents negative or positive shaped us as a family and as a band.
Did the fact that you guys moved around LA a lot as kids mean became an even tighter-knit unit?
Rey: I believe when you surroundings aren't constant you have to be. There wasn't another option for us. Our mother is our foundation and I believe that she's the sole reason we are who we are today. Through our life and through various seasons she's kept us whole. Whether it was a move or a loss her faith and belief she instilled in us kept us whole.
You still live together now—what drives you crazy about each other?
Rey: I think what we all battle with is privacy. It's not really something we successfully exercise. I mean we try to give each other space, but we're always under each other so the point is moot. Which I guess is a plus creatively because we know each other really well and it allows us to pull from each other's perspectives and personal experiences.
Who are your co-pilot's in life?
Auston: My mom Yolanda, Jess, and Rey. I think Rey is a natural caretaker. She has done everything an older sister can do and more. I've always joked and said she was our second mother, but that's real. I love them all man. I'm truly blessed. And one other special lady. I didn't even realize it until my sister pointed it out—that this girl inspired me, haha, and still does, man.

Kim Taylor Bennett is an editor at Noisey and she's on Twitter.