Style Rider: Elle King Buys Black High-Waisted Jeans In Bulk
This bluesy siren's packing black leather, black eyeliner, and a damn good hairbrush.

Photo by Shane McCauley

Elle King—who more or less epitomizes the phrase "blonde bombshell"—picked up the guitar when she was just thirteen, and she hasn't put it down since. During high school, she left her hometown in Ohio behind and moved to New York City, where she spent her teen years gigging around town. From there, you can guess how the story goes: She began catching the attention of label heads, and it wasn't long before she snagged a record deal.
Her sound is a bluesy, soulful kind of pop that you don't hear enough of these days. It's apparent from her latest single, "Ex's & Oh's," that she's equally influenced by the Yeah Yeah Yeahs and Etta James as Johnny Cash and AC/DC. Similarly old-school is her personal style: typically decked out in high-waisted jeans, slick moto jackets, loads of tattoos, and a platinum blonde coif, her style is a little Debbie Harry, a little Stevie Nicks, and a whole lot of 70s pinup girl.
Her debut album, the wonderfully-titled Love Stuff, comes out February 17th, so we stole a few minutes with her to find out what she'll be bringing along when she hits the road. Be sure to catch her when she swings through your town, because you haven't lived until you've seen her country take on the Khia's classic "My Neck My Back."
Oh, and bonus: There's always a chance her dad, SNL alum Rob Schneider, will be in the audience.
Photos courtesy of Elle King.
LEATHER JACKET
"Whether it's my favorite worn-in black moto jacket, or my ever-growing fantastic fringe collection, I always have at least one or two leather jackets with me at all times—in my everyday life and on tour."
LIQUID EYELINER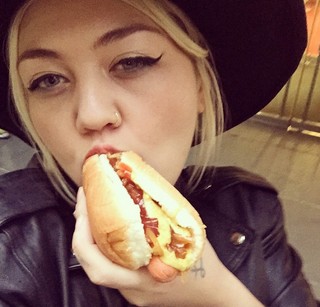 "I feel completely naked without my cat eyes. They have become such a part of me, and while I also think natural beauty is something to behold, I prefer the wild and dramatic."
GO-TO LEATHER BOOTS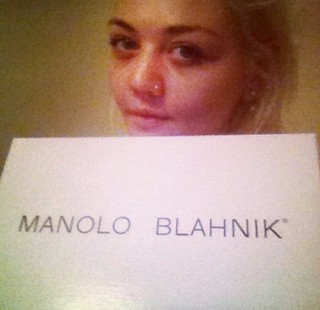 "As I get older, I am coming to terms with the fact that I will probably not get any taller. With that being said, I wear a good three-inch heel every day. Finding the perfect boot is not an easy feat! But when you find it, you just know."
BLACK HIGH-WAISTED JEANS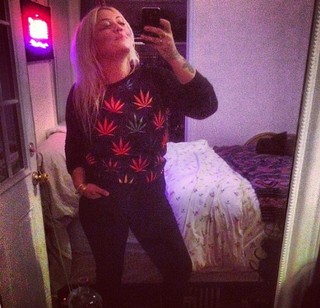 "I bought my first pair of black BDG high wasted pants a few years ago. I literally wore them every day. They were so comfortable and easy. Every girl I know has at least one or two pairs. I have over thirty. I don't know why. It's like I buy them in bulk!"
MASON PEARSON HAIRBRUSH
"My sweet mama got me one for Christmas. At the time I couldn't really understand why a hairbrush was over one hundred bucks, until I saw the magic that those bristles work!"
Casey Lewis does this every week. She's on Twitter - @caseymlewis.