Ten Albums We Think Harry Connick Jr. Would Like if Anyone Has His Email Address
We don't know Harry Connick Jr. personally so if anyone could pass along these recommendations to him, we'd appreciate it!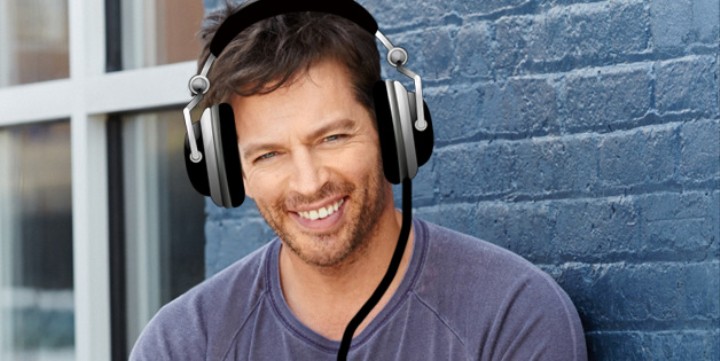 (Arist rendering of Harry Connick Jr. enjoying music)
Harry Connick Jr. seems like a nice guy. We don't know him personally but any time we see him on TV he's always smiling. That's awesome. We bet he's a cool person to talk about music with. Sometimes we come across new music and we think, "You know who would dig this? Harry Connick Jr." He's a pretty big star, though, so we don't have any contact info for him. But Noisey has a pretty big audience so we figure somebody's gotta have a line to Harry. So if anyone reading this knows how to get in touch with actor and musician Harry Connick Jr., like an email address or whatever, could you do us a solid and pass these along to him? Thanks! Much appreciated.
Craig Finn – Faith in the Future
Not sure if Harry is much of a Hold Steady fan, but he could probably dig frontman Craig Finn's solo album even without having heard Boys and Girls in America. We're hoping Harry gets the chance to take some him time every so often, just to get away from the grind of being a successful recording artist and actor. This is the perfect album for him to listen to on a long drive around his home town of New Orleans, Louisiana, with the wind whipping through his chestnut hair and the sun shining on his rugged stubble. If you're friends with Harry on Facebook, maybe send him an IM about it if you're comfortable with that?
Big Ups – Before a Million Universes
This album was just reviewed on The Needle Drop. Not sure if Harry is a big Anthony Fantano fan. We don't follow him closely, honestly, but he makes some decent points once in awhile. Anyway, Big Ups are from Brooklyn. Not sure how often Harry gets a chance to make it out to the Big Apple, but they're a pretty buzzy band here. If you talk to Harry, can you mention to him that if he's in town, we'd love to take him out to a Big Ups show? They play at Shea Stadium pretty regularly and we usually have an extra guest list spot. So, tell him we've got him covered if he wants to check it out. There's also a pretty good place near there called M Noodle if he feels like grabbing a bite after. No pressure.
Wilco – Star Wars
Harry seems like a pretty mellow guy, so chances are he's into Wilco already. But most people don't follow that band super closely, and, with his steady touring schedule, it's not hard to imagine that Harry missed this surprise release from the Chicago folk-rockers last year. With winsome songs like "Random Name Generator" and the more plaintive "You Satellite," Star Wars is an album that hits the laid back but grooving sweet spot any Wilco fan can appreciate. It seems like a good one for Harry to play on his Bose sound system (or whatever he has) while he's drinking his Sunday morning coffee. Anyway, we'd be happy to send him a pic of the cover and some thoughts about our favorite songs if anyone can put us in touch.
Ducktails – St. Catherine
We guess maybe it's 'cause he was in that movie Dolphin Tale, but whenever we hear the band Ducktails, we think of Harry Connick Jr. Honestly, it may be a bit too trendy for his liking, as he's got more of a timeless taste. But we bet he'd still get a kick out of the name. If you know Harry, tell him about the name and see what he thinks.
The 1975 – I Like It When You Sleep, for You Are So Beautiful Yet So Unaware of It
The 1980s were probably such a fun time for Harry Connick Jr. He was in his twenties, he made the soundtrack for When Harry Met Sally, and there's no doubt he was crushing the New York City nightlife. We've got to think he would appreciate the 80s nostalgia pop-rock of The 1975, especially if he's, like, cleaning his room out and stumbles across a box of old photos from back in the day. He was such a fox then, and he just keeps getting more handsome as he ages! If you know Harry, ask him if he's excited about the 80s coming back and see if he thinks this album is totally radical. Ha ha, just a little 80s slang for him.
Young Greatness – I Tried to Tell Em
OK, this one's probably pretty far outside of Harry's comfort zone, but Mr. Connick Jr. has always been an ardent supporter of the culture in his home city of New Orleans, and right now Young Greatness is one of the hottest new NOLA talents. Harry probably doesn't party as much now that he has kids, but, honestly, we bet he would enjoy getting "turnt" to songs like the hit "Moolah" if you got a couple of SoCo limes in him. If you have his email address, maybe we can pass him a link or something? Might be his thing.
Donovan Wolfington – How to Treat the Ones You Love
Speaking of New Orleans, this album was recorded on the outskirts of the city, the place that inspired the first season of True Detective. Not sure if Harry has had a chance to watch that show, but HBO is pretty pricey so we'd understand if he hasn't. (The first season was good but then the second season was kind of a miss.) Anyway, this is a cool little rock record. A little shoegazey at times, sort of like, grunge-punk, we guess? We don't wanna sway Harry too much. If you know him, or know someone who knows him, tell him to give it a listen and see what he thinks.
Miguel – wildheart
Now this one's a no-brainer! Harry definitely has a sexy side, and this record screams sexy. We can imagine Harry and his wife, Victoria's Secret model Jill Goodacre, putting this one on and really heating up the bedroom. Can't you just see Harry doing a great striptease to "n.w.a."? We can! "Coffee" has the perfect vibe to put the couple in "the mood," and "waves" is great for once the couple really starts getting it on and hitting their rhythm. We get it if it's kind of awkward to bring up the lovemaking stuff to Harry yourself, but if you think he'd be cool with us texting him about it or whatever we'd definitely be down to do that.
Esperanza Spalding – Emily's D+Evolution
As a former star on the New York City jazz circuit who crossed over to a broader audience, Harry might see a little of himself in Esperanza Spalding's excellent new album, which takes a turn from her jazz roots into more experimental rock. After all, Harry's pretty excellent himself ;) Anyway, this one would be perfect listening for a fun night in, cooking up some of his famous local delicacies like crawfish and po-boys with some old friends. It's not hard to imagine Harry, Jill, and a few pals kicking back around the fireplace later with a few bottles of wine and unspooling memories while this plays in the background. We'd absolutely burn him a CD and mail it (and maybe even pop in for the party JK) if anyone has his address.

Chris Farren – Like a Gift from God or Whatever
Harry Connick Jr.'s got a few Christmas albums under his belt. We bet December 25 is a fun day at the Connick Jr. household. Harry probably sits around the Christmas tree in the morning with his three daughters, Georgia Tatum, Sarah Tate, and Charlotte, and hands out some great gifts that he shopped for and wrapped himself. Never too much of a star to do the dad stuff, you know? Then he probably plays a couple of holiday classics on the living room piano while the rest of the family makes breakfast and hot cocoa. Chris Farren's album is composed entirely of original Christmas songs, which is a rare thing. If you happen to get invited to Harry's holiday party this year, would you mind bringing him a copy? We're buds with Chris and we're sure he'd get a kick out of the idea of Harry hearing his record. We'd owe you one, thanks!
Harry Connick Jr. can get in touch with Dan Ozzi and Kyle Kramer on Twitter if anyone wants to mention this to him.