Gavin Turek's Video for "Don't Fight It" Will Make You Want to Road Trip Into the Sunset
It was inspired by 'Wet Hot American Summer,' 'Foxes' and 'Dazed and Confused.'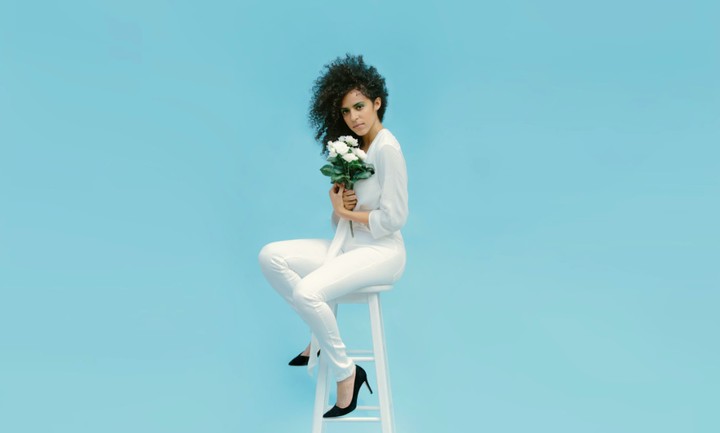 Here's some stuff you should know about Gavin Turek:
1. Gavin is a girl and her curls are drool-worthy.
2. When she's not make disco groovy, bass-funked pop, she's a sometime dancer / model / actress. As the LA-based multi-hyphenate puts it: "I am one spunky lady and no one-trick pony."
3. Her video "Don't Fight It" will make you want to grab your besties, your crush, and book an Air B&B, and get the fuck outta here. Conceived by Franki Chan who also released the single through his IHC 1NFINITY imprint (and the man who brought us Chela's "Handful of Gold"), this video is very Wet Hot American Summer. Which was, along with Foxes, and Dazed and Confused, a very direct inspiration.
"We really wanted to capture the playfulness of the song with a delightfully innocent storyline," explains Turek. "I love that all of the IHC 1NFINITY videos are immensely different but connect in some way and "Don't Fight It" is no exception. We had so much fun making the video and I think it shows. Plus the lead guy is hot, which made my job real easy. Haha."
Franki Chan had this to add: "For this video it was important to me to capture Gavin's personality and essence. She encapsulates all of my favorite elements of the pop stars I loved growing up (Paula Abdul, Janet Jackson, early Mariah Carey), but I felt like a lot of the pop innocence of those early MTV videos is missing in what comes out today with more of a focus on sexiness or shock, so the goal was to make a G Rated video that was still entertaining and let Gavin shine as the star she is.
"This is also the third video in the IHC 1NFINITY series (beginning with Chela and Pictureplane). All of our videos are connected and live in the same world, so while we need to continue some aspects, we also need to make sure we put a spotlight on who the artist is. Pictureplane's video for "Hyper Real" was dark and horrific. We knew Gavin's video needed to be light and fun, but we needed to connect them. So we pick up a few months after "Hyper Real" with Alex (the female lead) from that one joining Gavin on a camping trip. There are some nods to that previous video and more, which hopefully add to the fun if you watch them all!
Check out Turek's contribution to the trilogy below!