Introducing Genevieve and Her Pop Banger of a Debut: "Colors"
The former Company of Thieves singer strikes out on her own—it's daunting but she's doing it.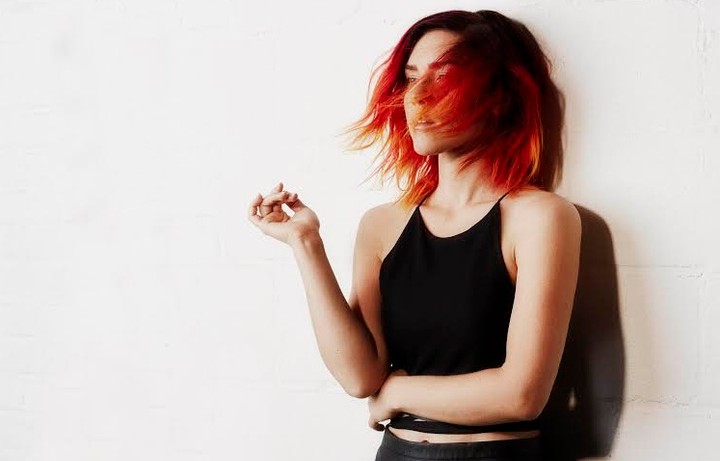 There's been a lot of great, glittery alt-pop floating around lately, with the likes of Sia and Tove Lo conquering the US airwaves and even garnering a few Grammy nods. These artists are creating music that follows traditional pop sequences, solidified with absorbingly catchy and uplifting choruses, while still remaining somewhat rough around the edges. Sound like something you've heard while "walking past" Hot Topic? Well these girls are far from Avril Lavigne wannabes.
Enter LA-based singer Genevieve (formerly of Company of Thieves who disbanded earlier this year) slots neatly in this space with her first single, "Colors," premiering above. With its abundance of vocal layers and a wildly energetic chorus, this song is a gleeful, unabashed pop stomp, while lyrically Genevieve guides listeners through themes of self-worth and you-do-you—which is of course, all too fitting for a girl taking a stab at solo stardom. We talked to Genevieve about "Colors," competition, and walking through drug deals in LA.
Noisey: The song and your EP title are both about colors. Can you elaborate on this theme?
Genevieve: So I was going through a really difficult transition away from my band into my new endeavor as a solo artist, and I was realizing how scary it is to be seen and be heard, especially when you are the only one who is able to represent yourself. I just feel like we live in a world that is in a time where people are very quick to judge and analyze and then post it on the internet for everyone to see. Sometimes it can be really difficult to overcome the fear of expressing your truth, or expressing your unique feelings, and your colors. So I wanted to write a song about showing your colors and celebrating who you are and what you're going through and owning it, because I think it's kind of a big deal. I'm also clairvoyant, so I actually just feel really connected to color and imagery.
One of the lyrics is "It's all been sung before and you've all heard it." Did you struggle with inspiration during songwriting?
I am always inspired to create. The thing that I'm confronted with all the time is the fear of sharing it. So that line is really about that feeling, that whole process I go through, where it's like, "Great! I have all these feelings and these ideas and these words and these melodies." And then it's like, "Who am I to have feelings? Who am I to have words and melodies to share?" It can be arresting sometimes to consider the reaction or the potential backlash. So that line is sort of just me saying, "Yeah, OK, I make music and I want to sing it to you." I moved to Los Angeles and I'm recording my new, solo record and this is a scene that has been explored. But does that make it any more invalid?
There are so many people who make music. I remember when I was younger and I stepped out of my band's van in the middle of SXSW for the first time, it was so overwhelming because it felt like everywhere I turned, there were just thousands and thousands of bands. It was like all bands go to heaven… at South by Southwest! And here you are. I was like, "Oh my gosh, everybody does this." So it's that. It's just confronting the reality that everybody does this, or at least a lot of people do it. So does that make it invalid? Does that mean that I shouldn't do it?
Did you ever feel deterred from going solo due to all of this competition?
Oh, I mean all the time. I'm constantly checking in with myself and asking myself, "OK Genevieve. Who are you? What's your deal? What're you doing here?" To be honest, I've always done this. My whole life, this is what I've been doing. So I think this is a big mockup for me as a being. When I say that, I just mean I know that I'm supposed to do this or something. Because I can't stop! This is what I do.
What was the transition from Chicago to LA like?
I fell in love with Los Angeles a couple years ago when I stayed in a cottage in the Hollywood Hills while I was recording the last album with my band. I woke up really early to go running through the hills. I'd get up really high and just see a beautiful, vast perspective of the city all the time, and I loved this accessibility that's so unique. You can be in Griffith Park, for example, where there are dirt paths, mounds and trees all around you, and then it almost effortlessly transforms into the city, into an urban setting. I just love that you can be standing in the middle of both of those things at all times.
Transitioning away from my band, I worked at a restaurant in downtown Chicago for a year and saved up as much as I could. I basically just took my entire savings and packed up my apartment and made the drive out. It was really exciting, and terrifying. When I first got here, I moved into a studio apartment in central Hollywood that was so small, and basically run by a drug lord. It was very difficult to enter my building during any time of day or night without walking in the middle of some sort of transaction… every day, I was just grinding. Then I would come back to my little shoebox apartment and walk through the middle of a drug deal. It was really intense right away.
What kind of person do you envision connecting to your music?
I would like everyone and anyone to find something about it that they can relate to. I think the bridge, to me, lyrically, is sort of what the entire song is about. It's like, "Whether you're a girl, a boy, or another / Whether you're a player, a lover or a hater / Life is your design." I guess it really is anyone who has feeling. Anyone who enjoys the power to self-identify.
You worked with a ton of different producers on your upcoming EP. How was this different for you as a solo artist?
I've never had the experience before that I had this time around of working with a handful of different songwriters and producers. Most of the songwriters that I work with ended up producing the song, which is really strange and new and exciting to me.
It was cool to be able to arrive to each session and be in present time so that I could write with that person about something I was experiencing. Every session, it was like, "Let's figure out how to sonically represent what you're feeling, and what you're going through. So let's figure out which instruments and which sounds you like that will sort of represent certain textures of emotions, or of situations… I took each song as an opportunity to create its own sonic landscape with. I didn't show up with a specific sound or band that played in a certain style or genre. It was really kind of open. It was like, "Oh my gosh, we have all the options in the world. What're we gonna do?"
Genevieve Tour Dates:
2/4 – New York, NY – Rockwood Music Hall
2/5 – Albany, NY – The Hollow
2/6 – Philadelphia, PA – Milkboy
2/7 – Boston, MA – TT the Bears
2/9 – Washington DC – Jammin Java
– Raleigh, NC – Kings Barcade
– Charlotte, NC – Evening Muse
– Jacksonville, FL - Jack Rabbits
12/16 - Los Angeles, CA - Hotel Cafe
– Columbus OH – Rumba
– Indianapolis – Hi Fi

Mathias Rosenzweig is on Twitter. Follow him!