I Talked to the Shining About the Other Band Called the Shining and the Movie Called 'The Shining'
Plus I got a stream of their new record, 'One One One,' and in exchange, I talked to vocalist, saxophonist, and guitarist Jorgen Munkeby about the origins of the band name, Marilyn Manson, and his confrontation with the frontman of a suicidal black metal
Some extreme music bands don't just push the boundaries of speed or volume, they open up new paths of expression. For more than a decade, Norwegian iconoclasts the Shining have been building a loyal eclectic following, first through avant-jazz and jagged, freeform rock, and later with more concise, blunt and explosive cluster bombs of metal, industrial and prog.
In 2010, the Shining hit their creative stride with their fifth record, Blackjazz, a corrosive and creative hybrid of industrial vocals and beats, jazz signatures and black metal aesthetics comparable to sitting inside a high rise while wrecking balls crash through the windows and walls at random angles. The album was praised for its ability to simultaneously induce claustrophobia, nausea and vertigo and probably placed in enveloped by the CIA and sent to Guantanamo Bay for "loud volume testing."
For the follow-up to Blackjazz the Shining took all the elements that make them great–-serrated guitar, battering drums, larynx-tearing vocals, braying saxophone, and skewed propulsive rhythms–-and distilled them into more concise, confrontational songs that are cleaner and less improvisational than most of Blackjazz without losing any of the wet-thumb-in-the-socket electrocution effect. The album is called One One One and it's streaming in full below.
In exchange for a free MP3 of the record, I talked to vocalist, saxophonist, and guitarist Jorgen Munkeby about the origins of the band name, Marilyn Manson, and his confrontation with the frontman of a suicidal black metal band from Sweden (also called the Shining).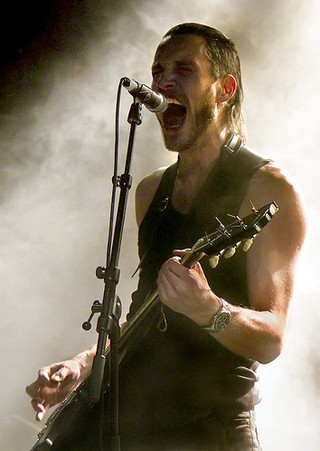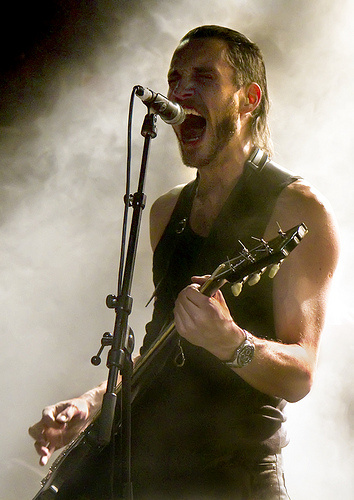 Jorgen Munkeby.
Noisey: My first question is sort of dumb. Did you name yourself after the movie?
Yes, but that was back in 1999 and we were a jazz group back then. We didn't play metal. As with most groups, we chose the name because it was the one we disliked the least. Another name we were considering was the Timekeepers, because you have to keep time when you're playing jazz music. I'm so glad we chose the Shining instead. Also, in the movie the Shining, they talk about people who have a "shine," being able to tap into psychic energies. I like to think that we can do that when we play music, especially when we improvise. You have to be on the same wavelength and that requires a certain kind of a chemistry that's almost psychic.
What was your favorite scene in the Shining?
I love the part where Jack Nicholson is sitting behind his typewriter trying to write. He tells Shelley Duvall, "when you hear me typing, don't disturb me." And then he kind of gives up and says, "Even if I'm not typing--when I'm here, I'm working, and if you interrupt me then I'll have to start all over again getting into the groove." That resonates with how I feel when I work even though I try not to get so upset.
How did you want One One One to be different than Blackjazz?
About six months after we finished Blackjazz, I felt like we had stumbled upon something that was very unique. It felt like coming home again after playing jazz for a long time. Then when it was time to make a new studio album, I wanted to distill the whole idea of Blackjazz into something more concrete with shorter, more direct songs. The two songs I was personally most happy with from Blackjazz were "The Madness and the Damage Done," and "Fisheye," the first two songs. They served as starting points, and have a more familiar song structure than the rest of the album. I wanted to see if I could make a whole album like that.
Why did you call the album One One One? Is a reference to how binary codes are made up entirely of ones and twos?
No, it was derived from the idea of making a series of great songs, a series of ones.
Do you strive to climb to the top of the pop charts?
Yes, and if that doesn't happen we'll say the whole album was a flop. We want number one hits and money and bitches [laughs]. No, of course not, but the album has less transitional passages and it's more about getting right to the point of the songs.
In the three years that have passed since Blackjazz I feel older. One song is called "My Dying Drive." It's about feeling feel like your youthful, energetic drive is about to die and being afraid people will see that. But then you discover that maybe you gain something else by getting a little older. Blackjazz was very, very aggressive. One One One is aggressive too, but a little less so. And there are lyrical ideas about growing up and taming your aggression. Throughout my life, I've always stayed away from conflicts and negativity. I don't get sucked into arguments with people and I don't let myself get provoked. Most of the lyrics are about non-aggressive stuff. So much aggressive music is negative. I didn't want to be like that.
Speaking about negative, do you ever get confused with the suicidal black metal band from Sweden that's also called the Shining? And has that caused any bad blood between the two bands?
Their guitarist Niklas Kvarforth lived in Oslo, where I lived a few years ago and I met him a few times. We both feel that there's nothing much we can do about having the same name. We're both trying to make the best music we can and we're both fine with just knowing that. Nobody's taking anybody to court. We're not changing out name to the Shining BC or anything.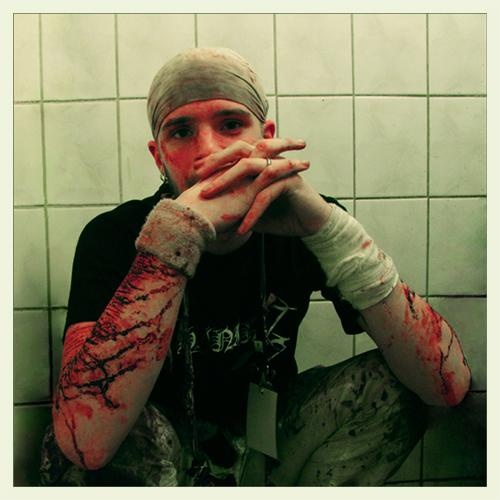 Niklas Kvarforth, from the suicidal Swedish metal band Shining.
Niklas has cut himself onstage and handed razor blades to the crowd. He didn't try to stab you to death when you met?
No. He did have a huge walking stick with a knife in it but he didn't stab anyone. He loves our music and he came to our show. It's strange. The world is not getting bigger or smaller, but due to the internet everyone can get information easily so we're competing with the movie version of the Shining for Google hits. And we're also competing with the Swedish Shining. But it might have ultimately led to some people accidentally discovering new music. And seeing a suicidal black metal band like the Swedish Shining makes me even more conscious about how I want our music and ourselves to be perceived.
You have a song called "Blackjazz Rebels." What are they, people who only like white jazz like Kenny G?
[laughs] It's kind of a tongue in cheek thing. It's a bit pretentious. I wanted it to be an anthem for us, for our music and people like me. Katy Perry has her Kitty Cats and Lady Gaga has her Little Monsters. The Shining has Blackjazz Rebels. But it's not negative. There's a line, "One, two, three, four, five, six, seven, eight/ Smile at hate/ Laugh at fate." I think that's a good message. I don't want to let people provoke me or tell me what I will not be able to do. I have managed to do a lot of stuff people told me I could never do. What I love about the US is the culture encourages people to follow their dreams and believe they can achieve something. Norway is kind of the opposite. There's a tendency in our culture to put people in their place. The attitude is that people shouldn't think they can fulfill their dreams or achieve anything.
What was your first exposure to industrial music?
I heard Psalm 69 by Ministry when it first came out and I thought it was really cool. But I didn't know who Nine Inch Nails was at that time and I didn't listen to any other industrial either. I spent the next ten years playing jazz music and some contemporary classical. Then in 2007 I started rediscovering metal. I listened to my old stuff, Death and Emperor, and then I started discovering newer stuff like Marilyn Manson and Nine Inch Nails. I also found Ministry's live album In Case You Didn't Feel Like Showing Up, and that's when industrial music became important to me.
Have you met any of your industrial heroes?
Our producer Sean Beaven, who has worked with us since Blackjazz, also works with Marilyn Manson. Sean took me to Marilyn Manson's birthday party in Hollywood. It was in a nightclub and Johnny Depp was there and too many celebrities. The place was packed and there were huge champagne bottles. I didn't get to meet Marilyn, but that was okay.
Did you have too much absinthe and leave your body?
No, I had one tequila. I don't like to leave my body. I like it the way it is.
Jon Wiederhorn is the co-author of the book "Louder Than Hell: the Definitive Oral History of Metal," which comes out May 14 on !t Books/Harper Collins. It features tons of revealing quotes from members of Slayer and hundreds of other metal bands.
You can follow him on Twitter - @LouderThanHell