Tony Molina May Be A Sensitive Guy, but He Still Wants To Beat You Down
Hardcore through and through, yet he still created a perfect power pop LP.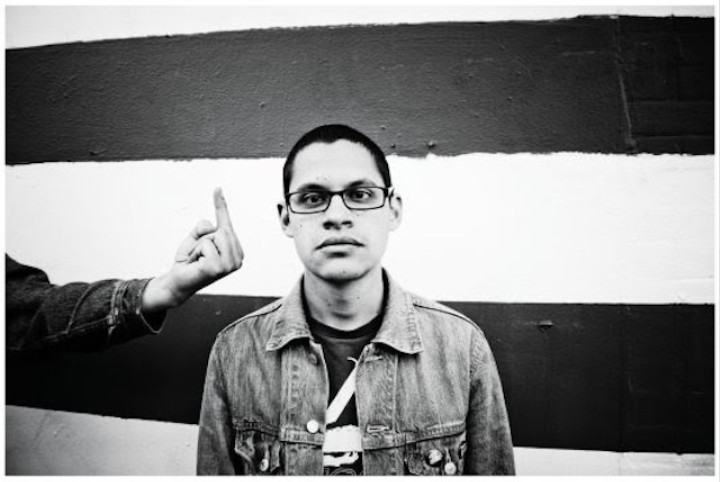 Dissed & Dismissed is perfect. Clocking in at a slim twelve minutes and mixing influences that range from Dinosaur Jr to Teenage Fanclub to Guided by Voices to Thin Lizzy, Tony Molina's debut LP manages to mix in hummable slacker melodies with thundering riffs. Much like Ovens, his former project, Dissed & Dismissed is power pop at it's finest, and one of two solo albums due this year. Get ready.
That said, Tony Molina, like many good artists, is not content with a single medium for expression; he's also a member of several hardcore outfits including Caged Animal and Scalped. With all of these interesting projects on the table, we discussed Tony Molina's love for hardcore, his forthcoming release on Slumberland, the reissue of Dissed & Dismissed and Whataburger. The result of our interview is below.
NOISEY: Dissed & Dismissed was originally released in 2013 via Melters, but is now being reissued via Slumberland. You have a new set of songs due this year via Slumberland as well. How do those new tracks compare to the last record? Do they follow a similar trajectory?
Tony Molina: Some of them are really similar, but there's a lot more acoustic stuff going on the next one I think. I think it's going to sound more like an Ovens recording than the LP. I think some of the songs are longer too.
You have a well-documented past with hardcore, and clearly there is a strong metal and hardcore influence that creeps into your solo stuff. Do you intend on focusing on solo material or rotating in and out of projects based on whatever is your current muse?
I've always done both. It seems pretty boring to just do one thing. Doing hardcore bands with my friends is something I'm a lot more used to and I think I enjoy it a lot more. I like to stay busy with stuff, so I'll probably continue to be doing both at the same time if I can.
You recently did some West Coast dates towards SXSW… how was your SXSW and what were the highlights?
Back To Back at Red 7 was a highlight for me. They were sick. The bridge show was pretty crazy and I was glad we got to do that. I had a awful fever and sore throat the entire time I was down there so I was mostly sleeping in the van the whole time and didn't get to hang out or anything. Hitting up Lockhart and Whataburger was cool.
How did you get into hardcore?
I think when I was like 14 my friends Mike and Tom showed me "Year in 7"s", and Void/Faith and Bad Brains ROIR cassette and shit like that. Those dudes were older and were way into hardcore. I just got super into it, then I started going to see local shows and saw bands like What Happens Next? and Life's Halt and got really into that stuff and started trying to do my own bands.
What are some current hardcore bands that you admire and/or would like to play with?
Favorite current bands are Cold World, No Tolerance, Waste Management, Rampage, Turnstile, Soul Search.
Tell me about the SCALPED demo. Are there plans to play out as a band, or is this more of a smaller project? Do you have other similar projects in the works?
Scalped is like 4/5 of this band Yadokai, which was a sick band from SF that broke up. I don't write the music or anything in it, I just play guitar. I think we're doing a 7" on Warthog Speak and I think we'll probably tour a little bit. My other bands Caged Animal, Fraudulent Lifestyle and Provos are all working on stuff and hopefully will all have some recordings coming out this year.
TONY MOLINA on TOUR
05/01 Charlotte, NC – Amos Southend *
05/02 Baltimore, MD – Rams Head Live! *
05/03 New York, NY – Webster Hall *
05/04 Poughkeepsie, NY – The Chance Theater *
05/05 Boston, MA – Royale *
05/06 Philadelphia, PA – The Trocadero *
05/07 Northampton, MA – Pearl Street Nightclub *
05/09 Clifton Park, NY – Upstate Concert Hall *
05/10 Rochester, NY – Water Street Music Hall *
05/11 Detriot, MI – St. Andrews Hall *
05/13 Columbus, OH – Newport Music Hall *
05/14 Milwaukee, WI – The Rave *
05/15 Bloomington, IL – The Castle Theatre *
05/18 Lawrence, KS – The Granada Theatre *
05/20 Tucson, AZ – The Rock *
05/21 Mesa, AZ – Nile Theater *
05/23 San Diego, CA – House of Blues *
05/24 Los Angeles, CA – The Roxy *
05/25 Los Angeles, CA – The Roxy *
05/27 Ventura, CA – Majestic Ventura Theater *
* = w/ Against Me!