The Pinkprint Tour Came to Toronto and Nicki Minaj and Meek Mill Performed Back to Back
This wasn't about Drake, except it technically was.

Photo via
"Is that a world tour or your girl's tour?" Drake raps in the middle of his second diss to Meek Mill this week with "Back to Back Freestyle," but anyone looking at the crowd in Toronto's Molson Amphitheatre could see the answer to that reflected in the eyes of the thousands of teenage girls, some chaperoned by parents, others squeezing together for group photos, all hoping to see Nicki Minaj's Pinkprint tour. The majority of attendees didn't give a shit about Twitter beef or ghostwriting accusations, but the sliver that did was a vocal minority, clearly identified through either their Dreamchaser or OVO gear. Questions began circulating as time drew closer to Meek's scheduled set: would the Philadelphia rapper be blocked by Norm from crossing the border? Would he perform a diss track live in front of Drake's hometown? Would he be booed by audience goers?
The rapper ended up performing in the middle of Nicki's set instead of opening up for her. Some said it's because Meek got held up at the border, while others mentioned that this was similar to the way she brought Meek out in Houston. But either way, Meek performed in Toronto, and the most telling development about his beef with Drake may be the way that Nicki Minaj has acted throughout, seemingly rising above it—despite now being dragged into it.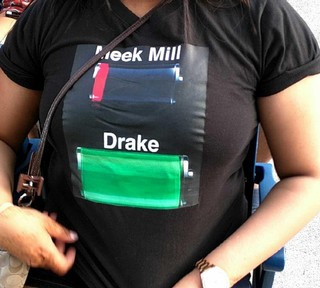 Photo via author
The battle of Meek Mill and Drake is entertaining, but last night it was just a subplot in the tale of Nicki Minaj, a heroine who found herself at a crossroads between a past life she'd likely rather forget, and a new one she's trying to embrace. Nicki's career path has always been tightly entwined with Drake's. This was evident in her song choices early on, as she played two of her more popular recent songs that also feature Drake, "Only" and "Truffle Butter." After telling the crowd that she had had some issues with the border guards almost not letting her through, Nicki moved on to the second act of her show, complete with liberating speeches about not needing a man for anything but dick. But when she left the stage a second time for a costume change and the opening beat from Meek Mill's "Monster" kicked in, the crowd bubbled over with excitement. Meek Mill's set wasn't forgotten, it was simply moved to a primetime slot, right in the middle of Nicki's solo show.
Continued below...

Meek worked through "Dreams and Nightmares (Intro)," "Levels," and his contribution to Yo Gotti's "Fuck You" while nervously asking the crowd to get more turned up. "Scared money don't make no money," repeated Meek, almost to himself, before leaving the stage. Boos were heard, but they weren't as loud as the cheers that accompanied Meek Mill's appearance, and they didn't repeat when he came back onstage with Nicki to close out the show. One can't help but wonder if those boos were meant for Meek Mill lack of action: Here he was, in the hometown of his nemesis, with the crowd at his feet and no plan of attack. This should've been the moment the battle gets tied up, but instead it was business as usual.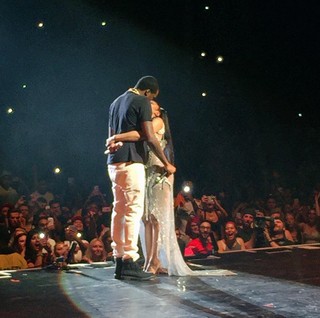 Photo via
Every good story needs a villain, but the antagonist in this tale didn't even play a role. Drake was never mentioned by Meek or Nicki, despite the fact that Nicki went on at length about how much she loves Toronto and how many of her career-defining moments were had in this city. The closest thing Drake got to a shout-out was when Nicki performed her verse from "Make Me Proud," rolling her eyes and waving her hand dismissively when mentioning the "OVO" in the lyrics "it's Pink Friday records and OVO." This was a story about Meek Mill and Nicki Minaj coming together in a modern rap fairytale. And as they closed out the show with "All Eyes On You," and Meek pulled Nicki in for a deep kiss, Toronto's CN Tower stood in the background, an unavoidable symbol of the city looming over the couple, but going totally unmentioned.
Slava Pastuk is the Editor of Noisey Canada. Follow him on Twitter.