Har Mar Superstar: "It Amazes Me How Much People Expect Musicians to be Waifs"
Har Mar's releasing his new LP on Julian Casablancas's Cult Records, but the day this emerged some press took potshots at his physique. He addresses the issue here.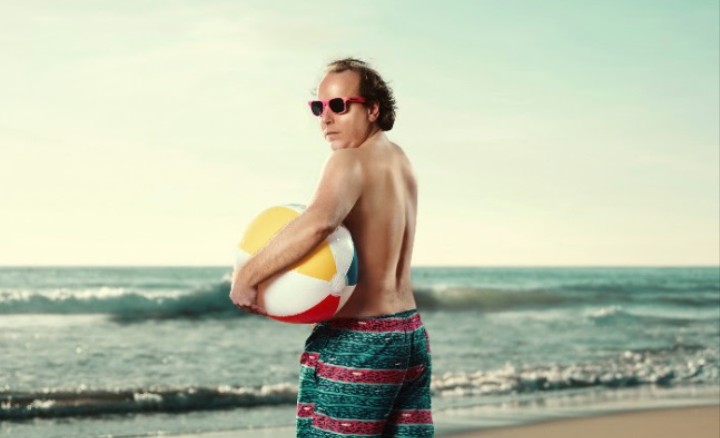 On Friday Har Mar Superstar—born Sean Tillman—announced his new record, Best Summer Ever. His sixth album under the Har Mar moniker and his second on Julian Casablancas's Cult Records, Best Summer Ever is a brilliant twist on the concept record: this collection is his imagined greatest hits spanning 1950-1985. To kick things off he dropped the Casablancas-penned slink-pop song "Youth Without Love," full of boinging beats, ear-warping synths, and Har Mar's Stevie Wonder croon creaming all over the chorus. Wow, that sounds smutty, but hey that's what the music's like. I remember seeing (and interviewing) him in London circa his 2002 album You Can Feel Me, and being so bowled over by his brilliance I thought it was a great idea to buy a hot pink thong with his face on the crotch from the merch stand. That's just the Har Mar effect.
Anyway announcement day should have been an exciting celebration of new music, and the return of an artist who's consistently entertained with his music and his fire live shows for the best part of 20 years, but everything went a bit pear-shaped when Har Mar saw his the Minneapolis website City Pages calling him "a portly, bald Timberlake." In response he posted this on his Facebook:
Genuinely: What a fucking bummer. Just the other month we ran a piece about body shaming in pop and the media responds to the way singer's deal with the pressures. It was an article that focuses primarily on Adele, Zendaya, and Demi Lovato, but honestly we'd not really considered all this from the male perspective till we saw Har Mar's post.
So I called him up to have a chat about it. Standing outside a bar in his hometown of Minneapolis, while trying to discuss the issue, he suddenly found himelf in a verbal altercation with a random passerby—someone Har Mar described as a "Cholo in West Side Story sweatpants."

"Cool, a guy on the street just called me a bald faggot too, so I guess this happens in real life," he told me down the phone, sounding pretty damn dejected.
Noisey: Are you OK? Your reaction to that offhand comment on that website made me sad.
Har Mar Superstar: I'm so used to that because I came up in England early on and people are really ageist over there. When I was 26 no one believed it and even though I was rail thin from being depressed and doing drugs, in every article they'd say I was some fat dancing idiot. So I was like, "OK, no matter what you do they're just gonna like believe one version of you." I just feel like calling people out on this shit because at this point in my career I'm 38 and I don't really need to give a fuck: I have my fans and I don't really need the press that much so I can say fuck you as much as I want. [Laughs.]
I guess because when you play shows you sometimes take off your clothes some people might think critiquing your body is fair game.
Sure I guess maybe, I end up shirtless, whatever, I don't always take off my clothes anymore. I guess as an art form the weekly is over and they don't pay people to write anymore, writers get paid shit, so there's more idiots in the game accepting these dog shit jobs so you're stuck with some really horrible writing and I guess bitter people.
So when you first started coming up and people were writing those things about you how did you deal with it.
I just shrugged it off. Women get it a lot worse. I don't want my record to roll out and have it be all about body shaming, but at this point I just want to call people out. I guess I should expect it being a public figure but it amazes me how much people expect musicians to be waifs. I don't think I'm unattractive, but I don't fit the mold. It infuriates some people that I'm bald and have a belly with a solid music career. Men get that bullshit too. Albeit not even 10 percent as much as women. Sorry I'm just not using to doing press right now. It's like after you come out of the dungeon after a year and a half of working really hard on something and people take their shots for no reason and it makes you want to hide and not do it anymore. But people are excited about the music and supportive too.
Well let's talk about the new record.
I wrote most of the record, one of the songs is a cover of Bobby Charles, and then Julian wrote the "Youth Without Love" song which was a demo he had lying around that I really loved so we decided to do that. Some of them are co-writes, one with Karen O, one with Matt Sweeney, James Levy from Lolawolf / Reputante. I worked really closely with Julian and [producer] Shawn Everitt to finish the record.
What's the deal with it?
The idea is that the album is my greatest hits from 1950 to 1985. It runs the gamut of songwriting. I guess there's a lot more melancholy stuff on it. The older I get the sadder I get. [Laughs.] But I love it, it's a lot more emotional and I think my songwriting's on point. There's some new wave stuff and a song that kind of sounds like Danzig.
Any parting thoughts?
It's a weird headspace to get in when you haven't done press or released anything for a few years and you come back and you remember that people just want to look for any flaw. It's human nature shit. People have short attention spans and can't write more than 140 characters and can't punctuate. People don't think that they're writing about an actual person who is making something personal and putting it out there. Anyway, I'm just excited to get on tour and play some shows! That's what I do best.
///
Indeed it is. Go see Har Mar on tour and watch his brief cameo in the recent premiere of the new series of Broad City, below.
Har Mar Superstar Tour Dates
Mar 12 The Aquarium Fargo, ND
Mar 15 SXSW Music Opening Party w/ JOHN GRVY, Capsu...Austin, TX
Apr 07 The Waiting Room Omaha, NE
Apr 08 First Avenue Minneapolis, MN
Apr 09 Des Moines Social Club w/ Gloom Balloon, M...Des Moines, IA
Apr 10 The Loving Touch Ferndale, MI
Apr 11 The Cave Toronto, ON
Apr 12 Brighton Music Hall Allston, MA
Apr 13 Knitting Factory Brooklyn, NY
Apr 14 Knitting Factory Brooklyn, NY
Apr 15 MilkBoy Philadelphia, PA
Apr 16 Chameleon Club Lancaster, PA
Apr 17 Black Cat Washington, DC
Apr 18 Rumba Cafe Columbus, OH
Apr 19 The High Watt Nashville, TN
Apr 20 Aisle 5 Atlanta, GA
Apr 21 House of Blues w/ Eleanor Friedberger New Orleans, LA
Apr 22 Club Dada w/ The Coathangers Dallas, TX
Apr 23 Paper Tiger San Antonio, TX
Apr 24 The Sidewinder Austin, TX
Apr 26 Valley Bar Phoenix, AZ
Apr 27 Casbah San Diego, CA
Apr 29 The Troubadour West Hollywood, CA
May 01 Bottom Of The Hill San Francisco, CA
May 04 Dante's Portland, OR
May 05 Tractor Tavern Seattle, WA
May 06 The Cobalt Vancouver, Canada
May 07 The Palamino Calgary, Canada
May 08 The Needle Vinyl Tavern Edmonton, Canada
May 09 The Pub Station Billings, MT
May 10 Marquis Theater Denver, CO
May 11 The Bottleneck Lawrence, KS
May 12 Turner Hall Ballroom Milwaukee, WI
May 13 The Firebird St Louis, MO
May 14 Lincoln Hall Chicago, IL
May 15 Daytrotter Club Davenport, IA
Jun 02 Primavera Sound Festival 2016 Santa Maria D'oló, Spain
Aug 12 Eaux Claires Festival (August 12-13) Eau Claire, WI
Aug 13 Eaux Claires Festival Eau Claire, WI
Best Summer Ever is out on Cult Record on 4.8