Southern Blues Bonanza: Expert Witness with Robert Christgau
The Dean sorts through blues classics from Blind Willie Johnson and many more.
Welcome to Expert Witness with Robert Christgau, the self-proclaimed "Dean of American Rock Critics." He currently teaches at NYU and published multiple books throughout his life. For nearly four decades, he worked as the music editor for The Village Voice, where he created the annual Pazz & Jop poll. Every Friday, Noisey will happily publish his long-running critical column. To learn more about him and his life, read his welcome post here.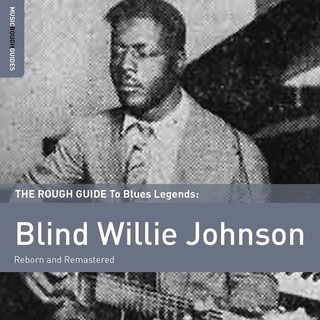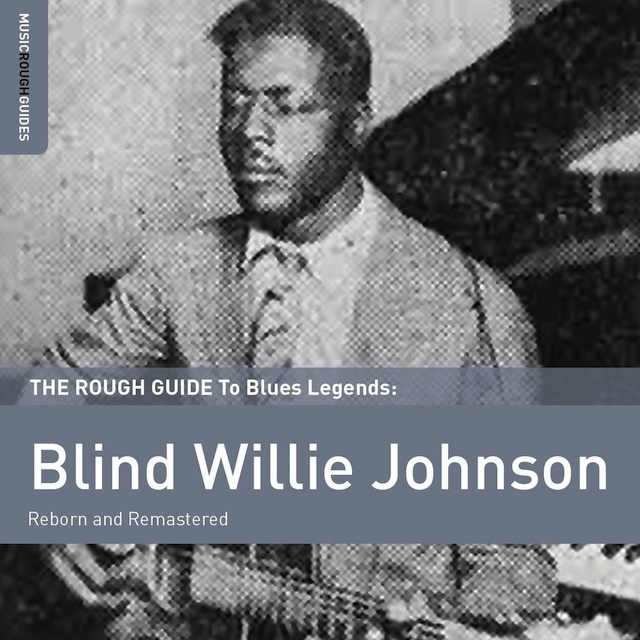 Blind Willie Johnson: The Rough Guide to Blind Willie Johnson (World Music Network) All of Johnson's 30 recordings are on Columbia/Legacy's The Complete Blind Willie Johnson double, the sorely missed "Praise God I'm Satisfied" included. This remaster quiets considerable surface noise without much enhancing the size of a voice that's not merely gravelly—more like a bass gargling with actual pebbles. Yet there are reasons for a newcomer to opt for it. Johnson wasn't such a songbag that you need more than the 22 tracks that fit on one CD. Moreover, Rough Guide provides a "Gospel Blues Legends album" bonus disc—a catchall that includes such sinners as Blind Lemon Jefferson, Bukka White, Skip James, and Barbecue Bob in Sunday-morning mode as well as specialists in God's guitar like the Reverend Gary Davis and the philosophical Washington Phillips, whose magic zither tune "Denomination Blues" provides a doxology: "It's right to stand together, it's wrong to stand apart / 'Cause none's gonna enter but the pure in heart / And that's all, now I tell you that's all / But you better have Jesus now, I tell you that's all." A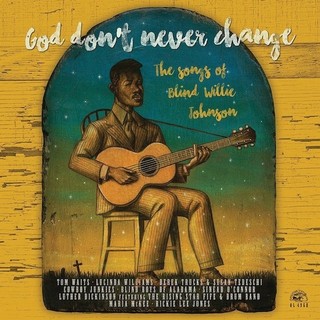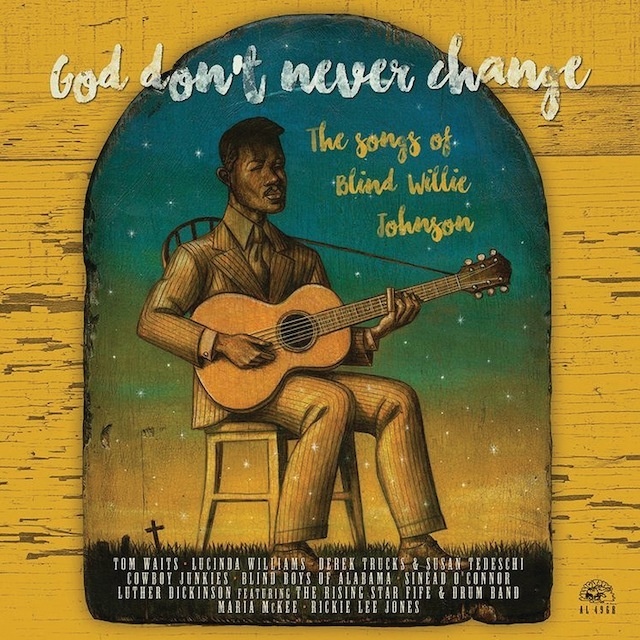 God Don't Never Change: The Songs of Blind Willie Johnson (Alligator) We hear Johnson less as a singer of songs than as a primal force: gruff roar softened slightly by female backup overwhelming resonant bottleneck to honor a merciful God who had damn well better be strong enough to get us out of a damn hard world. So one advantage of this tribute album is that the vocalists foreground the lyrics. Tom Waits and Lucinda Williams get two songs apiece, and although they will no doubt be accused of oversinging as if this isn't Johnson the exaggerator already, Waits's opening "The Soul of a Man" and Williams's "God Don't Never Change" are milestone performances and the other two rock. Almost as impressive is how confidently and conceptually lesser honorees Sinead O'Connor, Susan Tedeschi, Margo Timmins, and Maria McKee put their songs across. All women, notice—Luther Dickinson fares less well, although not as ruinously as Rickie Lee Jones, whose affected croak wrecks "Dark Was the Night—Cold Was the Ground," which Johnson recorded guitar-only. Crucially, each performs with her or his own band. And then there are the only black performers here, the eternal Blind Boys of Alabama, who amid all the bellowing and emoting deliver "Motherless Children" as if thanking God for getting that hellhound off their trail a long long time ago. A MINUS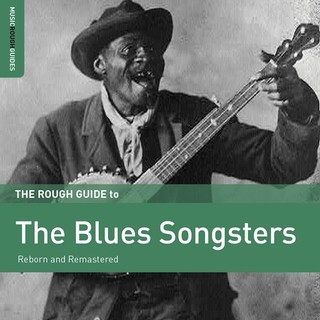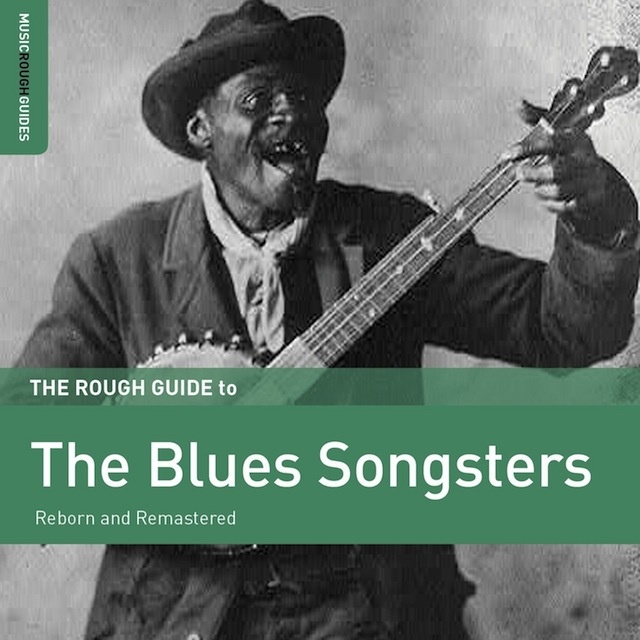 The Rough Guide to the Blues Songsters (World Music Network) Take the notes' terminological drift as a sign. I'd say the greatest "songster" we know of is Lead Belly, who had 500 tunes of every sort on instant recall yet is referred to here as a "legendary bluesman." "Songsters" are distinguished from "bluesmen" mainly because (12-bar except when they're not) "blues" are supposed to be the "art" spawned by the "entertainment" of itinerants like the paradigmatic Henry Thomas, born in Texas in 1874 and famed for "Fishing Blues" although here doing the less lively "Don't Leave Me Here." But however we categorize it, Thomas's track is worth hearing, as is almost everything else, because what sets these 24 selections apart isn't so much stories worth telling as tunes good to hear. From Charley Patton and John Hurt, canonical Mississippi bluesmen even if Patton was too old and Hurt too agreeable to always follow form, to Louie Laskey and Simmie Dooley, who survive as names on the labels of rare 78s, they are all entertainers. There are jug bands here, and two white coal miners from West Virginia, one of them Dick Justice, whose straight cover of Luke Jordan's "Cocaine" tops Jordan's CD-opening "Pick Poor Robin Clean." And best of all is a canonical classic: Rabbit Brown's 12-bar wonder "James Alley Blues." I'd cap this by quoting its final aab. But better you just go hear it. A MINUS
Jane Voss & Hoyle Osborne: Never No More Blues (Ripple) Veteran folkie adds period pop to Bessie-Jimmie-etc., a welcome move in itself and because it suits her lean voice. ("Cheer Up! Smile! Nertz!," "Baby Rose") ***
Otis Taylor: Hey Joe Opus: Red Meat (TranceBluesFestival.com) Never a tunesmith, always a master of blues atmospherics, he knows just how to deconstruct the folkie-penned sexist classic. ("Hey Joe [B]," "Sunday Morning [A]") ***
The Rough Guide to Bottleneck Blues (World Music Network) If you like blues and don't love slide guitar, you probably haven't thought about it enough. (Gus Cannon, "Poor Boy, Long Ways From Home"; Tampa Red, "The Dirty Dozen No. 2"; Bukka White, "Bukka's Jitterbug Swing"; Jim and Bob the Genial Hawaiians, "The Hula Blues") **
Toronzo Cannon: The Chicago Way (Alligator) Bandleading municipal busdriver powers out those licks and writes new words to go with them. ("Mrs. From Mississippi," "Walk It Off") **
Blues Images Presents . . . 20 Classic Blues Songs From the 1920's: Vol. 13 (Blues Images) Everyone reports that Hattie Hyde was a woman, including the Memphis Jug Band, but here you may wonder (Jim Jackson, "My Monday Blues"; Hattie Hyde, "Special Question Blues") *
Charlie McCoy: Jackson Stomp: The Charlie McCoy Story (Nehi) Brunswick Records hokum as opposed to Bluebird Records hokum, meaning more country ("Lead Pencil Blues [It Just Won't Write]," "Miss Meal Cramp") *
Follow Robert Christgau on Twitter and read the archives of his criticism on his website.