Chelsea Jade Is New Zealand's Accidental Dream Pop Hero
After an unlikely debut as Watercolours, she's ready to draw her audience in and push them away at the same time.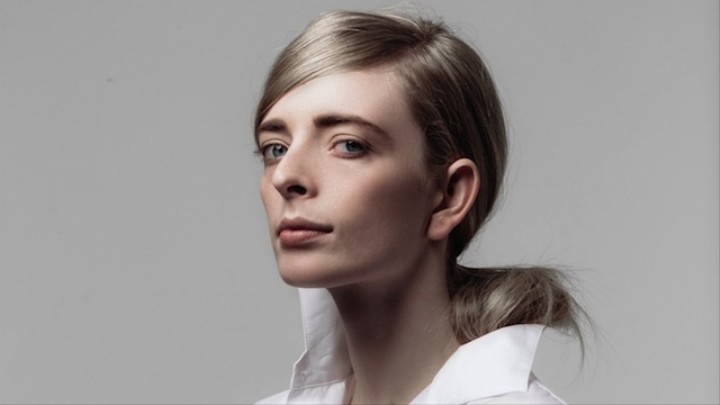 Photo by James K. Lowe, courtesy of Chelsea Jade
When Chelsea Jade Metcalf casually laughed that I was taking her to the Hudson River to murder her, I knew, strangely, that we were off to a good start.
Metcalf, who goes by her first two names when she's making music, seems like a mystical human. In her "Night Swimmer" video, she hugs an ice block and calls it her boyfriend; while performing at a fashion event, she stroked the faces of aloof attendees to get them to listen to her; in her songs, she sings so melancholically that you'll get hypnotized into her emotive world. She'll make you feel things. Hell, she even makes herself cry.
Chelsea Jade has created considerable buzz in her home of New Zealand, and she's finally ready to take her art elsewhere. This week, she's in New York for CMJ, and in November she'll have a stint at Red Bull Academy in Japan. With dream pop that requires your trust, she's gaining more followers who can't help but be drawn in.
On a recent afternoon, it was my turn to test her trust. So, as we met up to talk about her upcoming EP, I led her through lines of whizzing cars on New York City's West Side Highway, past the row of rusty, industrial buildings, to two metal chairs in a patch of gravel, overlooking the cold, hazy shoreline of New Jersey to talk about the way she navigates heartbreak and emotion on her new EP, Beacons. Out October 24, the project epitomizes that "come close, don't come too close" vibe she puts out. Listening to it, you're intrigued. You begin to feel what she feels. You might almost reach a point of discomfort.
"I don't really mind if people don't like it; I just want people to have the option of not liking it," she said of her EP, her blue, husky-like eyes peering at me above the most angular cheekbones I've ever seen. "I think 'beacons' in itself is a good metaphor. It's both a warning symbol and a guiding light, and I feel like I want to straddle that tension forever."
Beacons—home to electronically spun pop tracks with a forlorn edge—has been a long time coming for the singer. When she still performed under the temporary name Watercolours in 2012, she released "Night Swimmer" for a grant, not knowing that radio stations would start playing it. "I was like, 'No, I'm not ready,'" she said about the accidental airtime. "It was good, but I did feel petulant, and I was like, 'I'm not going to put it out until I'm good and ready.'"
Now, in 2014, she's officially released the track with a little more momentum behind her. Since her unlikely debut, she's won the 2012 New Zealand Music Award for Critics' Choice Prize (the same award won by Kimbra the year before), put out her Portals EP in Japan, and readied her current release. This seems like more of Chelsea's time; now 25, she's dropped out of art school twice and journeyed to New York to make music with friend and producer Justyn Pilbrow. As for how she knew her music was ready? "I reckon you hear it," she answered, wrapping herself up in a woolen, gray robe.
"If you don't want to listen to it over and over and over again, there's something wrong with it," she said matter-of-factly. "I'm happy to listen to my own songs. I know that sounds arrogant, but why else would I make it? If it gives me a sick feeling, it's not finished… I've got this unease, like I'm working on a tightrope until I get to the other end where it's solid ground."
She finds the realm of electronic music daunting, so she uses field recordings as starting points to build a song from. You can hear water trickling in "Find Me"—a sound she captured on her iPhone. With her musical inclinations, it's easier to find a melody to the beat of her footsteps then sit in front of a blank computer screen.
"The most terrifying thing is that [electronic music]'s this huge world of possibilities," she said. "I find unlimited possibilities totally terrifying and debilitating. You've got to have parameters or I just wouldn't do anything."
A loud plane curdled the air over us on the waterfront, its flight even louder than the taxis on the highway. We paused for it to pass, and then the conversation quickly turned to pop culture. Chelsea Jade gave me a series of recommendations: Tavi Gevinson's talk in the Sydney Opera House, Martin Scorsese's documentary on Fran Lebowitz, and, most importantly, anything Taylor Swift. She admitted she went to all three of Swift's Red tour stops in New Zealand, and went full-on nerd when she told me, "Every time I drive past a Christmas tree farm, I'm reminded of the fact that I can't afford a ticket to see Taylor Swift."
I tried to understand.
"Because you know how she was raised on a Christmas tree farm?" she said, as if it were common knowledge.
When Chelsea's not making music, she's watching Gilmore Girls, and she joked that she someday might make a Gilmore Girls parody like Iggy Azalea's Clueless-themed "Fancy" video. She said she loves making music videos, so I suggested doing a visual album like Beyoncé or Beck's The Information.
"I know very little about boy music," she said at the mention of Beck, going on to explain why she likes Taylor so much. "She writes from my perspective. It's the same reason I like a lot of female singers is because I don't want to be sung to; I want to be sung about. I don't want a boy crooning to me."
But just because she doesn't need "boy music," doesn't mean she can't write about boys. In "Visions," she sings about a man who's demanding her to follow him. In "Night Swimmer," she's holding on to that relationship a little too tightly as he's walking away. The song's video shows her embracing a pillar of ice—a metaphor for a melting relationship—until it shrinks away to nothing. She sings:
"If you had his lungs, you could breath more/ And if you had his tongue, it would mean more/ You better say it to yourself now/ You better say it to yourself."
"That chorus cuts me deep still," Chelsea said, recalling another time she started tearing up while performing with the band Teacups. "One time, I had just gone through a break up and the next week I had to play, and I started crying in the middle of the song. The lyric was 'I feel this life is hard enough without being without your other half,' and I just got choked up. I kept singing, but it was actually kind of great."
To some, that might have thrown off a performance, but to Chelsea Jade, that's what her music is all about.
"Why else am I writing songs if it's not going to be make me feel something?"
Emilee Lindner is cruising down the West Side Highway. Follow Emilee Lindner on Twitter.