Drummer Wanted: Must Be the Exact Person I'm Imagining in My Head
All others need not apply…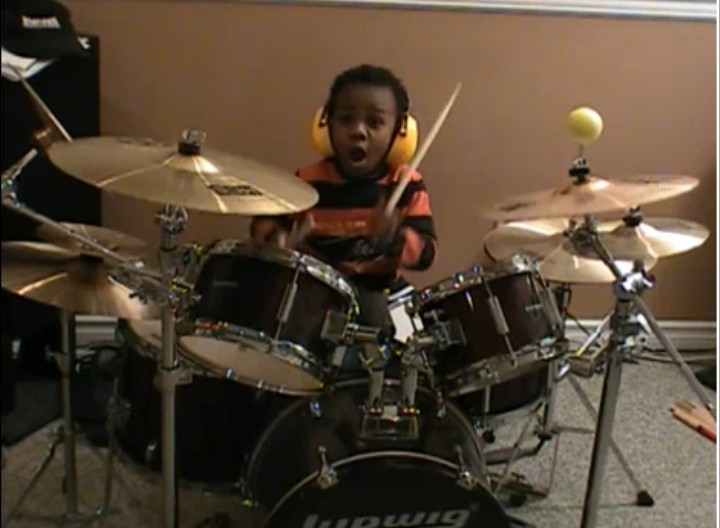 Trying to find bandmates, believe it or not, is a lot like trying to find a significant other. These are people you're going to be crammed into a tiny practice space with, three school nights a week, when everyone else in the world is at home, cuddled up watching the latest episode of Homeland and tweeting about their cat/boss/homemade pasta. These are more than just bandmates; they become life partners: you'll sweat together in the summer, bending at the knees together to get that Twin Reverb down the rickety flight of steps; you'll freeze together in the winter, sharing beers and cold slices of pizza outside venues while an endless stream of bros in polos shuffle past you. And if you do actually get out of your rehearsal room and in front of a crowd of tipsy onlookers, the experience of sharing a stage while making a beautiful racket together is undeniably bonding and fulfilling.
However, before your antiquated rock band can fulfill any dreams of public synchronicity, you must find some like-minded, able-bodied souls. The absolute hardest piece of the puzzle is invariably finding a drummer. Everyone and their dog plays guitar, and every guitarist invariably thinks that qualifies them to play bass. Keyboardists aren't as rare either, as the host of controls on a synthesizer serves to distract from the fact that, very often, one note is coming from stage right, albeit in a range of sonic timbres so it sounds like a WHIRLWIND of sound. But finding a drummer can be a horribly difficult experience, fraught with the kind of misadventures you're likely to find only in a Dr. Seuss book.
There comes a point, though, when you've had six drummers in as many months, and you start being a little too picky. Case in point, this wonderful specimen of a poster from a band named Todd Cloud who are still trying to catch their big break. First of all, no, Todd Cloud, I will not capitalize your name or replace the Os with zeroes, despite your very demanding claim of "always." The wonderful folks in Todd Cloud have clearly given a lot of thought to what they are looking for in a drummer. They want someone with a "cool" haircut BUT not "cool shoes." No hipsters, natch. The icing on the cake is that their ideal drummer must have a mustache that looks good from more than one angle ("2 or more angles!"). Nowhere on this poster—other than the mention of owning drums and being "loud"—do the mysterious people in Todd Cloud discuss what they are looking for in terms of actual musicianship or influences.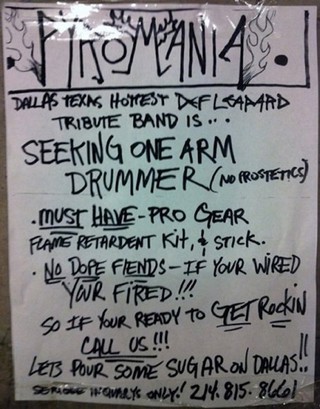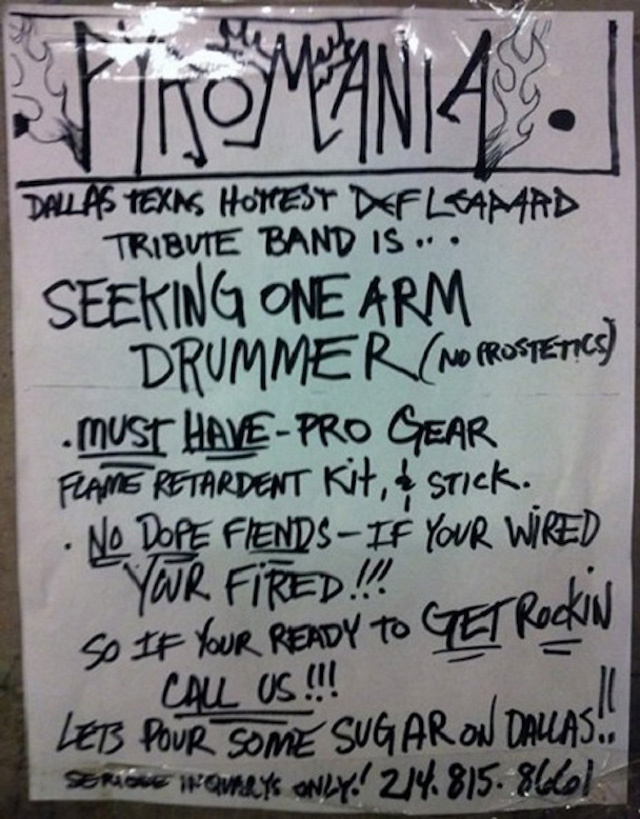 Pyromania, "Dallas' Hottest Def Leppard Cover Band" (um, I'll be the judge of that, Pyromania), is of course seeking a one-armed drummer. No prosthetics allowed. I guess I'm out of the running then. [Sidenote: Can people learn the meaning of "your" and "you're," please? It's not hard, guys. Really. Not. Hard.]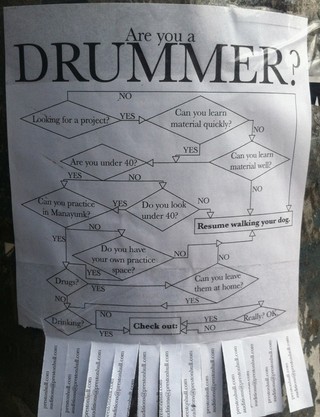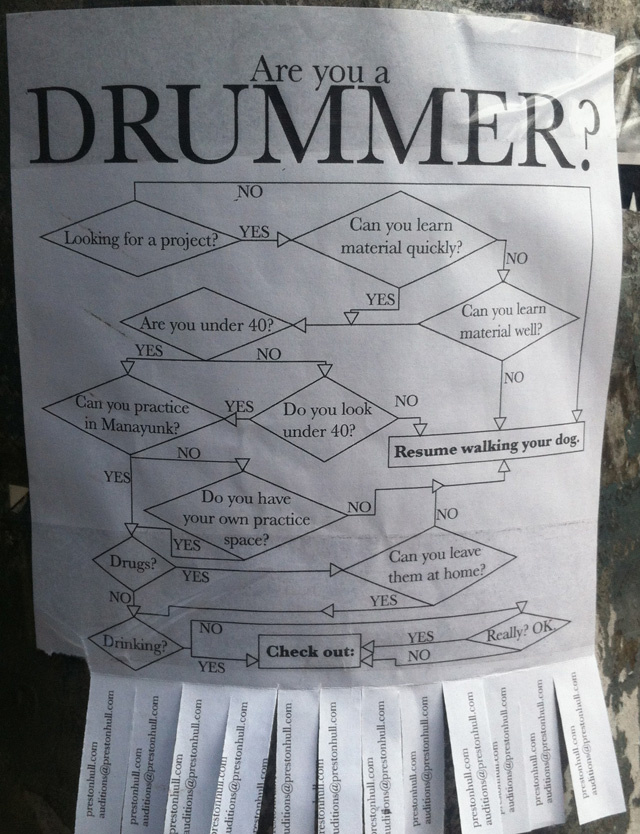 Someone in Preston (near Hull in the north of England) really likes flowcharts, which I admire. Unfortunately I don't look under 40 and I can't practice in Manayunk, because I have no idea where that is and I don't feel like using any Google products right now, so I'm just gonna keep walking my dog.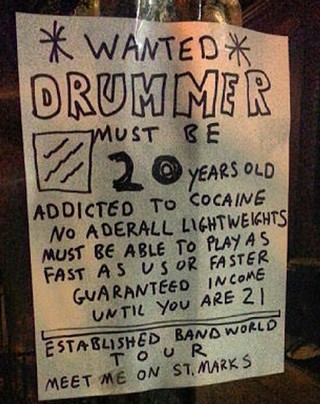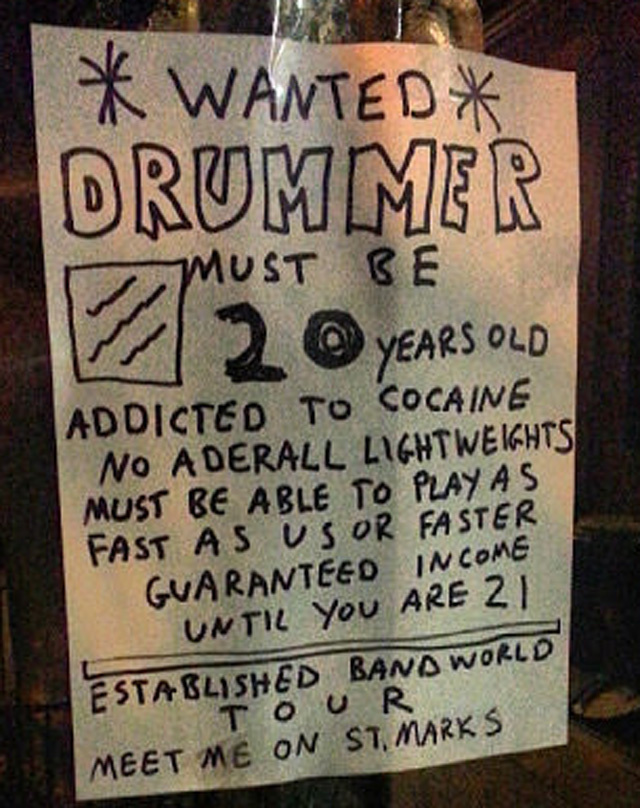 These guys might want to re-think their approach. You MUST be addicted to cocaine? I mean, that's getting a little specific, isn't it? It's hard to tell when abusing cocaine has really turned into full-on addiction. I wonder how many meth-heads have walked past that flyer with tears in their eyes, filled with newfound sadness that they can't join their cokehead brethren. Also, meet you on St. Marks? Man, give me a specific time or something. I'm not just gonna wait on the fucking corner till a group of dudes show up that may or may not be a drummer-less band. That's like ¾ of the people on St. Marks.
Regardless, mustache-bearing/one-armed/cokehead drummers are out there, waiting to be found. Just don't try Craigslist. I hear there are a lot of weirdos on there.
Leo writes about gear and makes us laugh. Rare. He's on Twitter - @leomaymind.