Pickathon Rethinks the Music Festival
Pickathon takes place over three days, posted up in a wooded area outside a farm with unusual custom-built stages, lots of camping, and a committed approach to optimizing the festival's overall impact on your experience and the environment.
The very idea of a big-name festival usually brings to mind images of the same distant black platform stages, giant TVs, wristbands, solo cups, ads everywhere, long lines, security, dehydration, death, and disease. But over the past 15 years, Portland's annual "big-boutique" music festival Pickathon—while by no means the only festival to try to do things differently—has seriously challenged all notions of what a festival can and should be. Aside from being the biggest little music festival in the Northwest, offering up only a limited amount of tickets (about 3500) with a big-name lineup, Pickathon takes place over three days, posted up in a wooded area outside a farm with unusual custom-built stages, lots of camping, and a committed approach to optimizing the festival's overall impact on your experience and the environment.
I spoke with Zale Schoenborn, organizer of Pickathon, about his efforts to reimagine the music festival.
Noisey: It looks like you have some bigger acts this year—Feist, Andrew Bird, Kurt Vile, Ty Segall. How has that evolved over 15 years?
Zale: It's been growing slowly. We like to say we play a big music festival on TV. We are in the same sentence as Sasquatch and Coachella a lot of times, at least for people on the West coast, but we didn't approach music festival world in the same way. We are still independent. We grew almost by just little bits, and it kind of took 15 years to get to this size, I'd say. I think in year 10, we started to really seriously change to more of a national or even international discussion and now that has just changed everything. It is just going up through word of mouth and people and media. All that has kind of continuously grown on itself.
For music, it feels really daunting every year, because it's a discussion of "How in the world are we going to top that experience last year?" because it is just… you'll see when you come. It is crazy how much even the artists and people are just leaving it all on the floors. We have an incredibly atypical festival onstage and backstage and encourage artists to hang out all weekend. Most of them go off tour or they build tours around Pickathon, so they are hanging out and playing. And when it's their turn to play, it's often historically one of their favorite shows they've ever played. Some of them play twice. You always end up leaving that year going, "Oh my God, we are done, can't do it again."
So what is the actual size of the festival?
Well, we have more land than Newport has for the festival, so we are about 80 acres. We only sell a ridiculously small 3500, and we have about 2500 others on site (volunteers, musicians, staff). And then there are over 1000 kids, so that is about 7,000 all together. The site could fit much more—if we did this as a "normal" festival, we would easily be 17-20,000. We have the facilities, the site, and the infrastructure. But we have consciously decided that the experience is so important to the festival that we are going to figure out other ways to become important in pop culture rather than just cramming as many people into the festival as possible.
How do you control who gets these 3500 golden tickets?
The music is incredibly eclectic. The way we curate this is we kind of open source the smartest folks that we think have interesting music opinions and we go wide. We love the kings of different scenes. It includes rock, psych rock, indie. It includes a lot of weird stuff. But it goes as wide as old-time music—which is not pop culture worthy yet in a lot of peoples eyes. Even though you may have come for, like, Ty Segall, [the other acts in the lineup] will totally confuse you in the best way. It's kind of a weird spread of genres that kind of keeps our growth still going.
The other thing is our ticket prices are a bit expensive compared to other festivals, too. We are not as expensive as Coachella or Sasquatch or any of those, but we are treading some other weird path for music festivals, and music is the core of it for us, so we are unapologetic, and we book these bands that have zero national draw on purpose, just because they are the fucking shit. And you have got to see them—they have got to be seen. We've been doing that since day one, and that's kind of what makes it fun for us. We love this music. We are going to figure out how to make it all viable, sustainable, and hope to move the needle on pop culture, because the music is just so good. It just takes time.
Everybody camps at this thing right?
Yeah, everybody camps. There are folks who are not campers, like my brother—he's a city boy from Miami and New York—so there are hotels that have free shuttles right to the festival. I would say two thirds to three quarters of the people camp. For camping, we have the most luxurious camping you could imagine.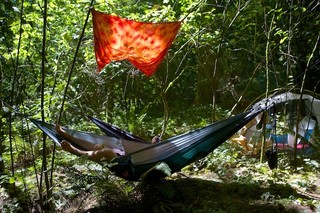 Do you ever refer to it as "glamping?"
Glamorous camping?
Yeah, there was another festival I went to in Long Island last summer that had "glamping." Turns out, it's very expensive to "glamp."
[Laughs] Yeah, well here, it's like you are off somewhere in some crazy garden of Eden. It's nuts. We build these amazing showers that are out of this world—they have this crazy engineering behind them on the way they flow water. There are all kinds of weird little luxuries. We're all about the kind of details that are built off little things. The whole festival is built off the mind-numbing amount of details that we spend all of our time constantly going after. And we feel that there is a deep kind of artistic approach in this kind of festival experience that's really just kind of lost on the commercial side. It's easy to be commercial. It's [either] the dumbest thing we are doing or maybe the smartest thing we are doing. If you just do the math, we totally know we're giving up on a certain percent of extra revenue. So how do you fix that?
How do you fix that?
Well, we wouldn't even have to change our costs that much to have five times more people, because we build everything. and it's like seven stages that are all fantastic. We have no normal stages, we have no square stage structures—we've got none of that. We build crazy conceptual art and sculptural stages and we have indoor barns that are like rock 'n' roll heaven and we have an outdoor tension fabric structure, which is probably the largest area. It just takes us two and half weeks to build—it's just nuts. We have this wood stage garden scene deep out in the woods kind of carved into the whole natural landscape.
The way we're going to make up all that [revenue] delta for us is—well, we've been working for five or six years building our own media capability. Now, we've added this whole component that everybody is doing—things like live broadcasts. It's very different for us because our stages don't look like anything else. Most live broadcasts, you can't even tell which festival you're watching. It's just a clear stage with a black background. They're up like 10 or 12 feet off the ground with a 15 foot barrier between them and audience. It all looks super generic.
I am always photographing shows and, yeah, the scenery does get a bit old…
You will love it here. We're doing some fun stuff. We're trying to leverage live broadcast. We're getting into a start-up company with an organization called Cash Music to kind of automate the royalty payments to a bunch of the captured material. Most people don't sell live material, but we sell all of the performances. And the coolest thing we're doing is we're trying to work with a series of pretty famous filmmakers with a whole back-end team of 200 people. We are trying to kind of assemble 12 episodes from this year that will be about 30 minutes a piece. They'll contain this storyline with bands, with two to four different filmmakers following different characters' story lines that develop over the episodes. And then the other half of the episodes are cuts from the 10 different live spaces we have at the festival. We're talking with lots of people. We don't know if you can do that. We are kind of making stuff up, but we're gaining traction.
It sounds like you are going for this sort of idyllic, boutique thing...
We just care deeply. And it's not just me. Remember I told you we have like 3500 tickets and maybe 2000 others, maybe 1000 of those people are volunteers? That is a ridiculous ratio of free people. It's very "quality over quantity." It's very Portland.
What about in Europe? Are there similar things there that have inspired you?
End of the Road festival is kind of near us. That's about a 5,000 person festival somewhere in Britain. Density is a hard one, because music festivals are built off of having a certain amount of land that supports a certain amount of people and fits your income, so it's really tough to find a lot of festivals that aren't going after the density if they have the land. Small festivals, most of them don't have a lot of land, but we have 80 acres, which is a lot of space for a festival.
Festivals can be notoriously bad for the environment. It sounds like you guys have done a lot to change that.
We were just like staring down the barrel of half a million plastic cups. What are you going to do with that? We've thrown out these ideas and we've had some discussions about bigger music festivals and how they can also adopt them. because when we design this stuff, we're like, "We don't want to lose money on this." Okay, you have to pay for this Klean Kanteen cup one time. And then the beers are pretty cheap—four bucks or whatever—and you just hold on to that cup; that's what you have to drink out of. And it totally works. It's like the most bomber cup and people love it and hold on to it. There is no trash. It's just little things like that—other festivals are definitely scared of ideas like that, but if you explain to them...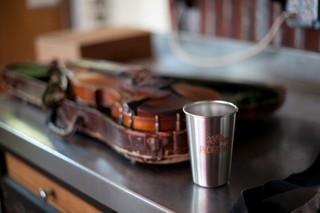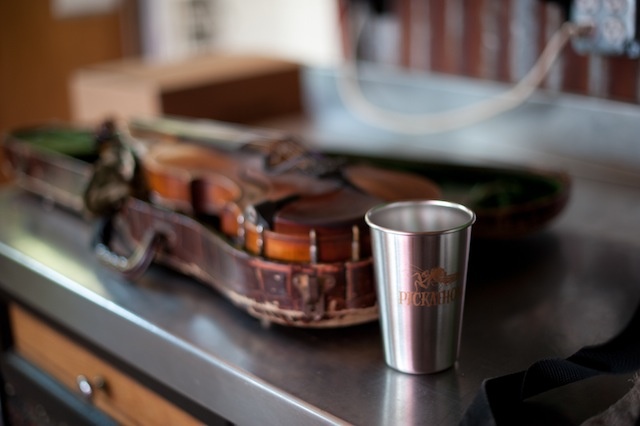 I can imagine some people don't want to walk around with a Klean Kanteen cup...
We have peg boards; you can leave it and check it in. We have all these little do-dads where you don't have to hold it, carry it, or anything. We're trying to cater to all those personalities. At the same time, the crowd is really into the fact that they are getting rid of 25 percent of the trash. Get rid of plastic. If you tell them and you just kind of work it out in advance, they get into it and it's no big deal.
Sounds like you have a pretty different philosophy economically as well, compared to a lot of festivals.
Yeah, it is, I'm afraid. Every time we do any consulting about sustainability, the standard line is: how much money do I have to spend on it? How much do you want me to lose? It's kind of treated like a necessary evil. I've got to have a sustainability coordinator? We just don't look at it that way. It's human nature that people are just scared; they want to do it half, they want to give people options, and none of that works. You can't just half cups. You have to go for it, otherwise it doesn't pay for itself; it just undermines the whole thing. The system we started doing got rid of 25 percent of waste. Now there is practically no trash, there is no biodegradable anything, nothing. A few little things we always have to fight, but basically there is no trash.
Anything else I should expect at Pickathon?
The food is super bomber!
Kevin is psyched to be camping at Pickathon in August. Til then, find him on the Tweeter @KevinSheaAdams