Don't Call Them Stoner Rock: Coliseum Premiere 'Anxiety's Kiss'
Label their new album whatever you want, you can listen to the whole thing right here.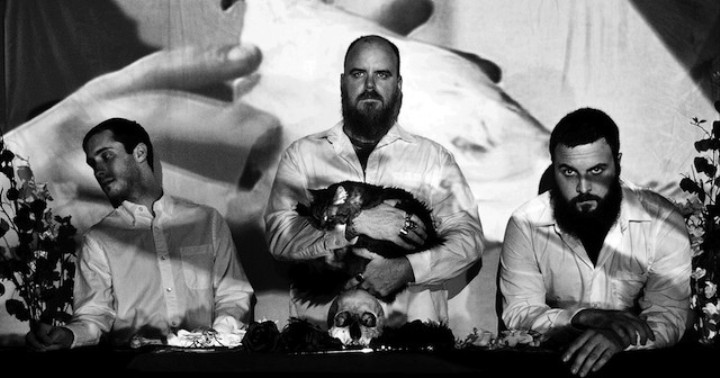 Coliseum is a band that, for better or worse, is difficult to box in. Over the past decade they've released five albums on a handful of labels ranging from Level Plane to Relapse to Temporary Residence. Correspondingly, their Deathwish debut Anxiety's Kiss sees the Louisville-based trio expanding on the punk-inspired riffs that have made them one of heavy music's most exciting bands and elaborates on the political and personal themes which have permeated their music since their 2004 self-titled debut.
What does this all mean for you? Glad you asked. You can now stream the band's aforementioned, J. Robbins-produced Anxiety's Kiss now nearly a week before its official release on May 5 below. If you dig these bangers, you're in luck because the band will be embarking on a US/Canadian tour supporting the album for most of June with Child Bite and United Nations on select dates. (Full disclosure: The writer for this story plays in UN and can't wait to hear expansive songs like "Dark Light Of Seduction" live.)
We spoke with the band's frontman Ryan Patterson about the new album, why he doesn't feel like Coliseum fit in any specific scene, and what keeps him pushing forward into the unknown regardless of the level of commercial success his band garners. In other words, dude is the real deal.
Noisey: Do you think this album is going to surprise fans? Because it's dark but in a different way for you guys, if that makes any sense.
Patterson: Maybe? My perspective is so different because I'm inside of it, so I never really know. I see my guitar as not being extremely riffy and I made a concerted effort over the past few years to not use a lot of power chords and things like that just to challenge myself and try to get out of those same tendencies, you know? I think I've been on that trajectory. On the last record, Sister Faith, there was a lot of that but I think the guitars were a little bit louder and more aggressive, so on this one the guitars are even more textural. I don't know, though. I have no idea. What do you think? Will people be shocked?
I don't know, either. I think there are a lot of associations you have with other bands and labels in certain scenes but if you listen to the albums chronologically they are all pretty different.
Yeah, I agree. I personally see the arc and it makes sense to me because I see the through line of melody. I recently listened to our record No Salvation which is the one I have the hardest time with because it's the one most associated with metal and that's the hardest for me to resolve my feelings toward and I was like, "it's really melodic and there are big hooky choruses, it's just really fast and thrashy." Every Coliseum record and almost every Coliseum song has big choruses, that's what we've always done. Every album changes and everybody is shocked at the time that happens, so I think that's made it difficult for us to really build a big fanbase because every time we put out a record—I don't know if it's alienating everybody—but it's completely erasing the rulebook. People are telling me that this new record is going to change things for us and we're going to blow up and I'm like, "Yeah, whatever, that's not going to happen." But then I think for a second—What if one of these songs did connect and we did become a popular band and they went back and bought our first record, what would somebody think?
Continued below...

From a creative standpoint—or not-so-creative standpoint—I think it would be easier for you to just write Sabbath-esque riffs and in all honestly people would like that, too.
Oh, I agree. We've known for years that if we just wrote a stoner rock record people would love it and we would be way more popular because people already think we are one. Folks have said we were a Cursed kind of band or sounded like Trap Them or Converge and we've never really been any of those things. When Sister Faith came out, I think the Chicago show previews called us a grindcore band and I was like "What the fuck?" It drives me crazy, my bandmates think I'm insane because I lose my mind over it. Earlier this month, a song premiered and there was this nice little write-up and it compared my vocals to James Hetfield. James Hetfield? Fuck. Why? Metal is always hanging around our band even though it's not really a part of what we do and it's maybe only ever been a small part of what we do. Not that there's anything wrong with metal, it's just not really a part of Coliseum
What is it about the metal association that bugs you so much?
I think it's just because I didn't come from that [world] or grow up in it so I don't connect with it. I don't think there's anything wrong with it and I know there's a really strong community there that people love and I understand all that. Coliseum put out No Salvation on what is arguably the best heavy music label of all time which is Relapse. Even though I like a lot of the music and some of the tours I did in that world, the vibe was more a night of entertainment. It seems like the audience vibe was more akin to a football game or something; it just felt like it wasn't really about passion and community—but maybe it's about all of those things but it's also about entertainment, too. I definitely don't want to bash metal but it was just something that didn't connect with me so I felt like I needed to return to things that were important to me. I went to the Touch & Go twenty-fifth Anniversary Festival years ago and afterwards I was totally elated but I almost felt like I was going to cry because I would never have that. I could never be a part of that and that kind of community was kind of gone and no matter what we did, Coliseum would never be a Touch & Go band or a Dischord band. But we are part of communities: We're part of the Deathwish community or the Temporary Residence community—but even in all of those communities, we don't quite fit in. We'll always be kind of an odd band out.
Well the music you make, especially Anxiety's Kiss, is pretty cerebral. It's hard to think of it in a recreational "entertainment" sort of way.
Yeah? Is that a compliment? [Laughs.]
I guess it sounds like an insult but I mean it as a compliment.
I want it to be somewhat heady music and I want it to be intense but I've always wanted it to have that element of windows rolled down and playing it really loud too—but maybe my idea of that or my execution of that is just isn't how everyone else perceives that. To me, a windows-down, cranked-up record is Superchunk's On The Mouth or Seaweed's Spanaway: Those are records I turn up and I'm like, "Fuck yeah." I feel like we've made a lot of songs that we have that I would do that to including "We Are The Water" off our new disc, but maybe that's just me.
Maybe it's just because I'm not driving through the Kentucky landscape. I'm mostly in a dark subway trying to avoid strangers when I'm going somewhere.
True. I want to make music that touches people and that's that. There are no other reasons to do this other than for just pure satisfaction because we've been doing this for a long time and the only reason to do it is because it's important to us and it moves us. We make these songs and we are satisfied with them and we share them with people and we hope people connect with them and then we make more because that's what a small band does.
What keeps you interesting in pushing forward as a "small band?"
I think it's just such a part of me and I'm sure it's true for everybody in the band. I never gave myself another option—which isn't entirely true because I do graphic design—but that's not an option to necessarily leave this world but continue forward in it. I mean, I didn't go to college and get a degree or become a professional or do something that enabled me to make enough money to say that I can't tour anymore because I have this job or I had a kid young and have a responsibility that requires me to stay home. But what I did do was other things like work at a label or do design or [Patterson's merch company] Shirt Killer so I could manage enough of a living to continue to do this. I set up my life to do it and certainly it's a challenge, especially being a small band and being driven to play a lot and that's where my drive comes in. We don't really say no, we just move forward and when the shows suck, I really take it to heart and it crushes me for some reason—and that's hard but it's such a part of my identity that I couldn't imagine not doing it. There might be a time in my life when my challenge is to not be in a band and not tour, but that's not the challenge now at least.