J-Zone Is Back, and He's (Joyfully) Pissed
The rapper-producer returns, and he's still shouting.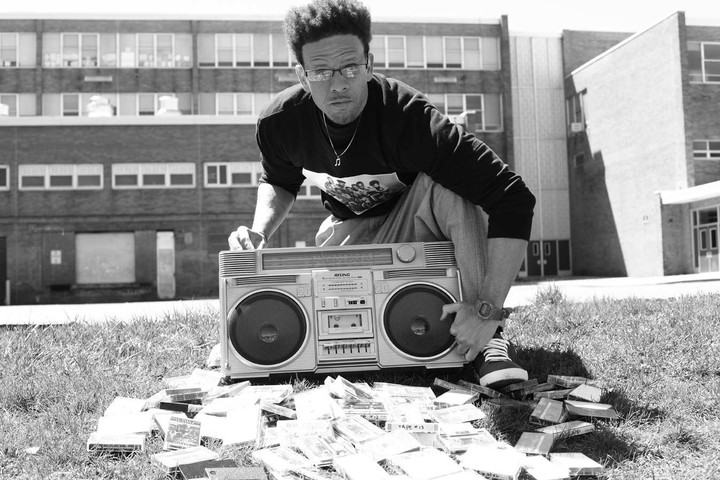 Over the course of a particularly bleak two-day period in 2010, Queens rapper, producer, author, columnist and drummer J-Zone learned that his distributor Fat Beats was going to physically destroy his back catalog of albums and singles to make room for more promising inventory, got dropped by his digital distributor, made a grand total of 30 dollars DJing at a show for Grandaddy I.U, Son Of Bazerk and a Busta Rhymes-free Leaders Of The New School and discovered that his Wikipedia page had been quietly erased due to its subject's ostensible irrelevance to the culture at large. All Zone could do was laugh a deep, cathartic chuckle over this deluge of bad news and laugh he did at a nearby Red Lobster—using a gift card given by a co-worker, appropriately enough—where he dined alone and contemplated the professional and personal crossroads he faced.
"You always hear people say 'stop rapping, grow up and get a job,' but if you tell a person who's worked in Corporate America for 20 years to learn to play the sax, record a jazz album, and put it out there, they'll act like you're nuts for saying it," says Zone. "I entered the music business at a young age and somehow did that for a living into my 30s without another job to make my work history look realistic. And when the bottom fell out, I was fucked because I had no connections or experience outside of my little quadrant of the music business"
Zone reflects in a voice rich with hard-won wisdom, talking like he raps, with the same conversational cadence, but when recalling the strange twists and turns of his career, the wildly entertaining asshole bravado of his belligerent stage persona is replaced by genuine humility and thoughtfulness.
If that gauntlet of unfortunate events was the universe's way of telling Zone to stop rapping and get out of the business, it was a little late. According to Zone, "I stopped (making music) at the end of 2008 after the Chief Chinchilla: Live @ the Liqua Sto album dropped. I'd always take a few months off from music between albums, but by the summer of 2009 I still had no motivation to make any music and my studio was damaged in a flood. I had to take all the flooring up, so my equipment was boxed up and put away in the process. It stayed boxed up for two years, until the summer of 2011. I went about two and a half years without making any music at all."
It was an unfortunate—although thankfully false—conclusion to a career that had begun with such spectacular promise. J-Zone emerged from the 1990s independent hip-hop scene that gave the world Rawkus, Stones Throw, Rhymesayers and Definitive Jux, but he was always an anomaly among anomalies, a freak among freaks, a pragmatic, fundamentally sober and responsible college-educated eccentric who rapped about jerking off, Lucy Liu dominatrix fantasies, and pinching pennies over accordion samples and soundbites gleaned from the old television shows he would record in 12-hour blocks on cheap videotapes.
Like Belle & Sebastian, J-Zone's first official release, 1998's Music For Tu Madre, was of all things, an outgrowth of a college course—in this case his senior project at Purchase College. At the height of the Diddy-led shiny-suit era of comically grotesque materialism, where rappers broadcast their decadent capitalist fantasies via gaudy Pin & Pixel tableaus and insanely decadent, big-budget Hype Williams-directed music video extravaganzas, J-Zone stuck a picture of his grandmother—who he has also rapped extensively about living with—not just on the cover of Madre but on many of his subsequent albums as well in one of his many "fuck yous" to hip-hop orthodoxy, and only recently released his first music video, a low-budget affair for "Gadget Ho," some fifteen years into his recording career. There was nothing remotely commercial or conventional about J-Zone and his finely honed misanthropy and he thrived, relatively speaking, in an era more hospitable to eccentrics like him.
1998 was beginning of a wild ride through hip-hop for J-Zone that climaxed in 2001 with the release of "Live From Pimp Palace," a single that was distributed through the then-red-hot Rawkus and the release of Pimps Don't Pay Taxes, a hilarious fusion of irreverent comedy and trippy production that paired Zone with brilliant but obscure fellow rappers Al-Shid and Huggy. Like Prince Paul and Madlib, J-Zone understood that production could be as funny and wild and as perfect a vehicle for self-expression as rapping and that hip-hop was a time machine where the past bantered with the present in a never-ending comedy routine.
2001 represented the commercial high water mark for J-Zone and while he continued to do great work, his audience dwindled with each successive release until he put out a hilarious album of fake malt liquor jingles with cartoon alter-ego Chief Chinchilla (the Quasimoto to his Madlib) in 2008 called Chief Chinchilla: Live @ The Liqua Sto to a massive sea of indifference and near non-existent sales. So J-Zone did the unthinkable for a profoundly gifted hip-hop true believer: he quit.
J-Zone wasn't exactly sitting on the couch watching sitcom reruns on TBS and eating Bon-Bons while out of the game, but he discovered that his accomplishments in the rap world didn't carry much weight outside his curious little niche. Of his unconventional resume, Zone relates, "I got my degree, owned and operated a small business (Old Maid Entertainment), traveled the world, taught at a college and had some dead end, low-paying, low-prestige jobs in between, but when I took that to career centers and temp agencies, they looked at that like me being on extended vacation since I graduated college. I was told my work history was unverifiable and they offered me a job delivering flowers and cakes because I have a car! I actually went down to the place and was gonna do it because a job is a job; I needed the money and I've never been one of those people who was above trying to make a living due to fear of being humbled. But the job wound up being less than minimum wage after expenses, so I finally decided to put my time back into music and writing because as ridiculous as it sounds, I have a better shot at survival doing that than getting on LinkedIn and trying to network with my crowning achievement being something called Pimps Don't Pay Taxes."
Before his return to music, Zone explored his other options. He taught. He covered high school basketball. When he stopped releasing rap albums his writing evolved and developed in other forms. He began writing a hilarious fan-favorite blog for Ego Trip that built on his encyclopedic knowledge and deep appreciation for the most ignorant form of obscure, late 1980s/1990s gangster rap.
Even more surprisingly, J-Zone extended his Old Maid media empire to the literary world (which is a grandiose way of saying the enterprising motherfucker put out a book) with Root For The Villain, a tragicomic misanthrope's manifesto that chronicled J-Zone's rocky road through the lower rungs of independent hip-hop and his gradual estrangement from the art form. According to J-Zone, "I worked 80 hours a week to finance my book and used to sleep in my car between jobs and drink Speed Stack to stay awake on the roads, so I'm not some stranger-to-hard-work artist who lives in a fantasy land."
Zone understandably had low expectations for his self-published memoir. He initially printed only 300 copies, but they were gone in a week and, since its release, the book has sold around three thousand copies, which may not be much by Twilight/Stephen King standards, but is enough to make it a grass-roots success on the independent front. More importantly, the book confirmed that despite his extended absence from music, Zone had not been forgotten and there were still a small but devoted cult awaiting his musical return.
The surprisingly strong response to Root For The Villain helped push the rapper back into the studio. "There was a little bit of renewed interest in my music and it made me think if I put something out in the current climate with vehicles like YouTube, social media and Bandcamp it might get through from a marketing/business side, but I still didn't really have the motivation musically." That changed when Zone threw himself into learning to play the drums, a passion that reignited his interest in making beats, since he now approached the craft from the perspective of a man newly committed to laying down wicked drum beats instead of simply sampling them. Approaching production from a drummer's viewpoint reinvigorated his love for making music.
The passage of time and the looming specter of middle age similarly lent a new dimension his lyrics. Zone calls Peter Pan Syndrome—his first solo album since 2004's pointedly titled A Job Ain't Nuthin' But Work—"my midlife crisis album", explaining, "Lyrically, I had a lot on my mind with the expectations that come with aging and being in an awkward place in my personal, social and career lives. There's a lot of pressure to assimilate and do what society says to do or you're like the 40-year-old man in the club and end up being ostracized, so everyone's racing the biological clock. I was thinking of just blogging the stuff I was going through, but I realized that these experiences (and some of the stuff in the book) would make good songs. The album was therapeutic for me."
Peter Pan Syndrome feels like both an extension of Root For The Villain and the culmination of everything J-Zone has worked for his entire career. Peter Pan Syndrome is a tour de force of righteous cynicism that builds on the J-Zone persona he cultivated on his early albums by adding an underlying seriousness and pervasive sense of melancholy. The record is a big step towards maturity and a purposeful act of emotional regression: it's called The Peter Pan Syndrome for a reason but Zone's idea of immaturity is a whole lot more grown than most folks. What other rappers obsess about their biological clock ticking or frets about 401Ks?
J-Zone remains a man trapped between worlds, alienated from both the "Grown and sexy" upscale crowd Zone takes aim at on "Black Weirdo" and the Whole Foods-shopping, NPR-listening, Louis C.K-listening Portlandia demographic. On the opening track, "It's a Trap", the rapper adopts the cadences of a preacher as he stares down his options as a 36-year-old never-was in a culture obsessed with youth, freshness, and novelty. He can either sell his soul for the questionable security and comfort of a full-time day job with a 401K and a future (however bleak) or continue to chase a phantom of commercial success and fame and risk spending his golden years being the old man in the club twenty-something women gaze at with pity. Zone can, in his resonant turn of phrase, continue "tongue-kissing mediocrity" or risk something potentially better but also potentially much worse: irrelevance, failure, oblivion.
When Zone quit hip-hop it was with a sense of finality. "I'm still proud of my old stuff, but I wanted to leave the past in the past. I literally don't remember the words to any songs I made prior to this album; I basically hit the delete button in 2010."
A whole lot has happened since J-Zone last extended lyrical tantrum, and on Peter Pan Syndrome, the ornery rapper-producer calls bullshit on everything: the myopic Liberal fantasies of Obama's "post-racial America" ("Miscegenation On Ya Station"), Bourgeoisie rappers flaunting their rarified tastes on wax ("Jacking For Basquiats"), middle-aged rappers hoping to stay relevant and new jacks broadcasting their contempt for the hip-hop geriatrics that came before them ("Rap Baby Boomers") and out-of-towners who bring their provincialism and prejudices with them when they decide to become bona fide New Yorkers ("Trespassers").
However, Zone has always been an equal-opportunity offender who always reserves his most stinging criticism for himself. Forget self-deprecation: Zone favors self-laceration. Weirdly, though, there's a sense of joy on Peter Pan Syndrome that beautifully balances the album's caustic edges. If nothing else, J-Zone sounds like he really fucking enjoys playing the drums himself instead of simply sampling funky drummers. When Zone irreverently resigns himself to eternal adolescence at the on "No Plan A" the laughter and joy in his voice feel hard-won, especially for fans who have followed his long, strange trip through hip-hop, his premature retirement and his very welcome return.
J-Zone may have forgotten his early songs but his small but passionate and devoted fanbase certainly hasn't. When asked if we can call Peter Pan Syndrome a proper L.L-style comeback, Zone acts in his character: self-deprecating and humble, demurring, "Nah, I'm just happy to have found some enjoyment in music again because I thought it was lost."
Nathan Rabin is a staff writer for The Dissolve and the author of four books, most recently, You Don't Know Me But You Don't Like, about Phish and Insane Clown Posse. He was previously head writer of The A.V. Club, where he worked for sixteen years. He's on Twitter — @nathanrabin