Michael Brun Is A Big Time Haitian DJ
We talked to him about college, Haiti, and his new remix for Childish Gambino.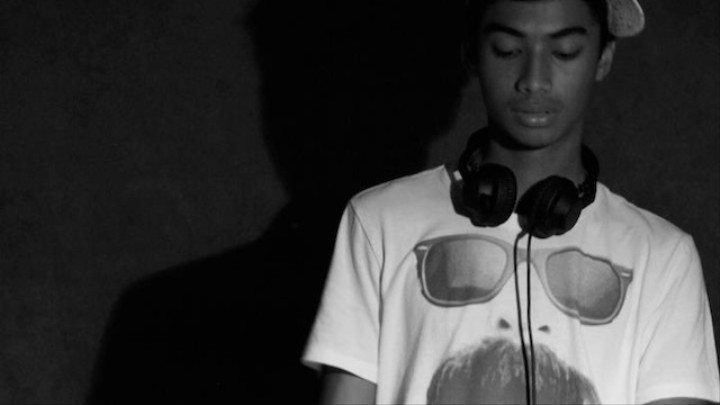 Donald Glover is that hilarious clown from Community and Mystery Team. When he's not hamming it up for the camera he produces his own rap songs under the name Childish Gambino, a moniker, rumor has it, invented by an online Wu-Tang name generator.
Michael Brun is a 19-year-old pre-med fraternity brother living in North Carolina. He's also one of Haiti's biggest DJs. When he isn't studying biology he makes laptop remixes, and after some blog attention he caught the ear of an exec at Glassnote who hooked him up with Childish Gambino to remix the track "Heartbeat."
Check the MP3 below, and head here to pick up the record. Also, we scored an interview with the young beatmaker and shot the shit about electronic music and Haiti.
NOISEY: So, I know that you are about to drop the heartbeat track remix with Childish Gambino. Can you tell me how that came about?
Michael Brun: It was pretty random actually. I had made a bootleg of Big Jet Plane, by Angus and Julia stone. And it did really well. And from there I got on hype machine and then I guess Sean Glass who is the one that contacted me through Glassnote heard it and liked it a lot so they sent me a request and really liked it and approved it.
That's great. So how do you get your ideas for songs you're gonna remix or mash up?
I try and base my remixes off the original track. Usually I just take those vocals and start something new from it. I wanna keep the identity of the song, but put my own twist on it. I play guitar, I play piano, and I just always have my ideas ready in my head.
Have you been approached by many artists or many labels to do remixes? Or do you just go ahead and do a bootleg and hope they like it?
It's been a little bit of both. Recently a lot more official stuff has been coming through, the last 2 months. Before that I'd just do bootlegs of songs that I liked a lot. It's just been really amazing especially the Gambino track, he's a really cool kid, I get his personal feedback and he really likes it. I think that's the best thing I ever think I could get, when the original artist likes your song.
Do you ever have any original stuff or is it all remixes?
Yeah, I do also have some original stuff. A lot of it is still unreleased. But I just had my first single come out with Hardwall. That came out on December 21st on Revealed Recordings. I did really well on Dport. I got top 3 progressive releases. The edits have been played by so many DJ's like Thomas Gold, Dirty South, every big progressive DJ I could hope for. And there's a lot more coming.
Now, I know you're Haitian, do you plan on working with Haitian artists?
Yeah, definitely. That's one of the things I want to do down the line. My music is a little bit different than everyone else's. Haitian music is a lot of bands, and solo acts and performers. Electronic music is pretty new to Haiti. But definitely one of my top priorities is trying to mix Haitian culture and Haitian artists and promote that with my own, a more international style of music and market that to the world. I want to show the world that there's a lot of good Haitian music out there.
I was actually just in Haiti in October and I did a music piece down there. I was actually surprised about how the style of music has changed from your traditional Kompa to now even rap creole, which is what we did the piece on, and even things kind of like poppyer sound.
Yeah it's crazy. What's really funny is right now in Haiti my cousin, his name is Jonathan Perry, he's done very well in the Haitian music scene. He's my first cousin. We're really close and have been working together for a while now. I want to be doing stuff with him in the future not only to show this is another type of Haitian music, but also because we work together really well.
Has Haitian music influence how you make music at all?
I would say definitely. My dad was part of, I don't know if you've head of this band called Scandal, that was from the 90's and he was the keyboardist for that band. Essentially I grew up in the studio with my dad listening to all kinds of stuff. My mom is a pianist, not professionally just recreationally. She forced me into violin lessons and piano lessons and guitar lessons, I've been through that whole route. I kind of got a mix of Haitian music and that culture from my dad, and I got a different sense, I really like disco, I really like 80's music from my mom, and also from my dad. I got a mix of Haitian traditional music making and then international music.
You're 19. That's pretty young to be making remixes, being a part of the scene. You're in college, how does that affect you being a college student in North Carolina.
It's a completely different world. Right now I'm pre-med, so that's on top of everything I have, all that other stuff going on. Time management is so key. I try and break up my time where I focus on music at one point in the day, answering emails, and producing and the rest of the day doing homework. It's crazy, it's a lot of work, but so far it's been working out pretty well.
Is there anything you would like the people out in the VICE world to know?
I'd say keep an ear out for some really, really big releases coming out soon. Both remixes and original. In the next few weeks, there's so much right now. I have a playlist on my iTunes of my songs that are gonna come out soon. I wish I could show it, and let everyone listen to it, but there's a lot of stuff coming.
Text by Joshua Schneider (@teenagewebmail)
Interview by Roody Dorsainvil

And hey, you into more Haitian stuff? We just got back from a shoot in Port Au Prince. Check out the teaser!