Listen to Sera Cahoone's New Banjo-Drenched Single "Up To Me"
The former drummer for Carissa's Weird and occasionally Band of Horses side steps into the Americana format with her new single.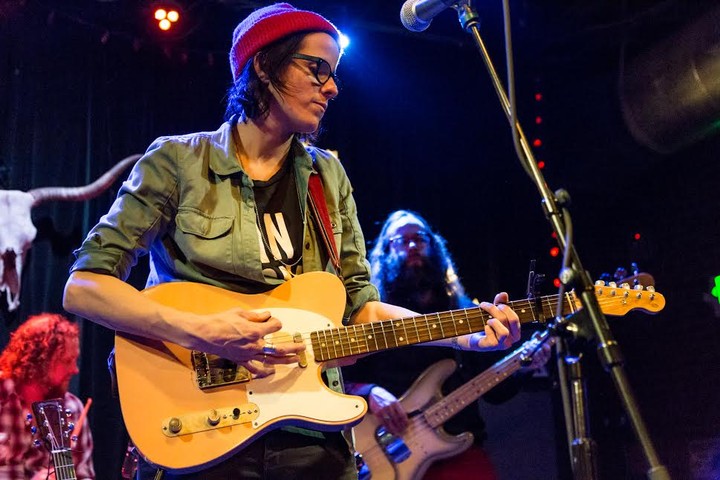 The banjo is, at least in my opinion, a difficult instrument to make sound soulful. It has a distinct sound in the same way a harpsichord does—both lack a flexible timbre, for example—and inspires a specific reaction (usually negative) when you hear it. But somehow, despite the hillbilly connotations of the banjo, or maybe because of it, Sera Cahoone's vocals on her new single "Up To Me" mystically transform the banjo into an instrument with depth and intonation.
The first single off her upcoming fourth release, From Where I Started, "Up To Me" is a haunting love ballad, replete with the tragic optimism of loving someone that might not yet be willing to accept that they love you back. Cahoone is side-stepping into americana territory in this release, returning to her roots and embracing her childhood, and I can't think of a better genre for that than Americana. "Up to Me" is a melancholy love song, and it's beautiful. Listen below. You can preorder the album here and check out some tour dates below.
2/11 - Willimina, OR / Wildwood Hotel
2/12 - Portland, OR / Mississippi Studios
2/19 - Kansas City, MO / Knuckleheads, w/ Tift Merritt
2/22 - Baton Rouge, LA / Red Dragon Listening Room, w/ Tift Merritt
2/23 - Conroe, TX / Dosey Doe Music Cafe, w/ Tift Merritt
2/24 - Austin, TX / 3Ten @ ACL Live, w/ Tift Merritt
2/25 - Dallas, TX / Three Links, w/ Tift Merritt
2/27 - OKC, OK / Blue Door, w/ Tift Merritt
3/1 - St. Louis, MO / The Duck Room @ Blueberry Hill, w/ Tift Merritt
3/3 - Louisville, KY / Kentucky Country Day School, w/ Tift Merritt
3/4 - Nashville, TN / City Winery, w/ Tift Merritt
3/5 - Atlanta, GA / City Winery, w/ Tift Merritt