Northern Spy Records: Do People Want To Be Challenged By Music?
This Brooklyn experimental outfit says "fuck 'em if they don't."
Brooklyn-based label Northern Spy first caught my attention when they inked a multi-record deal with the earsplitting experimental band Zs—a retrospective boxset, a double 7", a remix project, and three solo releases by the band members.
Who the shit does that!?!?!?!?
Nobody does that. Not even Beyoncé, and especially not weirdo bands whose music sounds like refrigerators and microwaves hate-fucking and exploding. It's #rare.
Northern Spy was launched in October of 2010 by Tom Abbs and Adam Downey. Both were previously employed by the venerable experimental label ESP-Disk, which—in its heyday—put out albums by Sun Ra, the Fugs, Albert Ayler and Ornette Coleman. With its small team of employees and interns, the label's run outta Abbs' apartment, the second floor of a brownstone that sits on Prospect Park. Over the last year and a half, their 20-plus catalog has grown to include albums by noise-rock bands Bird Names and Old Time Relijun, and avant-garde veterans like guitar-army boss Rhys Chatham and free-jazz saxophonist Charles Gayle, who dresses up like a clown. It's all bonkers shit that respectable labels would never touch.
On June 29th, Northern Spy begins the 16-day-long Spy Music Festival. Held at seven NYC venues—285 Kent, The Stone, Union Pool, Death By Audio, et al—a ton of Spy artists share stages with fellow travelers such as Loren Connors, Magik Markers, and Eugene Chadbourne. I rudely interrupted label co-founder Downey's Saturday morning hangover with a phone call so we could talk about all this junk.
It's early. It's Saturday. How do you feel?
I'm really hurting, but I think I'm gonna try to go to the park or something. I took way too many whiskey shots after this show. I played bass in a friend's band called Permanent Arms at a shit-hole bar called the Legion. And I've never done a phone interview before, so...
I'll make it as quick and painless as possible.
Awesome.
Does Charles Gayle wear his clown costume when he comes to the office?
No, he wears normal clothes. He only dresses up as a clown onstage. We've had some long, interesting conversations. His hero is Emmett Kelly, the famous pantomime clown. He refers to Streets, the clown character he dresses up as, in the third person. He talks about how Streets lives in the apartment with him, but not in a psychotic way. It's just a character that's in his mind, and he's trying to deal with that. He's always trying to separate the two personalities, Streets and Charles Gayle.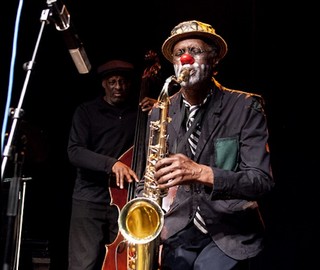 Photo by Geert Vandepoele
That's heavy. In the midst of all the bitching about how nobody buys albums any more, you guys decided to start a label. Not just a label, but one that pushes strange, outsider, experimental shit. Was this a smart thing to do?
Probably not. But we're obsessed with this music and we love putting out records. It's music that we love and we think other people should check out. We just wanna be really loud and do our thing.
How do you select which artists to work with?
We think of the label as an umbrella that a lot of different music styles can seamlessly fit underneath. First, we have to like the music. And we want bands that are touring because we want to sell records. We put up on our website that we're looking for bands that are doing at least 100 dates.
Most important is the performance element. When you see Zs or Charles Gayle or Neptune or Extra Life perform, there's a physical aspect that's really wild. So they all have this performance vibe that's unique and unlike any other artists.
We're so entrenched in this scene, and our goal is to be a local, Brooklyn label. We want to have a roster of artists who are all friends, who all know each other. Sam Hillmer of Zs suggested that we check out Extra Life, and Rhys Chatham turned us onto Neptune. Everyone's connected here, and that's great for touring because they can all go on the road together. Building this community's essential for us.
Unlike almost every other experimental music label, Northern Spy actually has an online presence and a PR team. Every few weeks you send me streams and MP3s for new albums. None of the other labels do this, and I think the artists they work with suffer because of it.
Yeah, absolutely. There are experimental music labels putting out such great music, but you just don't see it anywhere. And I think it's because a lot of those older labels have some sort of aversion to the web. Especially the jazz labels, which are putting out great records but aren't hip to technology.
We want our bands to break into popular culture. We want them all to sell records and play bigger stages. You know, we don't just send press releases for artists like Charles Gayle to jazz people, but to everyone because people who like noise-rock should be into him, too.
We're not satisfied with only 500 people listening to an album. This music deserves much more attention. I mean, it's great that some friend of the band wants to put out their album and press a few copies, but we want to provide much more. We want to take these bands to the next level.
Spy Fest is coming up. What are people gonna get out of this that they're not gonna get out of Coachella or Bonnaroo or one of the other boring festivals?
People are gonna see the best music ever. Our fucking line-up's insane. It's massive and heavy and there are some rare collaborations happening. Rhys Chatham's manager asked us to build a band for him, and so it's gonna be 10 guitarists, a bassist, and a drummer. So we got Charlie Looker, the dudes from Neptune, Sarah Lipstate from Noveller and Steve Gunn. It's all extreme music that's really gonna challenge people.
Do you think people want to be challenged by music?
No, I seriously doubt they do. But, well, fuck 'em.