Nicholas Krgovich's 'In an Open Field' Is Very Chill and Kinda Scary
The Canadian artist's latest solo LP is a languid piece of R&B pop, drifting towards Prefab Sprout and Steely Dan. And then you put it on for a second listen.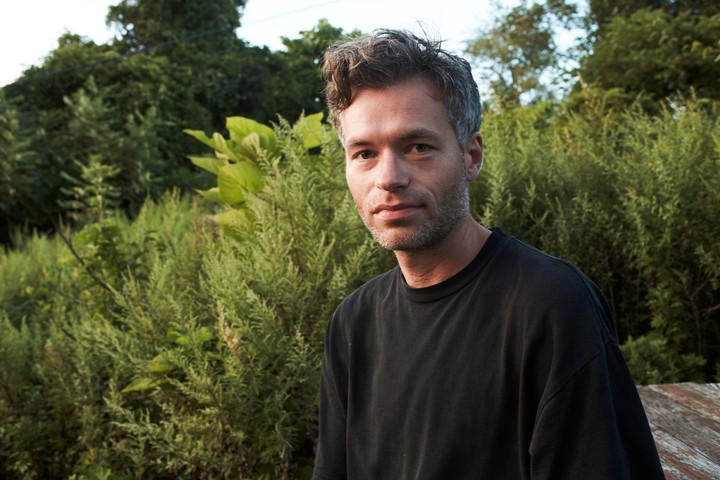 It's lunchtime and Nicholas Krgovich has consumed nothing but coffee today. He wrestles a mint-flavored toothpick around his mouth with his tongue and looks out of the window towards the damp South London side-street, the garbage piled up in the gutter and the young mothers pushing strollers past it. "I like being in a big city where everyone's just doing their thing," the 35-year-old says. "Especially here. I like places where there's a sense of a sprawl, where you never know what's going on across town. I like feeling kind of small and inconsequential."
Krgovich's new album, In an Open Field—out December 1 on Tin Angel Records, but premiering in full on Noisey today—is a gorgeous piece of R&B pop with languid Californian inflections. Luxury strings ease in over sunny horns and he's never more than eight bars from a rich burst of harmony. Krgovich, with that metropolitan sensibility, sets himself up as an observer, analyzing himself and peering out at the world. He introduces the record by singing, "I'm just a sleepy snake / Now all coiled up, watching everything happen."
But leave In an Open Field on for a while on loop and it starts to tangle around itself. On the cerebral folk song "Do It Again," Krgovich murmurs: "I watch the birds / I hear the frogs / I pet the cat / And go inside[...] And I'm losing my mind." It happens again on "I Don't Know" when he sings, "I just feel I'm wasting my whole life." Every song is a miniature crisis covered in velvet. The smooth, almost-whispered "On a Day in October" turns out to be a dark meditation on a life spent writing songs into the void. "I try to love this life / But in a flash more time is gone / I fear I've given up too much for the sake of a song," he sings. "My spirit is broke now / I must be a joke now to everyone I know now."
After a 15-year career that started in the Vancouver bands No Kids, Gigi, and P:ano before a move to solo work, this thought—that everything might have been in vain—seems scary. But Krgovich isn't really feeling that dread anymore. Actually, he laughs at the idea. "That was a bit of me just being kinda crusty, and reflecting on the fact of how long I've been doing this. I haven't been on this steady upward trajectory anywhere over the years. I'm very much kind of on a lazy river, side-to-side."
"I'd just turned 30," he says, dutifully chomping on a salad before moving onto the pizza that's just turned up. "I was not in the best headspace. So it's easy to get that way, [to] just beat up on yourself, and beat up on the world around you."
Krgovich started writing In an Open Field five years ago, in a room above a garage in South Pasadena that was "kind of like a treehouse." Then he left the songs alone for two years, before taking himself to a hut with a tin roof on a small Gulf island. There, he was professional about his writing. He'd wake up, make coffee, and sit at the piano all day. Then he'd make dinner and watch True Detective or Ru Paul's Drag Race at night. He was steady. "I just wanted to see what would happen if that's the shape that my life took," he says. "I wanted to hear what a song sounded like after writing a song the day before and the day before and the day before. It was mainly curiosity I guess."
He recorded the album between Coventry, in the English midlands, and Los Angeles, with some additional tracking in his hometown, Vancouver. So It's impossible to attach any of these songs to a specific time or place, because they all belong to multiple times and places, spread across half a decade and thousands of miles. And he says that the five-year stretch was governed by inertia anyway. "I think I was a bit static for a long period recently," he says. "I think maybe it's based in—or at least was—based in a fear of pushing onto something new on a personal or emotional level or whatever. And so [I was] just getting really cozy with whatever's going on at the time. I think that was kind of my vibe. Which didn't feel completely clear at the time, but it does now."
So these songs, with all their self-analysis and apparent torment, just sort of exist. They're not painful to play, they don't bring back bad memories: "I can use whatever's going on in the songs to feel relevant to me at any moment. I just kind of use the songs like a vessel for however I'm feeling at the time."
Right now, that's heartbreak. He had a difficult breakup in the springtime, and since then he's been writing constantly. He's even got a whole album ready to go. "I didn't mean to write songs, I just started hearing them," he says. "And I couldn't stop. I wasn't even thinking while I was doing it. The tap turned on. I'm sure that happens to a bunch of people, but that's never happened to me in this particular way before."
"I was prematurely content with a lot of things for a long time recently, or in the last number of years," he says between bites of his pizza. "And I feel like that's kind of been rattled this year."
So Nicholas Krgovich has these lush, unhurried songs about personal crises, written in a state of apathy that he's since been shaken from. Listen to the album and try not to worry about him too much. He seems to be doing fine.
Follow Alex Robert Ross on Twitter.