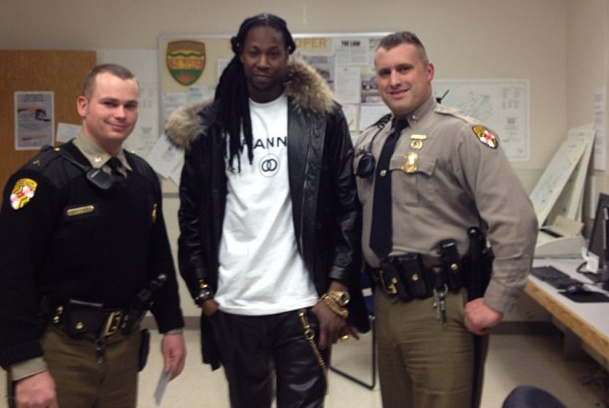 "Locked me up and then wanted pictures SMH." - 2 Chainz.
Last night, 2 Chainz was pulled over in Maryland and charged with possession of marijuana as well as possession of drug paraphernalia. According to his excellently-named Instagram (@hairweavekiller), the cops who pulled Tity 2 Necklace asked for a picture before he could leave the station, to which he added a hearty SMH.
Look at the smirk on the face of the officer on the left, as well as the look of abject "I Don't Know Who This Dude Is But I Do Know He Is Famous" on the officer on the right's face. Meanwhile, 2 Chainz is dressed demurely (at least for 2 Chainz standards), wearing leather pants, a wallet chain, a studded bracelet, and a complementary watch/bracelet combo on his left wrist. Zero chainz, one studded cuff.
But you know what? 2 Chainz is too blessed to be stressed, and he showed up to his show at the University of Maryland Eastern Shore, unfettered and presumably only slightly late: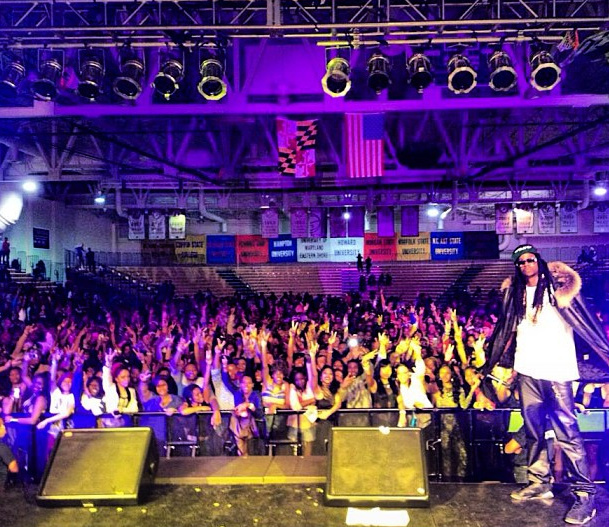 They call Drew Millard "Drew Chainz" despite his repeated pleas to be called Drewelz Santana. He's on Twitter - @drewmillard