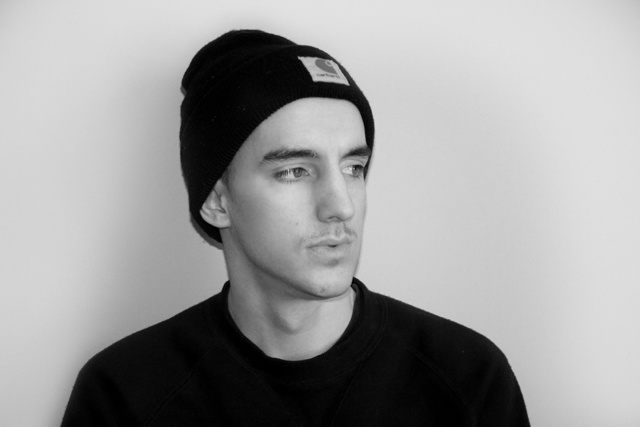 The Mancunian stops by to imagine Mila Kunis as a DJ as well as chatting about early grime and awkward silences...pause.
Manchester's Walton has only been DJing for two years, but his mutated potpourri of UK funky, techno and grime had seminal label Hyperdub licking their lips right from the off. The 22-year-old hit the ground running with his eponymous EP, Walton, which spat flickerings of grime-y house into listeners' ears back in 2011. That was confidently followed up by All Night last year which coupled even more Wiley-esque elements with bright synth movements. Just in time for Hyperdub's first LP of 2013 – Walton's 13-tracker, Beyond – I caught up with him to talk about early grime, imagining Mila Kunis as a DJ and awkward silences...pause.
Have you been up to much apart from being hungover?
Walton: Not really, I played at a place called the Ritz last night so I'm just recovering from that now.
Was it a university thing?
Yeah, it was full of students.
So how do you find it playing for students? Is the vibe different from normal clubs?
It was two big venues with about 2000 people. With them, you've got to play a bit more commercial stuff to keep them happy. I just played a lot of garage.
Everybody loves a bit of garage. So how long have you been working on the album for?
The first tunes that are on there are from April last year, I think. It wasn't initially going to be an album, it was going to be an 8-track EP and then we found a connection between the tunes in a way that we could form it into an album and then worked off that.
How long have you been DJing for?
I only started DJing when I signed off the first EP. Before that, I never used to DJ, I'd just produce and then when that happened I thought I'd better learn to DJ. So only about two years.
Despite you trouncing across a broad spectrum of electronic styles, there's still quite a gritty twang to it. Where did that come from?
I think it's come from listening to a lot of old grime and more recently, a lot of techno and Detroit stuff. I don't really like too much space in my tunes so I tend to add textures and crackles and stuff to fill it up a bit.
What is it about having too much space in the track?
That's just me. I like a lot of tunes with space in it but for me, I just get pretty bored listening to stuff when there's too much space. It's complete silence that I don't like. So if there's reverb or crackles or textures in it, it's fine.
Does that count for real life situations too. Awkward silences in real life can be weird…
I guess not. It's all good when you're drunk.
Tracks like 'Frisbee' sound like Wiley circa 'Eskimo'.
There's a video for that that should be coming out soon and it's just being touched up a little up. The video is a bit mad. It's psychedelic and it's all graphics so it's like a factory with industrial machines working and skulls and skeletons start jumping about.
How much grime did you listen to when you were younger?
That was the first music that I got into really. Underground stuff. Since Boy In Da Corner, that got my attention with grime and then I started searching for it and going a little bit deeper into it. Listened to a bit of Wiley, Dizzee and all that kind of stuff. I didn't really like many Manchester MCs. It's got to be a London accent.
What's your favourite grime instrumental?
There's this one track called "Thuggish Bongo" that I've been playing quite a bit. Skepta's "Serious Thugs" and Bossman's "Bongo" tune. That's sick.
Also, that's a trippy front cover you've got there. It reminds me of that two mirror trick where your reflection goes on forever…
It was a guy called Manny who does all the artwork for Hyperdub and I just said to him that I wanted something pretty psychedelic. I sent him something that I wanted it to look like and it was a vintage-looking collage. He sent back what he did and we liked it.
Now for a couple of quickfire questions. Who's your ideal woman?
Mila Kunis. Imagine her being a DJ.
The mind boggles! What is your phone background?
It's a black and white picture of a load of people at a rave. I took it off of a Facebook group called Acid Casuals which has loads of footage and pictures from old raves. They post a lot of acid tunes on there, which I like, so I took a picture from there.
Cool. What was your favourite childhood programme?
Noddy, I think.
I remember Noddy had that suave hat with the bell on it. But finally, the album is out in early July. What are you looking forward to most concerning the release?
I'm just looking forward to seeing what people think of it. Hopefully, I can get a load of gigs off the back of it to put together a little tour.
Walton releases his debut album Beyond on July 1 via Hyperdub
TRACKLIST
D-Malice vs Kowton - Gabreyllisous (Pearson Sound Blend)
Alex Coulton - Pointe Noire
Pev & Hodge - Bells (System Mix)
Elgato - Dunkel Jam
DJ Mystery - Speechless (ft. Natalie K)
Paleman - Halfout VIP
Kowton - And What (Kahn's Gyal Dem Edit)
Pangaea - Viaduct
Active Minds - Hobsons Choice (A Tune For Da Man Dem)
Kowton - TFB
Walton - Baby
Paleman - Handy Clue
Marco Shuttle - Vox Attitude (Pangaea Remix)
Paul Woolford - Mindwash
Pangaea - Mission Creep
Helix - Whoosh Ice Dispenser
Geeneus & Wiley - Wickedest Ting (Dub)
Sir Spyro - Silo Grass
Marxmen - Mashup
Walton - Can't You See

Follow Errol on Twitter @errol_and
For more Touching Bass, read:
TOUCHING BASS: EMBASSY RECORDINGS
TOUCHING BASS: HEBRONIX
TOUCHING BASS: TA-KU