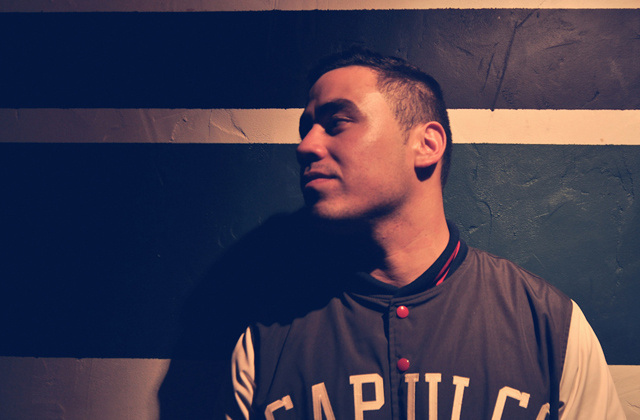 Nocturnal beatmaking, Maori cuisine and a tasty hot pot of soul and electronica. Happy Friday.
Australia has turned itself into quite the electronica hotbed hasn't it? There was a time when the Aussies only threw Cut Copy and The Presets at us...dark times. Now we've got Flume providing enough vibes for a couple of Boiler Rooms as well as Perth native, Ta-Ku. Having paid homage to both Nujabes and J Dilla with some heavily-tipped collections, he's also been filling the Soundcloud banks with a hot pot of soul and electronica, alongside developing label, Sunday Records. So I caught up with him to chat about nocturnal beatmaking as well as debating the best day of the week and making the mouth water with some traditional Maori cuisine.
Hey Ta-Ku, how's Perth life been treating you?
Ta-Ku: It's really chilled. It's pretty small and pretty family orientated but the music scene and the attitude is very laid back. People liken it to Cali quite a lot but I think it's less busy and a lot less full on. It's a good place to be creative and to avoid the hustle and bustle. Anyone that makes it out to Australia, of course Melbourne and Sydney is where everything is, but Perth is quite a scenic place to go.
What are you up to at the moment?
I'm hanging clothes bro. I like to keep my wardrobe nice and neat, so I rearrange by colour. Colour and brand.
Yeah? How's your footwear game?
It's good bro, I've got another room with shelving in it so I'm trying to find as much space for them. It's addictive. You won't wear them all but you just want to have whatever joints you feel.
Not good for my student pocket.
Not good for anyone's pocket.
How did you first get into music in the first place?
I think at first, I used to listen to a lot of hip-hop. A lot of Jay Z, Cam'Ron, Diplomats and anything that was top 40 and then through the natural progression of sharing with friends I found Dilla, A Tribe Called Quest and fell in love with the whole golden era of hip-hop, you work your way backwards. Hip-hop is primarily my background and what I used to listen to in high school.
Are you still selling health insurance?
Yeah bro. Still doing the 9-5 in corporate health insurance!
The rat race sucks. What is it about nocturnal beatmaking that you love?
I think honestly, it's sleep deprivation when my mind is just vibing on a leftover energy. For some reason I can never make music when I'm wide awake. Also, at night time everyone else is asleep and it's kinda liberating to know that I'm creating something while others are sleeping. Something about the night time as well is that when it's sunny out, it's too beautiful to be in the studio.
The Nujabes collection that you put together was a winner. Till this day, Samurai Champloo Music Record: Departure is still one of my favourite records from Nujabes.
I actually jumped on that late and when I mean late, that was the last project I was aware of. When I heard it, it was really moving and it makes me really upset listening to Sabe Jun. It's pretty gut-wrenching to know that all of that talent is no longer with us.
But his music is still here.
It's a beautiful thing to have the legacy.
I see that you're half Maori; I had a teacher from New Zealand back in primary school who you used to drink loads and loads of sparkling water during class. Anyways, we learnt about Maori culture, and it's an amazing culture. What is the definitive Maori cuisine?
I think the definitive Maori cuisine is Hangi. It's when you dig a hole in the ground deep enough – where my family is from in Rotorua there's a volcano and spring water – you take the volcanic rock and you chuck it in the ground to make the heat, wrap all your meat and vegetables in foil then you cover it with dirt and come back about six hours later and the meat is falling off the bone. The good thing about that is that when the meat is left to cook over a period of time, that's when you talk to your family or you sing around the bonfire. It's a social event.
Sounds amazing. OK, what's happening with Sunday Records?
So Sunday records is something I started last year. I wanted to create a record label that was transparent and tells the artists everything that's going on and includes them in the whole process. I've been through a lot of ups and downs with labels and one thing that's really frustrating is not knowing what's going on with your record but it's sad, it's the beat makers making the music and without the producers, there'd be nothing for them to push. It's started slowly because things with Ta-Ku have started to pop off a bit so I'm probably going to relaunch it later this year leading into next year. It's gonna start with a female artist from out in the States called Carling Ruse. She's a really talented beatmaker and her EP is sounding really cool. At the time that I started, I launched it in a way that I wasn't too happy with. The first release was from a dude called Noyce from Sheffield. He makes really amazing ambient/electronic folk stuff that's similar to Shlohmo's earlier stuff. I had a strategy that as an artist starting or even now for myself, the only thing I was interested in was having my work on vinyl because its something you can hold and keep. It should have that physical aspect. I didn't do that with Noyce but I'm gonna head back and do another release from him but Carling will be the first proper vinyl release on Sunday.
Sunday is such an annoying limbo day between weekend leisure and the thought of Monday work. What's your favourite weekday?
Either Friday or Saturday, but Saturday morning. Then it's like "damn, this is the weekend". Friday is like the pinnacle of your week. Sundays can be depressing sometimes knowing that I have work the next day so I just sit there and wallow in my own depressive state. But it's also important because Sunday has the most distinct feeling out of all the weekdays.
Who's your favourite person to follow on Twitter?
Riff Raff. I'm not gonna talk about his music, I respect the guy for whatever he does but dude is a comedian. He might have to look past all this rapping stuff and do a reality show.
Him and Tyler, The Creator on Vine are lethal, right?
Tyler is a menace on Vine, he's got no mercy. I had to unfollow Action Bronson. I love him but he's always eating and singing too much.
What's your biggest pet hate?
It's a broad pet hate but anyone that's noticeably rude in any situation. If someone's rude to me, especially out of the blue, I'll speak on it because I can't stand that.
Agreed. You're also into the neo soul movement?
Neo soul in Australia is so dead man. It's a genre that isn't relevant any more so we've never had Dwele play out here before. I think it's just the way that our music is moving, there's just no room for it. I've been listening to neo soul from about 1999 all the way through graduating in 2003.
In terms of the mix, what tracks have you decided to go for?
It's funny because Soulection has almost become a genre now so it's going to be very future bass/neo soul vibes. Pretty much my favourites as well as a couple of oldies that I listen to in there. It's probably gonna be the most soulful mix I've done so far.
And finally, what are you up to at the moment?
I'm at the point where the next step is quite crucial. There's a lot of offers coming through and some stuff that I'm sitting on, waiting to wait a decision on because I recommend not being in a rush. It's good to let those offers come through and just marinate.
Real talk. We look forward to your next move.
TRACKLIST
JMSN - Love & Pain (Ta-ku Remix)
Atu - Way I Feel
Obey City - Putcha Weight
Sweater Beats - Do It Well
RLP - 1nce Again Bootleg
Cosmic Midnight - Never Knew
UTRB - Pressure (Ta-ku Remix)
Kendrick Lamar - M.A.A.d City (Eprom Remix)
Strange Talk - Pickin Up All The Pieces (Ta-ku Remix)
Ta-ku - Untitled
Bahwee - Back It Up
Falcons - Oops Oh My
FS Green - Goolie Goolie
The Bangerz - Beam
Sango - SFTVB
Follow Errol on Twitter @errol_and
For more Touching Bass, read:
TOUCHING BASS: THE BUG
TOUCHING BASS: KAYTRANADA
TOUCHING BASS: ITAL TEK