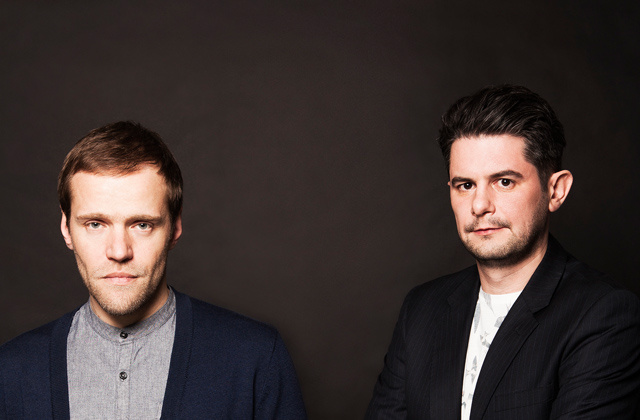 Changes to working patterns, girlfriends and live shows crop up in this week's Touching Bass.
Stubborn Heart's eponymous debut came from the same stable as The xx, SBTRKT and Four Tet but added a big hunk of 60s soul into to the electronica mixing bowl. It rubbed Gilles Peterson up the right way and he awarded it the Album Of The Year at 2013's Worldwide Awards. Since then they've been moulding the foundations of their follow up LP. But before that, you can tuck into a mix that curves from Capleton all the way through to The Isley Brothers.
Noisey: How's it going? How long have you been up for?
Luca: About 10 minutes. I'm a bit of an insomniac. I go to sleep about five. I was out last night as well.
Do you work mostly at night then?
We used to but now I work during the day. I prefer night and Ben prefers day but he's the one that does all the programming so we work in the day. He finds it really hard to keep his eyes on the screen when it's really dark because he has a problem with his eyes. Can't remember what it's called. Those nights of working are mostly in the past now.
Do you prefer a night in or night out?
Recently, a night in. I think we're both the same. Unless it's carnival, I've tended to like the night in especially because we're both trying to work out the second album. It kinda changes your life and all you can do is think about your own music. Everything else becomes a distraction. At the moment I've just been sitting indoors and polishing off the remixes that we had to do. There were about six. A lot of work lately. When I do go out, I tend to just want to be at home working on music.
What remixes have you been doing?
We did one for The Invisible and another for this guy called Scrimshire who is on Wah Wah 45s. It's quite a funk label but his stuff is quite electronic. Then there's another with Bella Union and another which we still need to do for Brownswood, Gilles Peterson's label.
Who's the most stubborn out of you two?
Oh, that would be me. We're both quite stubborn but I like being the dominant one.
Your debut album Stubborn Heart was loved by most critics when it came around. How much of the new project is completed?
It's already written. As in all the ideas are there. The beats are probably half the way there. We haven't really got down to recording but we have all the songs that we need. We'll probably have about 14 or 15 songs and then just pick the best 10 that flow and sit well together. For the first album, I'd just split up with my girlfriend and that changed the mood of that album so it all became about breaking up. For this one, we're trying to write about different stuff. We're also putting this album through the desk because with the last one, we did everything on Ben's laptop. It was easy then because it wasn't too expensive.
What non-musical influences have proved most helpful for this new LP?
Wine. No, not really. We're both film and soundtrack fans. Ben has just done a Channel 4 thing that he's editing this week. I find most of my songs come when I'm walking.
And finally, how are you trying to improve the live element of your work?
We're thinking about getting a third person on stage. Just to make it a bit more live because a lot of it is us running stuff off the computer. Maybe at some point we can get Ben's brother involved. He can play everything and program. A lot of the problem with these electronic producers is that they're just miming the whole thing. It'll sound great but there isn't a live element to it. They might twist some knobs or something. SBTRKT really do it live. You don't really get that enough.
Tis true. Thanks guys.
Stubborn Heart release their next single, "Penetrate", on September 30 which you can pre-order from iTunes. They also play at London Electrowerkz on October 3.
Follow Errol on Twitter @errol_and


TRACKLIST
Capleton - No 5 Pon The Look Good Chart
Axxess - Traditional Moon Dance
Tirzah - I'm Not Dancing
Subtle Tease - Overlooking Is
The Zoo - Sometimes
Shigeto - Detroit, pt 1
Toni Tornado - Podes Crer, Amizande
The Isley Brothers - For The Love Of You (pts. 1 & 2)
Oliver Wilde - Curve (Good Grief)
For more editions of Touching Bass, read: