Yes, there are some wonderful archive-footage based documentaries on BBC Four, but the BBC needs to be providing new material for the archive-footage based documentaries of the future.
Last year, the BBC made the biggest commitment to music programming in years with a very expensive new ad that aimed to showcase the breadth of their music coverage by getting a cross-generational selection of the biggest artists in the world singing "God Only Knows". Well, not the biggest artists, they didn't get Ed Sheeran, Beyoncé, Adele, Taylor Swift, David Bowie, Pink Floyd, Drake or Rihanna. But they got Jake Bugg and Chrissie Hynde so that's probably just as good.
In dull mediaspeak, the idea of the ad was to launch BBC Music as a "vertical", a recognisable brand built across all channels, in the same way that say, BBC Sport is. That is not a bad plan - a lot of spectacular music coverage happens late at night on the BBC's music radio stations which most people never get to hear - trying to create a broader brand across radio and television to bring that coverage to more people is a nice idea: Charlie Sloth hosting a grime clash on BBC Three say, or DJ Edu doing Afrobeats docs on BBC Two.
But instead of making music coverage richer and more esoteric, the BBC raced to the centre ground - spending most of their new BBC Music cash on the BBC Music Awards; a lame and unnecessary Brits-clone that was broadcast on Radio 1, Radio 2 and on The One Show meaning the music it covered clung to the middle of the road like cats eyes. Does UK television really need another opportunity for Ed Sheeran, Coldplay and Sam Smith to play their biggest songs?
Moreover, it didn't really feel like the people who the awards were trying to reach - presumably casual music fans - really gave a shit. Take a look at the Google trends graph comparing the awards to the Brits: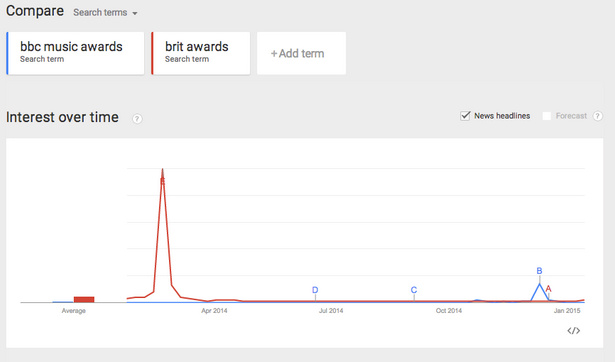 The BBC has to recognise itself not just as a reflection of trends in pop but the most prominent influence in the shape of new music. One of the reasons the British music industry is shrinking is that there are simply far fewer opportunities for British bands to get on TV, and TV remains by far the biggest promotional platform for new artists. Top of the Pops had around 8 slots a week for new songs to be heard - on top of which there were at least half a dozen other shows which had a weekly musical guest. Now there are only three prime time chat shows with music slots and only one on the BBC - Graham Norton - who often opts for kitsch pop like Barry Manilow or Neil Diamond or novelty acts like Conchita Wurst or George Ezra. There has to be another way to get more bands a look on TV without a nostalgia-driven "let's revive TOTP" bent.
Yes, there are some wonderful archive-footage based documentaries on BBC Four, but the BBC needs to be providing new material for the archive-footage based documentaries of the future. They need formats that do more than get whatever artists are doing the rounds to play two songs off their record, but tell stories about new music and its place within contemporary culture. Right now the only place at the BBC coming close to doing that is Radio 1.
Oh, Radio 1. I spend an average of 5 hours a day with the station (and its sister station 1Xtra) - that's more than my family or girlfriend - so I feel like we know each other pretty well. It's done some great stuff this year in terms of structuring its output: the launch of an iPlayer video channel, the functionality of Playlister (a sort of BBC Shazam that lets you keep a record of everything you like on the radio) as well as improved livestreaming and insane live events makes it look lightyears ahead of both its competitors and the biggest music stations in America. Seriously, have you been on the Capital website recently? It's just a bunch of dead-eyed white guys staring gormlessly at you underneath some stories about Justin Bieber's abs.
But while the pipes are looking bronzed and buffed, what's filling them remains an issue for Radio 1. Undoubtedly, they have live performance nailed and there are a few outstanding slots. Annie Mac's sunday show, the best thing on the station, has done that rarest of things and built a genre of music around it: a soft, electronic, Monday-fearing sound that creates an alternative reality in which the biggest artists on Soundcloud were Britain's most successful popstars. Benji B and Seani bring groundbreaking music to the wee-hours. Zane's show, though relatively stuck in its ways, still makes the weekly churn of new music feel vital and Nick Grimshaw's breakfast show has finally worked out how a show on Radio 1 can be self-aware, funny and broad without being moronic.
But across the board, there is too much talent being wasted - too much emphasis on the way in which content is made available rather than the content itself. DJs spend the majority of their links talking about the station's endless themed weeks, listening back on iPlayer, watching live online, that they don't actually get to do their show. The Breakfast Show is better than it's been in a long while, but how many secondary schools does Nick Grimshaw need to visit before we understand that kids like his show?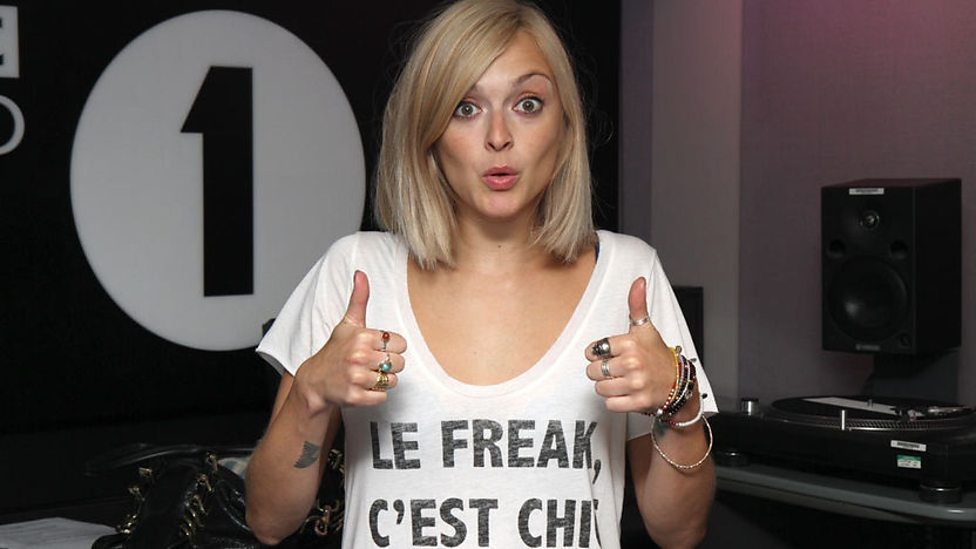 Could 2015 be the year she "moves on to other projects? (via)
It's hard to think of many moments on the station which you could call great radio. The current route of getting pipsqueaks from Youtube would be fine if they showed much aptitude for radio, but their shows feel as inane as their vlogs. What Radio 1 really needs is formats beyond the one-DJ-and-a-guest-at-some-point feel which characterise most of its shows, especially following the success of Serial and young people's openness to hearing stories in alternative formats.
Part of the problem is that in the station's quest to reach a younger audience they have heavily championed young, new dance producers from the UK and Europe - Nico and Vinz, Mr Probz, Sigma - which has given the station a clear, youthful musical identity. The problem is that all those guys are boring as sin - and without popstars a pop station kind of falls apart. You get this odd situation where, for example, on Scott Mills' world class Innunendo Bingo feature - the guests are either non-musicians off the telly or The Wanted, Tinchy Stryder or Rizzle Kicks who don't get played on the station all that much. There needs to be a balance. Radio 1 has to be in the business of making popstars as well as hits.
It never ceases to amaze me that our public broadcaster has the commitment to new music that it does. I mean if you think about it for a moment - that there are a bunch of shows on iPlayer where you can hear new Movado tunes and Lil B mixtapes - it's pretty incredible. There are shows on every BBC music station - 1, 1Xtra, 2, 3 and 6 - that genuinely feel like gifts we don't deserve. But there is always room for improvement and right now the BBC should be celebrating its diversity and encouraging more of it, not championing a race towards uniformity.
Follow Sam on Twitter: @SamWolfson