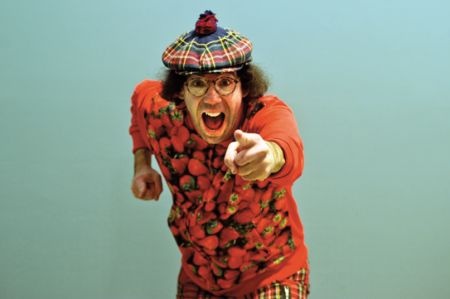 The rap game Marry Poppins.
I was going to go outside today, I had things to do and people to see - yet here I am again; four hours deep into a Nardwuar binge that looks set to go the distance. Do I feel a sense of shame? Yes, but not entirely, as many good men and women have been lost down the Nardwuar rabbit hole, where one video leads to another and minutes blend into days. It's a world where Henry Rollins, Carly Rae Jepsen and Young Jeezy all share a space, the only constant being our tartan-clad Canuck hero and his time capsule of old records and plastic-entombed memorabilia.
As you might have guessed, my favourite music journalist is Nardwuar, The Human Serviette. There are many reasons why this is the case, most of them well documented; his joie de vivre, Lord Leveson-worrying research techniques and trendsetting fashions all play their part. Most of all, though, Nardwuar offers us a window to the soul through the medium of celebrity interview.
As he peers into the eyes of stardom through perfectly circular lenses, we can tell a lot about his subjects from how they respond to being Nardwuar'd. Like a rap game Mary Poppins, he produces unexpected treasures from his bag, and you'd have to be an asshole not to succumb to his unbridled enthusiasm – yet amazingly not everyone gets it right. Not just a Human Serviette then, Nardwuar is a Human Barometer; a measure by which we can assess a person's likeability and their capacity to engage with something out of the ordinary.
Sounds kinda stressful, huh? But it doesn't have to be, and by following our simple guide to Nardwuar etiquette, any interviewee will be able to leave Vancouver, Canada with their head held high.
Do Nardwuar impersonations
They say imitation is a form of flattery, so don't be afraid of impersonations. Most notable perhaps is Sean Price, who recently went to the effort of recording a full Nardwuar-styled interview with Pharoahe Monch, just for japes. Top marks for effort, but that impression could use a little work.
Of course, Nardwuar's style is inimitable, but decent attempts have been made by Pharrell, Snoop Dogg and a personal favourite – Juicy J.
Don't do cocaine
Being in a band isn't nearly as cool as you think it is, and is definitely not an excuse to behave like a cartoon bully. Art school dicks, Sonic Youth, will no doubt regret this clip of them destroying one of Nardwuar's gifts, in the year that punk-rock broke. But it's Brit-Pop dick, Dave Rowntree of Blur, who goes down in Nardwuar history as the least likeable interviewee on record. Amazingly, he also manages this feat in a room shared by Alex James. Dave took eight years to apologize for his actions, using a textbook "cocaine defence" and claiming he has the video saved on his phone to remind him not to do drugs again. Well, here it is again Dave – are ya happy to be here, ARE YA?
Do come baring gifts
This doesn't have to be a one-way process, so why not take a leaf out of Sage Francis' book and bring some five-year-aged Wisconsin cheese to the interview. A$AP Rocky and Riff Raff also left Nardwuar some jewellery as a parting gift, while Waka Flocka Flame went one further by inducting him as a fully fledged member of the Brick Squad.
Don't underestimate Nardwuar
So he researched a bunch of records, big whoop, it's not like anyone's shocked to hear Big K.R.I.T. is a fan of southern rap classics. But don't think Nardwuar's knowledge stops there, because he also knows where you live and what bus route you take (much to the surprise of Rhys from the Horrors). Both Tyler, The Creator and Jeezy might have been on to something when they said he was with the feds, but we prefer to see Nardwuar as a kind of all-seeing superhero, who uses his powers in exclusively unnecessary ways.
Don't act defensive
This is a tricky rule, because the perfect Nardwuar interview is that which starts defensively before further relaxing into intrigue and giddiness. Even so, I have no time for the Travis Barkers and Becks of this world, who can't seem to comprehend that Nardwuar is here to make them look good. Snoop invited him into his home, GWAR had so much fun with Nardwuar they fell hilariously out of character, and even Ed Sheeran came close to likeability by nailing this core principle. If we're to learn this lesson from anyone though, surely it's Danny Brown, whose interview plays like a twelve minute giggling fit punctuated by anecdotes.
Long live Nardwuar!