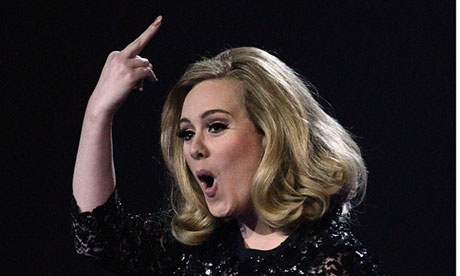 We should be massaging our egos for comfortably being the best country in the world.
If you could wade through the magnitude of tweets about the Playstation 4, you would have seen that the Brit Awards were on yesterday. But, of course you got through, right? The sheer volume of social media activity around the Brits was unavoidable. We British folk love to slate everything. We hate on the weather, the deep inner sadness of public transport, haircuts and horse delicatessen. Oh, and we especially detest our own award ceremonies.
I fell asleep last night to the sound of the UK's angst ridden journalists, frantically rushing to splurge vitriol on to their keyboards before deadline. But, why should we hate on the awards? One Direction have reinstated Great Britain, so, whilst America continue to figure out EDM, why not massage our egos as comfortably being the best country in the world? Because, amongst the plethora of masturbatory Mastercard plugs (does anyone else miss the karoake indebted ones?) the Brits were pretty great.
Sure, Corden didn't match up to Brand's awkward ambassador skills at the VMAs, but he was in possession of enough slow clap jokes to make for a good drinking game. Plus Chris Martin didn't pick up a microphone (unfortunately, Jack Whitehall did). The awards are something we should comfortably celebrate because getting angry at them is like hating the chart show because they play chart music.
Let's run through the night as it happened.
First up, we had a light-show fuckery from Muse. A band created for the sole existence of NME readers, dads and sporting coverage. While Matt Bellamy may have a voice like a long haired pussy cat prancing through hell, he knows how to put on a fucking good opening show. They're sellable to the masses, which is essentially the point of the awards. Did you really expect Hudson Mohawke to introduce proceedings? Please.
Next up came Justin, ready to break apart every male's libido because, is there really any point in attesting to compare to JT? So good was his performance of "Mirrors", that it made a nation collectively drop their pants and convinced the population of the O2 arena to put down their drinks and have a proper listen. The only way it could have been any better would have been if Bieber got up on stage and they had a topless dance off duet to a new song about GQ-esque facial stubble and Veet sheets. We've been waiting for this moment for six fucking years. Can we just be proud for a minute and revel in the fact that JT played the world exclusive live airing of his new track on OUR award show?
Later, both Mumford & Sons and Ben Howard scooped awards and performed. Is that really surprising, though? Until the Harlem shake came along, Mumford were the world's most successful gentrification success story. Besides, aren't the same magazines who hate on them now, the same ones who featured them as ones to watch alongside other members of the nu-folk scene (Looking at you again NME!) They've only gone and done exactly what everyone tipped them for in the first place.
As for Ben Howard, he has charisma that gives hope to us all. He's the type of boy you'd be happy to bring over for tea and biscuits with mother. Without him, there'd be no antithesis to give birth to the likes of fuck-off anti-agenda personalities like Tyler the Creator, et al.
The majority of hate though, I can imagine, will be pushed upon 1D who performed a listenable (read: terrible) mash up of Blondie's "One Way Or Another". But, aren't we past hating on One Direction? It's passé. Sure, they're not proper artists but they are THE BIGGEST BAND IN THE WORLD. These guys hold the hopes and dreams of our sisters/ daughters and so, we should cradle them dutifully. They're also teenage millionaires, which definitely beats being an "aspiring journalist" who, at 35, still writes a rag blog while on the dole. It was inevitable that they'd perform and anyone who says different is deluded about the current non-risk taking state of the music industry. Plus, they've managed two bestselling albums in twelve months, meanwhile Azealia loudly procrastinates on Twitter.
Sure, these acts may not actually be any good. But, what were we hoping for? A King Krule nomination for Best British Breakthrough? A nod for AlunaGeorge? It won't happen. The country is going to be ruled by the Conservative middle classes and we better get used to it.
Besides, for all the "music is real, man" crowd, they played Foals in the background. Frank Ocean won an award and The XX and Alt-J were both nominated for something. Isn't that enough? Aren't you happy?
I guess what I'm saying is, the Brits are the Brits. We should take them at face value for what they are - a music industry love in of money making acts who are being given one final marketing push. The real music awards exist in the yearly publication listicles.
Yes, I dislike living in a world where a song is called "Mama Do The Hump" (thanks, TLOBF!) but, I live in that world. As do we all. Without trying to come over all saccharine, let's keep living.
Follow Ryan on Twitter @RyanBassil