A First Date With... Ella Eyre
It was kind of like a normal date, except instead of trying to get her to sleep with me, I got her drunk and tried to ask her things that she's not supposed to answer.
|
08 January 2014, 10:00am
All photos by William Coutts
As any journalist will tell you, interviews and dates aren't all that different. Especially if, like me, you insist on only interviewing people that you have a massive crush on and proceed to flirt with them 'til they look visibly uncomfortable. Eventually, my editor suggested it might be safer for all parties involved if we just called the interview a date from the start. So I picked up the phone and asked out Ella Eyre.
If you don't know, Ella's that girl with the sexy, husky voice on Rudimental's 2013 club banger "Waiting All Night", a collaboration that earned her a UK Number 1 at just 19. She's also been collaborating with the likes of Wiz Khalifa and Professor Green and has just released her debut EP Deeper. Oh, and she's really fit.
Given that Ella's totally out of my league, it's kind of like a normal date, only I'm not trying to get her drunk in an attempt to coax her into sleeping with me, but so that she'll tell me all the things she's not supposed to before she gets famous and media trained.
Luckily this doesn't prove too much of a challenge; when I arrive at the bar at 3pm, Ella immediately orders us two boozey cocktails named "Sweet Dreams". Her PR looks panicked – "are you sure you want a drink Ella?" she hints unsuccessfully.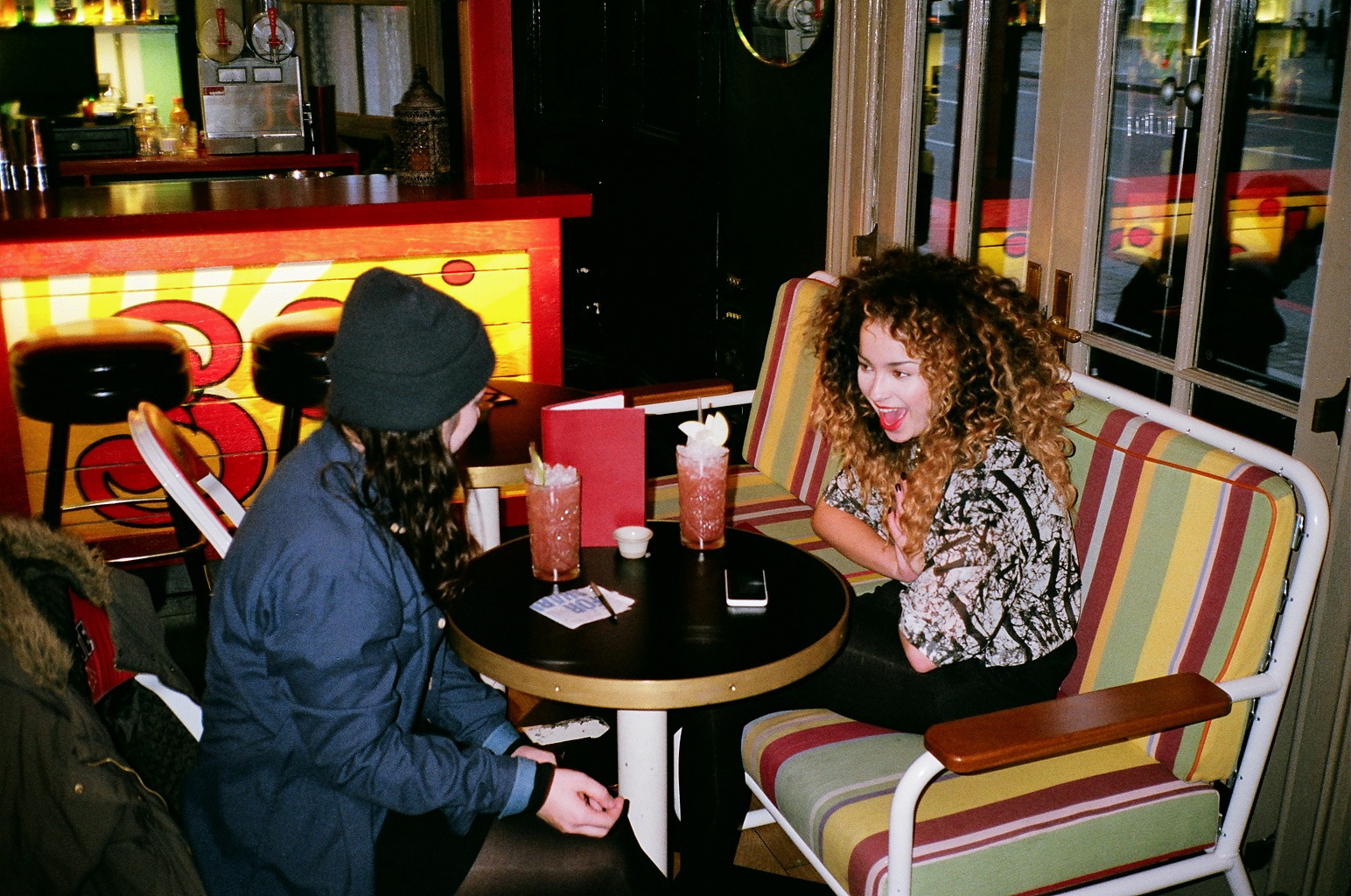 Noisey: Sooo, is this your first date with a girl?
Ella: Ummm, officially, yeah.
Well I'm glad you initiated the daytime drinking.
Me too! After this I can't drink for another week!
Why? Are you working loads?
Yeah. I can't drink and sing the next day… delicate.
You're pretty husky anyway. What do you get more compliments on, your voice or your hair? (This is my attempt at a chat up line, when I hear it back I literally slam my palm into my forehead.)
Do you know what, I'd say it was pretty even. I get a lot of tweets about my hair.
Is there a hashtag?
"#ellashair"… The Rudimental boys don't call me "Ella Eyre" they call me "Ella's Hair"
Oh yeah, you had a Number 1 with Rudimental. Was that nice?
It'll never really sink in until you start working towards having another one. It's so hard to have a number one!
No shit! But you've been working on your own stuff, right?
Yeah, I've always done my own thing. That song just gave me a platform, I guess. My music is a lot more live sounding. I mean, in a way it's got some influences of dance music, but not like Rudimental's stuff. It's got more soul, hip hop and RnB.