Big Narstie's Guide To...EastEnders
"Kat's fanny and the floppy disk have something in common - they're both obsolete."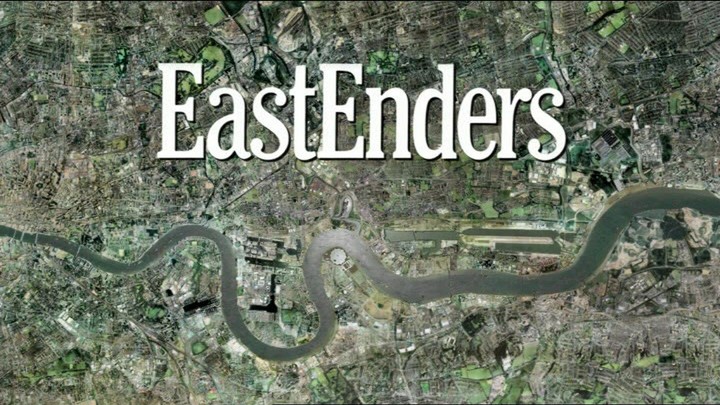 Following on from Mr Narstie's eloquent and enlightening response to YouTube commenters for Noisey's The People VS series, we decided to ring him to soak up more of his wise words. This time about his expert subject; the bastion of British television...EastEnders.
WHY IS EASTENDERS THE BEST TV SHOW IN THE WORLD?
First reason; it's a part of English history, like, EastEnders has been on when Margaret Thatcher was in power, you get me? We've grown up with EastEnders. It's SURVIVED Thatcherism and hopefully it's gonna survive David Cameron. It's like we've grown up with Bianca, with her puffer jacket and all. Her jacket is a part of English heritage.
BEST EASTENDERS CHARACTER OF ALL TIME?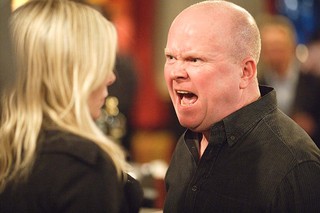 I've got an emotional attachment with Phil, I respect man because he's been a crackhead, he's been an alcoholic…he's done everything and he keeps it trill and never likes to smile. If I ever met Phil we would fight straightaway, because real recognise real. I'd punch him in the face.
WORST EASTENDERS CHARACTER OF ALL TIME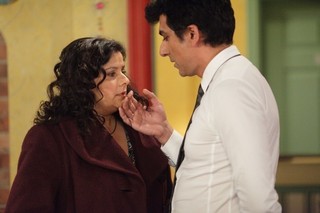 I fucking hate Zainab. She's mad spiteful, I can't stand that bruv, that really upsets me. Imagine this, yeah, you fucked up Masood for Yusef, "Dark Vader controller of the darkside with mind manipulation", but then you think "Rah, to make it all better let's spend our fucking life savings on a water fountain on a council estate"...WHO THE FUCK DOES SHE THINK SHE IS?! She's lucky that Tiff and Morgan only put bubble bath in it, get me? Can you imagine, Tiff just puts the stuff in the water fountain then Zainab PUSHES her way into Bianca's house and tries to discipline her kids. Bianca should've just use her jailhouse cross and silver puffer jacket powers to spark her up in the passage way. She should've just grabbed her from the back of her ponytail and kicked the shit out of her for a good five minutes.
HAS EASTENDERS EVER MADE YOU CRY?
Yeah, I've had emotional moments, I've had a couple of breakdowns where I've just ended up, y'know, leaving it. I spat at the TV, cos you see Archie, yeah? Archie fucking up Ronnie's daughter, all of that just sent me off the fucking Richter scale. David Attenborough is so much like EastEnders, they both break me down, I get too attached. People say all the time "Oh, EastEnders ain't real", but it's on everyday, it's a part of our lives, HOW IS IT NOT REAL? ...But that's the mind of a guy who smokes a lot of weed.
WHAT'S YOUR EASTENDERS VIEWING RITUAL?
Weed. It's just my relaxation method; some people do it with a Heineken or a wife-beater, I just have a spliff and a box of KA drink, then BOOM, I put the volume to at least twelve because man is going in. I will go crazy if anyone phones me during EastEnders, I will box them for days.
BEST EASTENDERS FIGHT OF ALL TIME
Christian and Phil. Hear what I'm saying yeah, for a gay guy Christian gave Phil the fucking Mike Tyson punch in the face of #base. Christian gave Phil the Cillit Bang and all the dirt was gone. But you have to respect Phil because he's a real guy, he said "You wanna fucking fight me do ya?" then walked out of the pub went home and got his tool. Like a true G he went and got his tool, went to Christian's house, buss through man's front door like police and just started doing Tempa T in man's front room with a baseball bat. I was so gassed I kicked over my ash tray, it was peak.
BEST LADIES MAN ON EASTENDERS?
Max Branning, but first and foremost, Max's headshape is a thousand myths. He's got hair on his head but he's bald at the same time. I don't understand? Anyway, see Max, yeah? Max is one of them guys that doesn't like normal sex, he's on this Stan Collymore ting, y'know, going into the back of alleyways. Like, some man need that outdoor experience.
BEST FEMME FATALE ON EASTENDERS?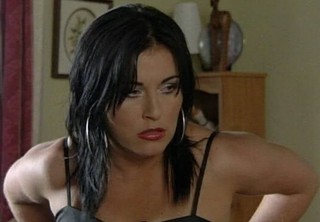 Man needs Afia back, she was the sexiest ting, exotic bruv, Tamwar was just frigid. Peggy Mitchell was trilled up too but her neck looked like a used condom. But, here what I'm saying yeah, Kat's fanny has it's own mind, Kat's fanny is a person. It makes its own decisions, has its own emotions and its own feelings. She is the queen of the bizzle, her tits always look sweaty, like, if you lift one up underneath that leopard print top, it'd just be wet, like she's ready to go all the time. But, when Kat was with Alfie a lot of people were like "Kat's nice. Her fanny would be Premier League, I'd say her fanny was like Tottenham Hotspur or West Ham". But after fucking Derek her fanny went down, her fanny turned into QPR, relegated with no chance of seeing the Premiership again. Hear what I'm saying, her fanny is on the bench, her fanny won't even get onto the reserves, her fanny and the floppy disk have something in common - they're both obsolete.
WORST EASTENDERS STORYLINE?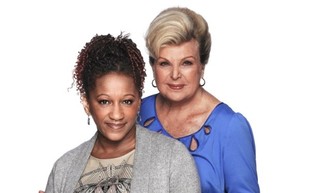 Y'know what made me angry? Cora had black kids. Hear what I'm saying, yeah, if Cora can have black kids my dad's a fucking Polish guy. Don't take the piss out of me, that's some Michael Jackson shit. What the fuck, I am so sorry, but Anglo-Saxons cannot have African kids. She's not even mixed raced, she's as black as Whoopi Goldberg.
HARDEST CHARACTER IN EASTENDERS?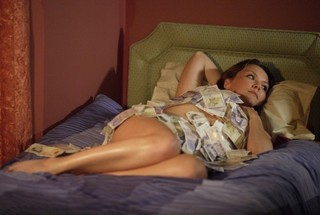 Obviously, Janine is a slag, but on the streets she would be classed as an OG. Janine has got like five bodies under her belt, certified. Like, she's pushed man off a cliff, she's poisoned man…she put Whitney on THE STRIP! How can you make Whitney sell her fanny?! Janine is real; she's a ride or die bitch.
BEST VILLAIN ON EASTENDERS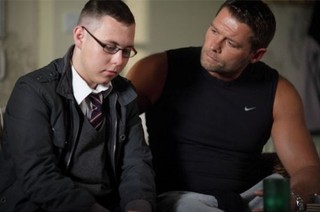 See man like Billy Mitchell, the way I'd fucking I'd box him from for hours, but BEN Mitchell, he's an evil little wanker. There'd be no hanging out, only straight retribution and regulating. Like, when he was saying Christian was hitting on him and that's why Phil and Christian had to fight, cos he's saying "Christian's trying to touch man". I would straight Misery him...arms, ankles and kneecaps for the first 25 minutes, then have a spliff break, then go back to beating him. There would be a lot of instagram pictures.
BIG MO OR HEATHER?
Big Mo's freaky, still, she's experimental, her mind is open to suggestions. Heather's dead, she used to wear leg warmers, man, come on. So if man was super roasted and alone on a desert island for eight months, Big Mo would get the Muay Thai.
Thanks Big Narstie!
Follow Big Narstie on Twitter @BigNarstie and check out his People VS with Noisey here.