2:54's Video for "Blindfold" Is a Love Letter to LDN and Looking Ice Cool
The Thurlow sisters return. Can we be in their gang?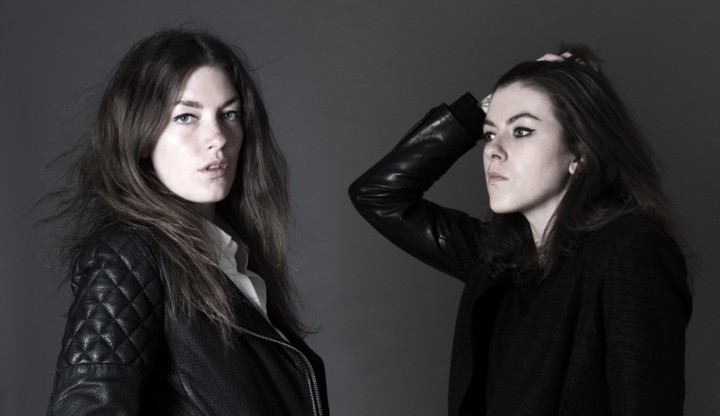 Oh hi, Hannah, hi Collette. Fancy seeing you sisters here. This November 10th
2:54
return with their second album
The Other I
(via Bella Union), and above is the leather-clad-cool video for "Blindfold." It is what you've come to expect from the Ireland-born, Bristol-raised, London-based Thurlow sisters: an inky and seductive cut, anchored by pounding, primal drums, shimmering guitars, and Collette's rich, husky melodies. A genius melding of post-punk and an almost R&B-like vocal lilt.
If you've ever lived in or loved London this video will make you nostalgic for its austre gorgeousness. It's set largely at dawn in the brutalist world of the Barbican—a performing arts center-cum-apartment complex that opened in 1982, yet stylistically, it's curved concrete and waterways have a distinctly 60s vision of the future to it. Which as we all know, is the best vision of the future: the retro-future. See Barbarella for further ref. (Recently it was also the set for the motion-sickness-inducing but totally awesome Metronomy video for "Month of Sundays".)
Another set piece is a seemingly endless white-tiled tunnel, the kind your parents are always warning you not to walk down alone, and especially not at night. But these sisters can handle themsleves:you can tell by the jut of their jaws and their don't-mess stance.
Other points to note:
- All girls look great in a white dude's shirt and a quilted leather biker jacket.
- You can communicate volumes by the way you lean.
- Gold Chelsea boots: yes, yes, yes, yes.
Please tell Kim where to get those damn boots via Twitter. Thanks! - @theKTB