We Talked to Punk Duo Slaves About La Haine and Being in Love
The only thing that angers them is "when your bourbon biscuit breaks off in your tea when you dip it in."
All photos by William Coutts
Slaves have been making a nasty racket around London town for a while now, but they're finally shouting loud enough for people's ignorant ears to prick up. As a duo, they manage to carry the might of bands like Death From Above 1979 and Winnebago Deal, exuding enough fuzz to fry brain cells. Also, as there's only two of them, it's easy enough to remember their names.
After hearing the lairy, arrogant charms of Ceasefire, you'd be forgiven for thinking Slaves are bunch of snarling, Camden-dwelling cider-punks. So when I was met by two smartly-dressed, quietly pleasant lads from Kent, I felt confused and slightly relieved. They mix '77 style British punk with harsh bluesy garage riffs, as infectious as they are confrontational. They've just finished a on a 10-date UK tour with
Drenge, so we caught up with them following their gig at Birthdays in London.
Noisey: Basically, who the hell are Slaves?
Laurie: We are Us. A Kentish man, and a man from Kent.
You're quite an angst-ridden band, was it your intention to be this sort of band from the beginning?
Isaac: No, it just spills out of us. Grrrr…
But you seem like quite peaceful people.
I: I don't think the songs are angry, it's all in the delivery. The songs are actually quite light hearted.
What angers you?
I: Hair in the shower.
L: People who walk really slowly through shopping centres with pushchairs, who have no sense of awareness, and as you walk up to walk around them, they'll swerve into you.
I: When your bourbon biscuit breaks off in your tea when you dip it in.
L: When a packet of Oreo's is already smashed in half!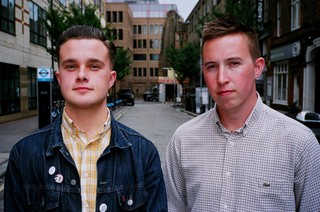 Yeah, that is a piss-take. Do you explore any themes on your record, Sugar Coated Bitter Truth?
L: It's all about experiences and encounters.
I: Things that have happened, things that are happening, and things that are going to happen… but mainly things that have happened. About people that we know and people we don't know.
The lyrics seem personal and introspective in several of your songs, do you think people will be able to relate?
L: Yes. That's what our band is about. We don't really want to tell people what a song is about; it's for people to find meaning in it themselves. That's what good music is about, people being able to feel their own individual way when listening to it.
Are you scared about falling into trap of being a 'buzz band' and lacking longevity? Or are you just living for the moment?
L: I don't consider ourselves cool enough to be a buzz band but if we are then we've just got to ride that wave. It's just about being a band for us.
I: Just enjoying ourselves.
L: Having fun getting haircuts and eating ice-creams and angel slices.
I: We love being in a van on tour and we're also very deeply in love with one another. We've proved that we weren't a honeymoon-period type of couple, because 20 months later we're still here.
L: I'm also in love with my new guitar strings.
Ahhh, young love. What influences your music?
L: Peter Hook is one of my big musical influences. I love Joy Division and Ian Curtis was great, but what I always remember are bass lines like the one at the beginning of "Digital". Non-musically, my influence is probably my dog.
I: I like grey landscapes. I also just bought an ages 5-9 electric guitar and it's helping me write some music.
L: He still doesn't have a drum kit though.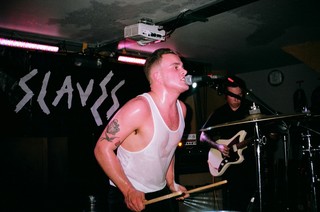 You are well-dressed lads, do you have any style influences?
L: When Isaac showed me the film La Haine, my whole perception of the way I dressed changed slightly. Not even the clothes, just by looking at the buildings.
I: When we play we like to dress smarter, which is funny because we usually de-robe onstage anyway.
Do you think that dressing well is important when playing in a Rock Band?
L: I think dressing well is important when giving a good impression in life.
I: Basically, we care.
If you had to set up a gig, what would your dream line-up be?
I: The Bee Gees, Sinatra, Nirvana then Slaves.
L: Joy Division would do the after party basement show, with an Elton John DJ set.
I: With Paul Potts and Susan Boyle for the breakfast slot in the morning.
You've just finished a ten date tour with Drenge. What's tour life like for Slaves? Is it all cocaine, hookers and hotels?
I: We just like to get a shish kebab and go back to the Travelodge.
L: We don't really indulge in the party lifestyle, we're quite sensible. We like to feel good for the next show.
I: Well it's not really what we're about, but we do indulge.
Pick up their Sugar Coated Bitter Truth album here.
Read more on Noisey:
What Your Regrettable Scene Tattoo Says About You