The Making Of 'Descender': Andrew Wyatt on Creativity, Violin Repair Stores, and Discontent Orchestras
Sebastian Mlynarski's documentary charts the creative tribulations behind Wyatt's first solo album.
Is one month enough time to record your first solo album? Especially when the orchestra you're meant to be collaborating with have doubts about being able to perform the score you've written? Andrew Wyatt, from Miike Snow, thought so and so begins the documentary shot by filmmaker Sebastian Mlynarski that peeks behind the curtain at the creative process and globe-trotting-against-the-clock that went into recording Descender.
In the documentary, Wyatt makes for an amiable and honest host. Quoting Roddy Piper lines from They Live, he's a man battling his own self-imposed deadline, along with the hardships of working with the 75-piece Prague Philharmonic Orchestra, to come up with the goods and make an ambitious album that deviates from his previous work with Miike Snow, displaying a more personal and melodic approach.
The creative process never runs smoothly, and in this doc we get an insight into the methods and intuitions that can inform an artwork, from its conception as an idea in your head to the act of setting the recording process in motion and actualizing the finished song. For instance, Wyatt talks about how the genesis of the album's first single "And Septimus..." came from the simple act of looking in a violin repair store window. Wyatt's unassuming, relaxed, and matter-of-fact approach to creating the album gives a different representation of the creative process, one free of any prima donna-style antics, and full of self-mockery, reflection, and humor.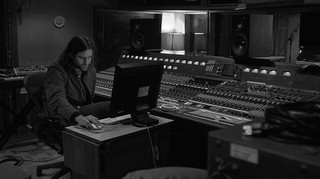 A lively melancholy peppers the chords and recordings heard in the documentary, much like it does Wyatt's sincere observations on everything from the changing climate of music culture to inspiration and creative expression. "Music for me is an instinctual thing, it's not a contrivance, it's a love thing." Wyatt says. "A love thing that's connected to my senses combined with a need, and I can't actually control what that looks like."
As well these candid insights the film also showcases Wyatt's deadpan style and presents the creative conflicts and cul-de-sacs that arise when you're trying to make an album that's intimate and personal to you. It's an honest look at the artistic tussle that takes place when creating an artwork while also giving us a glimpse of what we can expect from Descender when it's released on INGRID/Downtown Records on April 16th.
To find out a bit more about the experience (and the new album) we sent Wyatt and Mlynarski a few questions.
First up Andrew Wyatt...
The Creators Project: Why did you give yourself only one month to record this new album?
Andrew Wyatt: It was all I had time for between MS tours.
What's it like recording with a 75-piece orchestra compared to a band? Intimidating?
It's like turning a huge ship, it doesn't bear last-minute decisions, everything must be anticipated far in advance. Very different from a rock band, which is infinitely more improvisational, maneuverable. Because of my underestimating of this we nearly had a couple of Costa Concordias along the way.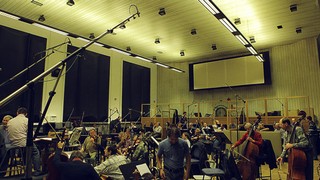 Prague Philharmonic Orchestra embed.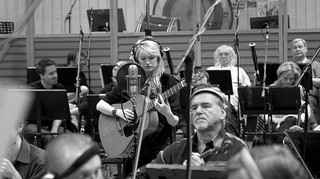 Hero Fisher recording with the orchestra
There's a part in the documentary where you call the album "the ruins of my grand ideas." The album sounds like quite a personal project--was there a cathartic reason for doing it?
My life and my career have turned out quite different from what I'd planned, also from what looked like was going to happen when I was, say, 21. In some way it has been far better, I think I am a far more compassionate person than I was. In some ways though my career in "rock" music was scuttled because I took almost 10 years off from music when I was in my 20s to deal with some personal issues. So yes, I wanted to redeem myself a bit… who doesn't??
What sort of musical directions did you want to explore on this album that you couldn't explore with the band?
I like to be oblique in a way that doesn't really work in Miike Snow, or that we haven't been able to figure out how to present beautifully. I think what brings us together in Miike Snow is our intense connection to pop music. What I've heard Grimes call "the pleasure center," which I love, we love hooks and I think for Miike Snow to work it has to be about hooks-first kind of music. Nothing wrong with that at all--we are good at it, and we love that about each other. But there are also places where we don't overlap and I needed to address that to not feel that my life had been a waste of time.
Sebastian Mlynarski talks about making the documentary...
The Creators Project: The documentary sounds quite offbeat and reflective. How did you approach making it? What did you initially want to achieve?
Sebastian Mlynarski: Andrew is genuinely this "cracked" artist, someone who is very difficult to pin down. From the onset, I knew that I couldn't just go out with a traditional film crew and capture him working. It had to be a very intimate experience, just me with a couple of cameras and a sound recorder. I needed to just be there and erase the whole idea of filming from his mind. I didn't want him to notice being recorded at all, I just wanted him to hang and let himself just be spontaneous and brilliant and I think that I achieved that. Andrew is like a machine gun, he keeps firing and as a filmmaker you always want to be the target.
And did this change at all as the documentary progressed?
As we spent more time together I begun to feel that something special was developing and that the film was ultimately going to be about the hardship of the creative process--the moments that are less than glorious. I wanted him to talk very openly about this and I decided to wire him for audio but not roll video when I asked a series of personal questions. I think that I got the answers that I wouldn't have otherwise.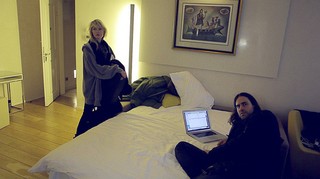 Fisher and Wyatt in a hotel room
Sounds like you did quite a bit of traveling. Did this journeying around to different cities and cultures inform the style or tone?
The film was made during just over three days. I filmed for couple of hours in New York, two days in Prague with the orchestra, and one day while sightseeing outside of Prague. Maybe I slept for eight hours in total during this time. Kind of brutal. I recorded the audio interview with Andrew in the car going to Kutna Hora. This is why the quality of audio recording is pretty bad but the material I got was really good. The content is always much more important to me than the form. Andrew was very candid and able to just speak freely about what it means to him to be an artist. The entire narration of the film comes from that hour we spent together in the car.
Is there an anecdote from your time making the doc that you feel sums up the experience?
Because we all shared a suite in the hotel in Prague, the receptionist thought that we were swingers and she really wanted to "get down" with us. She still sends Andrew text messages asking when we are coming back...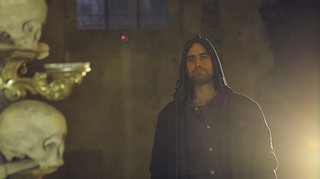 And below Wyatt and Mlynarski discuss the upcoming music video for "And Septimus..."
The Creators Project: You've just been out filming the music video for "And Septimus…" in Buenos Aires. Can you tell us a little of what we can expect and how it relates to the song?
Andrew Wyatt: The song has to do with the way that status is no barrier to unhappiness, that a preoccupation with it can intact prompt mental unrest. There is an underlying message to that effect in Mrs. Dalloway, the Virginia Woolf novel from which the anecdote is partially taken. There are of course also experiences related from my own forays into mental illness.
Sebastian Mlynarski: In the treatment I wrote, Andrew turns into a character that is very much an exaggeration or maybe even a parody of a certain part of his personality. Andrew is an incredible performer and he really shines, while he takes on this persona. My interpretation of the song may have nothing to do with Andrew's intentions but what I heard in the song is some kind of a struggle for the extraordinary--how we want the world to be just a bit better for us, but no matter how hard we try to lose ourselves in the abandon, we are always tethered, tied down to the earthly things like balloons filled with helium. While Andrew ventures into the world he is attached to a small speaker in his hotel room.
What made you want to shoot in Buenos Aires?
Wyatt: When Sebastian described the video to me it was just always there. Buenos Aires is the most surreal city I can think of and it fits the video perfectly for that reason.
Mlynarski: I always thought of Buenos Aires as a place where expats go to drop out. Where they go to invent new identities for themselves. It always seemed like the most perfect setting for this video. Andrew and I both visited there some years ago and we fell in love with the city and people there.
And how long before we get to see the result?
Wyatt: The video premieres the same day as Descender is released, April 16th.
Cool, thanks guys!
Follow Kevin on Twitter: @stewart23rd