10 Reasons Why Nick Cave Makes The Best Music Videos
Spector's frontman, Fred, utilises his fan-boy knowledge, to give us a run down of Nick Cave's best video moments.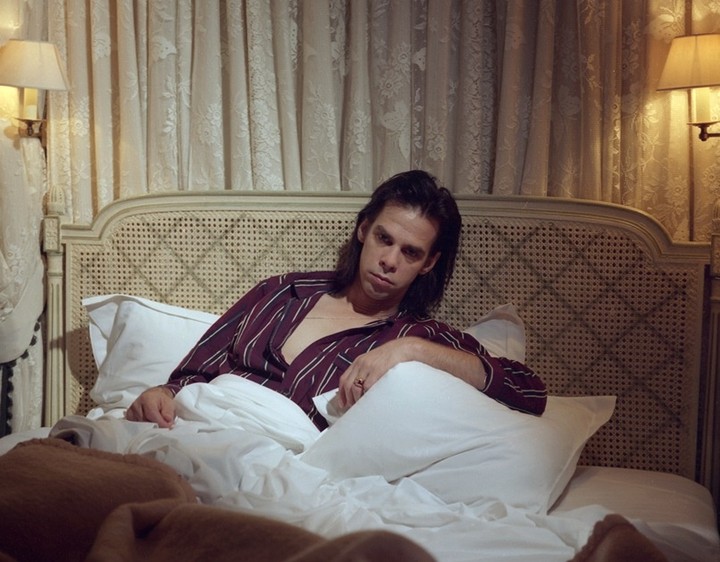 When Fred's not being eloquent on Noisey Talks he's busy saving indie music in his band Spector. And when he's not doing THAT he's being a certified fan-boy to the inimitable Nick Cave.
Nick Cave, one of the very few popular musicians over the age of 50 still seemingly in their prime, has forged a career long and steady enough to have both preceded and succeeded the MTV generation. His videography spans three decades, from grainy VHS TV appearances in the late 70s to the big name directed HD mp4s of today. Cave plays by his own rules when it comes to music videos, as he does with pretty much every other element of his career. In 1996, via a now infamous open letter, he requested that his MTV award nomination for Best Male be withdrawn, along with any potential future nominations or awards, reminding them that "MY RELATIONSHIP WITH MY MUSE IS A DELICATE ONE AT THE BEST OF TIMES AND I FEEL THAT IT IS MY DUTY TO PROTECT HER FROM INFLUENCES THAT MAY OFFEND HER FRAGILE NATURE."
Eighteen years (!) since said fragile nature lead him to his biggest commercial crossover moment with the Kylie featuring "Where The Wild Roses Grow", Nick et al are about to release the Bad Seeds' fifteenth album, Push the Sky Away, and Noisey are lucky enough to have the video premiere of its second single.
"Jubilee Street" is directed by regular Cave collaborator John Hillcoat and stars Ray Winstone, of your uncle's favourite movie/ father of Jaime Winstone fame. He plays a character seemingly riddled with sexually transmitted self-loathing, making a steadily more miserable series of clandestine brothel trips, before a psychedelic denouement in which a magical breast is lowered into his mouth…or something. It's a little hard to tell, but it works, and though the knives might not be out, the nipples definitely are. All the while Nick, who has by no means lost his groove, saunters down various London streets, arms aloft, living the dignified life Iggy Pop could have had if he'd stuck with music rather than insurance.
As VH1 Classic isn't around anymore, I thought I'd take it upon myself to celebrate his latest video by looking back at ten of his best. There's no regular criteria that one can expect from a Nick Cave promo other than (generally) his appearance in it. He makes brilliant videos, and occasionally less brilliant ones. For every show stopping visceral rendition or unexpectedly hilarious bit of choreography, there's an ill-advised CGI bunny rabbit or a performance reminiscent of Lesley Grantham as Captain Hook at the Wimbledon Theatre Panto '99 (Dig! Lazarus Dig). But that's what makes re-watching them all so entertaining - this is a man whose begrudgingly been having a lot of fun for over thirty years. Fun on his own terms.
The first Bad Seeds track without Mick Harvey, and proof that thus far the music's showing no signs of "being dumbed down" as Harvey hinted he felt it might be around the time of his departure between the last record and this one. Enter the vid: Gaspar Noé, who directs with uncharacteristic subtlety, without a single human being, let alone a band member, creating a mood as restrained and haunting as the song itself.
In which Cave saunters through the garish trailer of Baz Lurhmann's Phoenix nights, relocated to Brazil, where we get introduced to a number of the locals and get to see Nick just generally just taking it slow and being the only person who started in the 70s that actually managed to stay cool in the 90s. He even makes wearing glasses look fearsome and sexually charged.
We find Nick circa '92 with a healthy hair length to heroin ratio, writhing around with the band, intercut with footage of bloody murder weapons and their respective crime scenes. Also by John Hillcoat, the camera and the Bad Seeds rock and sway, nauseously orbiting Nick's disarmingly low mic stand. A truly grisly video, right down to the tartan trousers that look like they might have borrowed from Bob Geldof.
One always gets the idea that Grinderman was sometimes just a bit of an excuse for Cave and Warren Ellis to go and misbehave without putting the Bad Seeds' reputation at stake: Somewhere between their Babyshambles and their Watch The Throne. This video is the perfect example of what they set out to do - borderline dad-joke at times, but joyous in its give-a-fuck attitude. If you're at all unsure just hit pause, skip to 4.54 and remember that if Nick doesn't have to be a goth anymore then neither do you.
Compiled of tour footage shot by Mick Harvey, this video for the Bad Seeds' Bob Dylan/ Johnny Cash cover is a rare and charming opportunity to see a the lads kicking back like they don't have a care in the world. So many moments in this video make me smile, from Nick and Blixa Bargeld's Hitler salutes at 1.14 to Nick dancing into Mick's shot at 3.40. The shirts on show give menswear Spring/ Summer 2013 a real run for its money too.
The moment Nick Cave became my favourite lyricist, was three minutes and twenty two seconds into the first time I heard this song. "And I'll crawl over fifty good pussies just to get one fat boy's asshole." Cave at his preposterous lyrical best. The video does the track justice the second you realise Cave's wearing a pink Take That t-shirt (apparently a limited edition released in conjunction with their break up) purportedly borrowed from the make-up artist on the day of the shoot at Nick's request. It's a pleasure to watch him perform decidedly unsuited and booted, gyrating around like a drugged up Mr.G from Summer Heights High sent back in time to save Nag Nag Nag.
Whether it's dressing up as a gladiator in his fifties or just a nappy in his twenties, Nick's never been scared of a strong look. Nick the Stripper (John Hillcoat's first ever Cave collab, fresh out of film school) is Nick at his most deranged and in-your-face. For kids who only know him as an angry old man on the pages of Mojo magazine, watching him prance around abusing his band mates and snogging a goat is nothing short of essential viewing.
"Henry Lee"
Like walking in on a couple at the very moment they fall in love, this one-take video is almost uncomfortably intimate, shot before Nick Cave and PJ Harvey knew each other well but a quite clear sign post of where they were heading. Like only the greatest and most destructive romances can, their doomed love inspired a masterpiece: The Boatman's Call, tacitly agreed upon by many fans as his greatest work. It's moments like this video that you see why it's worth turning down the odd MTV award to keep it real with the muse.
"Shivers"
Two years before The Boys Next Door would become The Birthday Party, they went on Australian TV show Nightmoves and performed their best song "Shivers", a beautiful two-chord lament written by the late great Rowland S. Howard at the age of 16 (WTF?!) This is Nick at his most innocent and dreamy, a teen idol in a popped collar and casio watch. Naive would be an unfair word to use; "Shivers" reveals Cave as a world class entertainer from the very beginning of his career.
Not just a great Nick Cave video but a solid example of how great music videos can actually be, and a reminder that to make something serious you don't necessarily have to take it that seriously. A slow-build, a great set, a final dance routine that rivals Prince Charming and a series of stellar cameos from Jarvis Cocker and Noah Taylor that are only topped by Jason Donovan, who sweatily and phenomenally steals the show. Jason claims to have not touched the "pure white snow" since 2000 when his first child was born, but I think this masterpiece (made in 2001) says otherwise.
Follow Fred on Twitter @fredmacpherson