Listen to This Compilation From a Bunch of Artists in New Cross
It pulls together some of the finest music being made in the New Cross/Deptford area.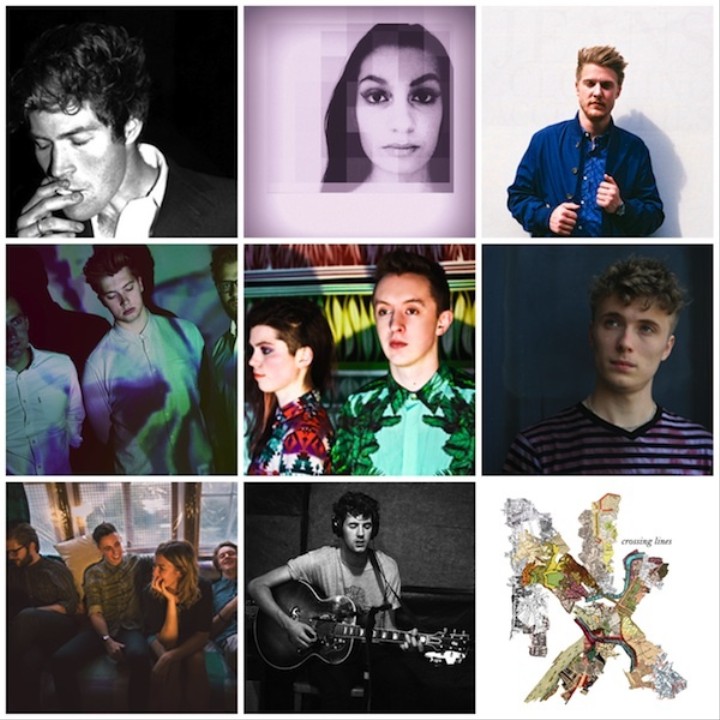 Crossing Lines is the debut release of NX Records, a joint project between Matthew Herbert's Accidental Records and Goldsmiths. As you'd expect from an institution that includes James Blake, Katy B, and members of the Portico Quartet amongst it's alumni, the music is pretty spectacular in its range. The album pulls together some of the finest music that's being made by people in the New Cross/Deptford area, while also involving the musicians directly in the whole process of putting out the album, from setting up the label to choosing details for the packaging. In conjunction with the release NX Records will also be hosting a number of events, including a pop-up record shop, live showcases and industry talks in New Cross. The artwork of the limited edition CD release will also feature a custom designed map of the New Cross area.
Noisey: What makes New Cross a good area for music? Is it the presence of Goldsmiths, or are there other factors as well?
New Cross has a rich musical history and together with its neighbours Peckham and Deptford there is a healthy contingent of great live venues and performance spaces. It's diverse and lively and Goldsmiths adds to that, but it's not the only reason for it, certainly. Having said that, because there's such a massive student population you do get this turnover of new music and a lot of graduates stay in the area which contributes to the survival of the scene.
Why did you choose Accidental Records as the label you wanted to work with?
Accidental has a history of introducing new artists and has never been tied down as a genre-specific label. Each of their releases has been really different from the last which makes it the perfect partner for launching a new record label, particularly as Goldsmiths has a similar reputation for nurturing innovative, new and exciting talent.
Compilations can be hard to get right, given the difference in music and styles between different artists. How did you get around this?
This is a really tricky thing and something we're still feeling our way with, but we're adamant about good music being good music and not restricting ourselves to one genre or pigeon-holing music. There really is a wide mix of styles on this release but the writing is consistently interesting and the quality is high.
How involved were the artists in the creative process?
In terms of their musical output, entirely. As a label we don't manage the composition process at all, the artist has complete creative control. With things like the artwork, release title etc, we have an open discussion with the artists that gives them the opportunity to be involved in that side of things as well if they wish to be. That is what we're trying to do! NX is trying out a new model for what a record label could be and how it can operate. Power is gradually being revoked from of the grasp of the major labels and is being handed back to the music creators. This new label is partly an exercise into assisting artists to take control of the music they create, whilst still operating within the structures of the wider music industry.
How did you choose which artists to feature on the compilation?
We had submissions from over 30 artists for our mixtape and from that we chose to work with the artists that we felt were the most developed and best represented our vision for the label.
What made you choose "Crossing Lines" as the name of the record?
We had loads of ideas. Crossing Lines has local geographical connotations, but also represents the diverse nature of the music and collaboration which is fundamental to this project.
How will it be released?
A limited edition CD includes a hand wrapped, specially designed map, depicting real yet fantastical iconography of the New Cross Area, its really beautiful! It will also be available to buy in digitally from all the usual places.
Are there any plans for another record after this one?
Absolutely, there will be full artist releases to come in 2014.
Roughly how many people did it take to make the record?
We have a core team at NX Records made up of people from Accidental Records and Goldsmiths music department. In addition to this there is a team of students, alumni and artists who have been working on all sorts of things to help bring this record together. Of course the music itself features the creative work of so many different people as well; some of the artists work in bands, some have guest performers, some have producers whereas some are self produced and completely solo. All in all its fair to say that a small army contributed to the release of this record!
Are the artists mostly in their final year at Goldsmiths, or are there students from lower years as well?
On the mixtape that came out earlier in the year we worked with both current students and alumni. The artists on the actual compilation are all alumni, because we felt that current students are still going through a process of development. That's not to say that we wouldn't be signing and releasing current students in the future though.
Cool, thanks!