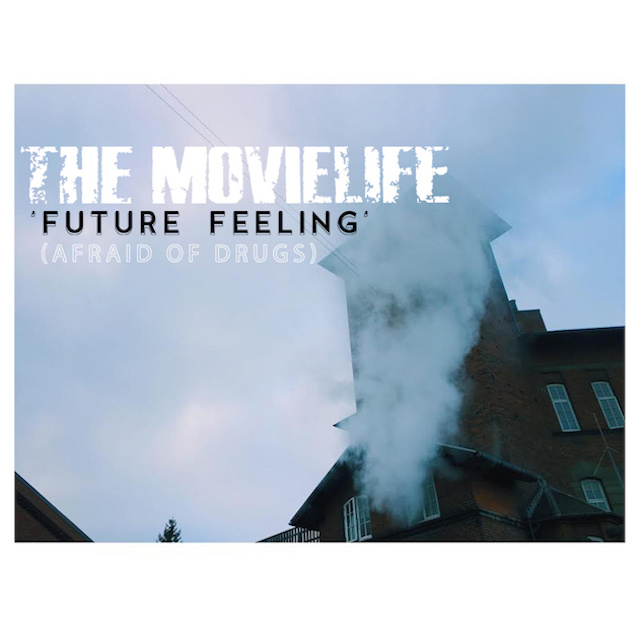 The internet barely existed when The Movielife broke up in 2003, and Toto, I don't think we're in Drive-Thru Records territory anymore.
The internet barely existed when The Movielife broke up in 2003. The influential Long Island mob formed in 1997 and soon found a home with sad-pop-punk pioneers Drive-Thru Records (New Found Glory, The Starting Line, Hellogoodbye), through which they released the Has a Gambling Problem EP and their third and final album Forty Hour Train Back to Penn. Most of the members of went on to do other things - vocalist Vinnie Caruana formed I Am the Avalanche, Brandon Reilly formed Nightmare of You, in which Phil Navetta also played briefly, and Dan Navetta went on to form Heavy Rescue - but they came together again in 2011 and 2015 for a few reunion shows. Now, we're premiering "Future Feeling (Afraid of Drugs)" - the band's first new song in thirteen years - and Toto, I don't think we're in Drive-Thru territory anymore.
In many ways, The Movielife has evolved into a totally different band, because of course they have. It's been almost a decade and a half since their last release. They have a much bigger sound now, Vinnie's voice doesn't sound like it's constantly scraping past its limits, and the scrappy basement energy has been traded in for something much more controlled. It's all very Run For Cover, Title Fight circa Floral Green, Basement circa now. But traces of The Movielife as we understand them still remains in the signature discordance, the lyrics (including the final blow of: "Oh my love, you're ever so slightly doing my fucking head in"), and their undying ability to pack a punch.
Here's what Vinnie Caruana has to say about it all:
"We had a fantastic run of shows in 2015 after an extremely long break. The rest of the guys recently expressed a strong interest in integrating new music into our set if we were going to continue doing shows, in the interest of keeping things fresh. So Brandon and I got to work and this is our first completed song. We recorded it so that our fans and anyone else coming to our upcoming shows in NYC, Philly and Virginia Beach happening in a few weeks or to our UK shows in May can get acquainted with it, since we'll definitely be playing it. I'm really excited about this song; it's the first new Movielife song we've put out since 2003. We definitely plan on continuing to write and share music, even if it's just so we can spend time with one another and be creative together. Danny also has a media company called ApK and was working in Copenhagen recently when he snapped the photo we've used for this song's artwork. The image is perfect 'cause it captures the exact feeling I had when I was writing the lyrics."
"Future Feeling (Afraid of Drugs)" is available to stream and download for free below.
Catch The Movielife on tour:
Mar 24 - NYC, Webster Hall
Mar 25 - Philadelphia, The Fillmore
Mar 26 - Virginia Beach, VA, Peabody's
April 30 - GROEZROCK, Meerhout, Belgium
May 1 - Manchester, Gorilla
May 2 - Glasgow, Art School
May 3 - London, The Dome