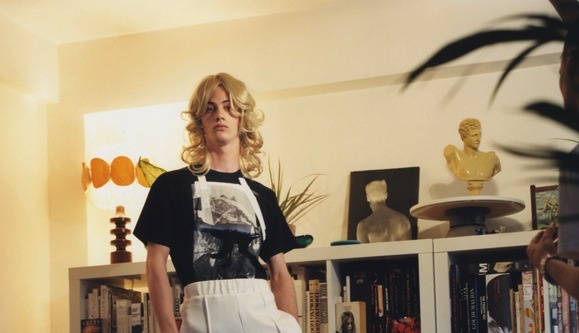 Fashion and music collide in this new project from the London-based designer.
British designer Martine Rose has been a staple in the London fashion scene since 2007, when she showcased her debut collection of ten shirts at a private members club in Soho. Her new project, which she's been working on in conjunction with Tyrone Lebon, Poppy Bartlett, Max Pearmain and her nephew, Alex, begins today, and as part of it, Lord Tusk has created a 40 minute composition. We asked them both to tell us more about the project.
Can you explain the different elements of this project?
Martine: This project was really exploring all of the elements of what influences me a both as designer and a person, and using different platforms to really celebrate those relationships. There is a trust thing already in place, and that's it with Lord Tusk and I, we have know each other for a long time, we met through music many moons ago and although our friendship has transcended beyond that, that is always at the root, so there is very little conversation that actually has to happen, because he understands all of the references and influences already.
Lord Tusk: I've worked a lot with Dean Blunt from Hype Williams who worked with Martine on her previous shows. As a good friend of both Martine and I, Blunt has been a inspiration creatively with broadening ones horizons to the outer limits. I've worked on a few projects with him in the past year selecting music at his events and exhibits.
So how did you set about composing after that initial conversation?
Lord Tusk: After my first conversation with Martine I brainstormed for a while, absorbing her ideas, concepts, inspiration and direction for this particular show. I then scuttled through my catalogue of music and searched for what I call the lead track or entry point, which is the heart and key to inspire the concept. In this case it was a song called 'Power Stepper'. Once I established that I then read through the brief and followed up the links to past and present affiliations and collaborations, also re-viewing Martine's previous shows to get a better insight. As the tranquillity and peace of midnight approached my creative side increased (like most things about shows, it to the last days and hours for everything to take shape). I stuck an image up of one of Martine's photo of her new material for inspiration in front of my recording equipment and then and right there recorded two new tracks that I felt suited the concept.
The rest of the material I used was from productions I have been working on the last month. They're part of an ongoing concept, one of many, that I've been working on. I call it "New Black Swing" as a revisitation of and homage to the music genre "New Jack Swing" or swingbeat from the late '80s and early '90s. It's a combination of high-energy rhythms and driving melodic mid-tempos laced with piercing lead synthesisers, rolling drums, legato bass lines and punchy, crunchy sounds. To create the songs I used a Korg Electribe rhythm production sampler, Micro Korg Synthesizer, analogue drum synths and some Dave Smith sound Effects. Everything I recorded is actually played and mixed live in order to produce a fresh exciting feel rather then being a completely set mix. Then I record anything from two to ten alternative mixes and choose the appropriate one for the task in hand. Overall I call my genre of music 'Organic Electro' and I feel it's similar to Martine's approach of being free to express without restrictions, acknowledging genres but not falling into imitation or formula. The idea that originality evolves through practice and experience. So though her work inspired me, and though she knew what kind of approach I'd take, it was a collaboration where we went off and worked individually, in parallel, rather than spending a lot of time together.
Is this the sort of thing you'd both like to do again?
Lord Tusk: This is a first for me in terms of collaboration with a fashion designer and, to be honest, a dream come true. I've always had an in interest in composing music for theatre and catwalk shows, I have a lot of friends in fashion and the creative arts, and I know a lot about the technical side of staging. When done right, the combination can be incredible, especially if the music selection is as unpredictable and bold as the designs. Electro and house music have always worked well with fashion so I have incorporated them both.
Martine: That's the best thing about working in this way, it's so indulgent to be able to go to your friends who are doing really great stuff and work together on a little project.
Read more about the project and see the exclusive video over on i-D