How Jack Steadman Finally Expressed Himself as Mr Jukes
The former Bombay Bicycle Club frontman sailed across the ocean and came back with a new album of soul, funk and jazz.
Not many musical projects start on a cargo ship, journeying for two long weeks across the North Pacific Ocean. Former Bombay Bicycle Club frontman Jack Steadman has always been a traveller, and this took things to extremes. But it was here that he first began to piece together what would eventually become Mr Jukes – a soul-fused, funk and jazz-rooted project that, on paper, seems a similar distance from his indie roots as the cargo ship's own slog of a trip, from Shanghai to the west coast of Canada.
Steadman boarded the ship shortly after his old group disbanded. It took months of research, but he doesn't disclose exactly how he made it happen – a quick browse online doesn't bring up similar itineraries. "It basically just involves a lot of paperwork," he says. "It used to be a budget way of travelling, but it's about twice as much as flying now." He was the only passenger among a team of workers – from Poland, Germany and the Philippines – who didn't have time to stop and chat. Nobody know who he was, or anything about his past. Once the ship set sail, Steadman set up his own studio, taping synths and laptops to tables because waves would tilt the ship from side to side.
The purpose of this elaborate, impractical trip wasn't part of some tourism bucket list – it was a means of being productive. "You know you're always moving forwards – you're travelling. That's my favourite state to be in. And that's where Mr Jukes comes from," he says, three months prior to the release of his debut album, which is less a "Jack Steadman solo album" and more a glimpse into a completely different mind of a man who's written festival-ready bangers since he was 15.
A lot of people won't be prepared for this. Bombay Bicycle Club diehards will need to familiarise themselves with a sound that doesn't seem remotely Steadman-stamped on first listen. The record's opening track "Typhoon" was written on the cargo ship. It has more in common with Forest Swords and Gold Panda than any indie big-hitter. Spacious glockenspiel parts and gentle strings sweep in, before being rudely interrupted by pounding drums that snap alive in a flash. It's another world.
There are others who might not even bother hitting play in the first place. They'll have a distaste for Bombay's palatable hits, and they wouldn't imagine the frontman to deliver anything other than gentle, floating pop. He's more than aware of this, hence putting it out under the Mr Jukes stage name. "I don't think the moniker 'Jack Steadman' works. If I make a folk record then maybe I'll keep the name. I wanted to separate it as much as I could from the band. The album could do really badly. Maybe people won't get it," he admits, laughing like someone totally at ease with the eventual outcome.
Lastly, as a kicker, it might also seem convenient for someone like Steadman, in an age where guitar bands are increasingly seen as uncool, to step as far aside as possible from that world. Cosying up with obscure jazz and legendary soul singers, is this just a guy aligning himself with what feels edgy or "new"? A tour of his musical past suggests otherwise.
Sat in his self-built studio in Hornsey, north London, Steadman pretty much bounces off the soundproofed walls. Not long ago, the vibrations from construction works used to rattle this entire room, and knobs on mixers would turn on their own. There's a pool table in the lounge outside. Inside sits a previously disused 18th-century piano with a MIDI keyboard built-in and an exercise bike in case he spends too long slumped in his producer's chair. This is a special home studio, the kind where days could roll by with no thought for the outside world. Empty bottles of wine decorate the piano. A West Ham United flag is stacked near speakers. "I've got a constant pot of edibles and I'll spend the night here," he says, beaming.
He spends nights with one tab opened to YouTube, the other on Discogs, to purchase anything new he discovers. "The algorithm on YouTube is one of the greatest ever created. Nobody gets it more. And the comments are a great place to be. I'll save everything I find and then just buy the record." Once I've sat down, he rifles through his vinyl collection and plays a couple of records that inspired God First. There's an old Stravinsky piece ("highly spiritual music"), Donny Hathaway's "The Ghetto" ("I think he was one of those people when you put him behind a keyboard, he felt comfortable to express himself and be a showman") and a recording of Pastor TL Barrett & the Youth for Christ Choir, dating back to the 70s. Combined, all three inspired the gospel-like euphoria of his debut. The title, God First, relates to this idea that when making music – and collaborating with others – something spiritual enters the process. "I've had this argument my whole life about whether improvisation is based on memory or maths, or whether there's something else going on."
Steadman is the first to admit he's a private person. Years ago, he'd go to Japan to be by himself. "It's a place designed for people who just wanna spend time by themselves for a bit," he says, drinking a bitter in a local pub, a couple of hours before making the 100-yard trip to his studio. "I don't like being in the countryside, or in a cottage by myself. You get freaked out," he laughs. The trip that helped kickstart Mr Jukes was perfect for him. Not many people to talk to, but enough incentive to work, he had everything he needed. And he wasn't completely alone. On their hours off, the workers would visit his makeshift container studio and record songs. "I was the new face, the thing that breaks routine. It ended up being the on-board studio for songs they wanted to send home to their wives. Recording a lot of cheesy love songs about how much they missed their families. It was very surreal."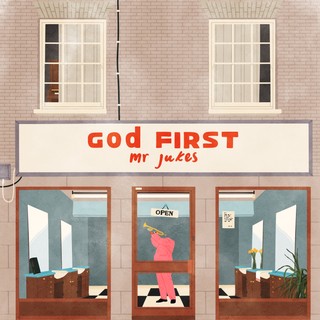 Whether it's seeing new places or surfing Discogs way past midnight, he seems to treat music as an endless journey of discovery. This explains the approach to God First, which sees him dabbling in new genres and working with people you wouldn't expect. "It wasn't so much wanting to step away as being a frontman of a band," he starts, "but the thing with Bombay is you had to take an idea and almost adapt it into this four-piece guitar band." He wasn't against the challenge of working in those constraints, he says. "But I would always think, 'What would it sound like if I didn't have to do that?' That's the point. The whole album was me wanting to get my imagination on record."
He can also pinpoint the exact moment he knew he wanted to delve into the depths of his taste for something more personal. Back in the Bombay days, they covered Disclosure's "F For You" in a BBC Radio 1 Live Lounge session . "It's full on Afrobeat, cowbells, horns, three backing singers. I'm getting down on the organ. And all the comments are like, 'Jack is enjoying this way too much. Jack is like the whitest guy in the world…'" He doesn't deny that on the surface, Mr Jukes could look like a white artist frog-leaping between genres traditionally associated with black artists. Wilfully sampling old soul records, while hip-hop stars have fought for decades to do the same and be called credible, could seem in poor taste. But this isn't a whim decision or a quick musical tourist stop. "You had to be a hardcore fan to know I was a fan of this stuff," he states. One flick through his studio record collection and it's clear this is a project he's wanted to started for well over a decade.
God First does sounds like a musician who's let himself roam free. Lead track "Angels / Your Love" is a slick, sax-packed collaboration with BJ the Chicago Kid. Even on one like "Ruby", where Steadman sings in the same pensive, emotive way he always does, he's surrounded by slick handclaps and the kind of luscious piano notes you'd associate with autumn left-covered New York streets. Most of the collaborations, some of which he doesn't want to reveal before the record's out, happened in the flesh. The rest was a process of lifting samples (being introverted is "one of the reasons why I love sampling so much," he says) and creating a musical patchwork he hadn't dared dream of previously.
One particular sample stands out, with its own brilliant story. On the BJ collaboration, he used a piece from Argentine composer Jorge López Ruiz. The song was recorded, BJ had been paid, but Steadman hadn't yet asked permission. His label sent an offer, to which they received the reply: "Not in a million years." That was that. "This is not an advertisement for sampling. Kids out there thinking about getting into it – it's a headache," he says now, laughing. "I had never experienced such panic. In desperation, we figured he'd had this very cold anonymous email from a record label. Why don't we try and make this a bit more personal? Luckily my flatmate is Mexican and speaks fluent Spanish. She sat down with me and we wrote this letter. It explained how I had all his records, how I was a huge fan, how I wanted to introduce him to my friends and my generation." Ruiz relented, and "Angels / Your Love" was allowed to exist. "I think at that stage, most people would just re-record it. A lot of people do that. They try and get around not having to even deal with it. I want his name to be there under the song."
Throughout our conversation, Steadman always makes it clear that life under Bombay was never anything but fulfilling. That even as a reluctant frontman, he loved every moment. "If you didn't have to speak in between songs, I'd be the most incredible frontman in the world," he jokes. The band announced an indefinite hiatus in January 2016, following 2014's most recent album So Long, See You Tomorrow. He's knows they took a step back at the right time. "Obviously it was an emotional thing to do. But I think everyone understood that. Especially now, I'm happy we did that. Because we do get to look back with a real smile on our faces. Each record was an improvement. It was this wonderful curve that got chopped off at the top. I'm really happy we were able to do that."
As with anyone's life, tiny variables and chance happenings affect the course each person takes. You can hear Steadman's own game-changing experiences when listening to God First. Weird instrumentals he came across in a Shibuya jazz cafe appear on the record, like a sample from Grant Green's cover of James Brown's "Ain't It Funky Now". Opener "Typhoon" wouldn't exist if not for that cargo ship experience, or the fact he was reading a James Conrad novel – also called Typhoon – while onboard. And the DNA of his Bombay days still swims around. As far as solo debuts go, this Mr Jukes record is resolutely personal. In fact, it reveals so much more to Steadman than what anyone – beyond his closest friends – knew before. Even if this record gets heard by a smaller audience than one he's used to, it's been a worthwhile pursuit. "It's a great feeling when these people you have so much respect for understand the track you're doing and want to be a part of it. Being new to this world and having established artists respecting what you're doing … It's just made me really at peace with everything."

You can find Jamie on Twitter.