Charli XCX's Next Beats 1 Episode Is a Pop Celebration of Collaboration
On it, you'll hear about the weird way Tove Lo learned that Lorde had accepted one of her songs for album 'Melodrama.'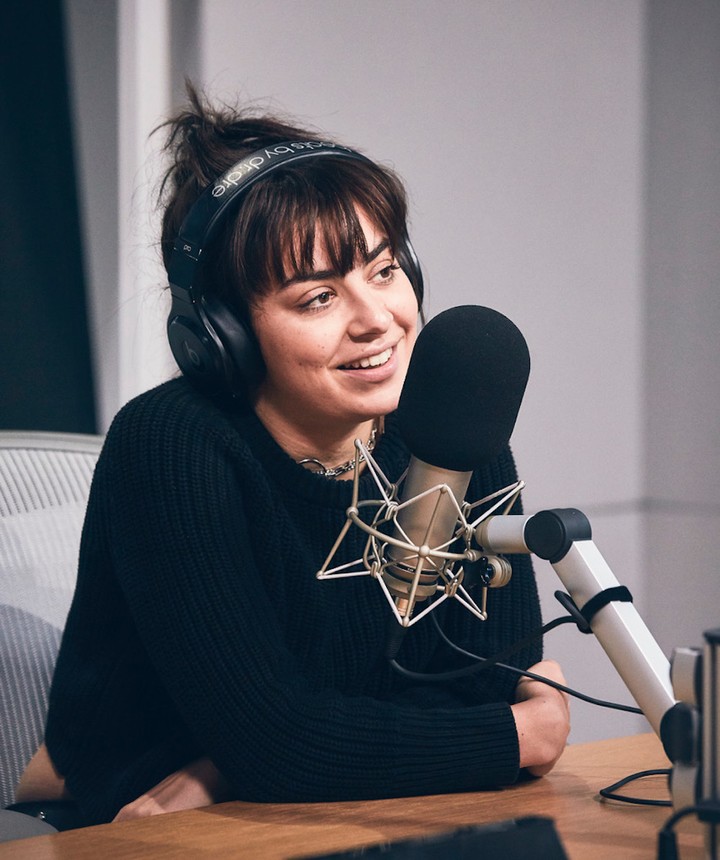 Photo via PR
At this point listing Charli XCX's achievements is not only an exercise in mentally listing all of the things I have not done and am not talented enough to ever do, but on a practical level makes it actually quite difficult to remember them all. Because there are loads. She has just done so much stuff. Anyway, what I'm trying to say is that the singer, songwriter, musician, producer, music-video director, aesthetic maven, and cultural forecaster is also a radio presenter on Beats 1, and the second episode of her show airs tonight at 8PM if you're in the UK.
This time around, the 'The Candy Shop' will feature special guest co-host and fellow pop star Tove Lo. We can be the first to tell you that she chats to Charli about music videos (specifically this one – there are puppets) and the details on writing with artists like Lorde. Real heads will already know that both Charli and Tove write hits for other artists while also pursuing their own solo careers. So, with Melodrama:
Tove Lo: We wrote this song a while ago and I was like, 'I wrote a song with Lorde!' – super excited, like a nerd. And then obviously she was doing her thing and I was out on tour and we didn't talk for a while. So I was like, "Hey, just wanted to check in" and she said, "No, no it's on the album for sure" and I was like "Oh man, yes!" but then I didn't hear anything for a while longer.
And then I was at Coachella, had just finished my set and was like, 'Oh I just played at Coachella, so insane!' and then I was like standing by my trailer, stuffing food in my mouth was like, 'I'll check her set next time, I'm just gonna eat this.' I run back out for the second half of it. I'm like, 'I recognise this song' and go "Holy shit!": she was playing "Homemade Dynamite." I didn't know for sure that it was on the record so I was over-the moon-excited. It was so cool.
Charli XCX: So that was the first time you know 100 percent that it was going on the album?
Tove Lo: Yeah, because you know, when you're writing with a bunch of different people and all of a sudden, it's time to finish it. And maybe the songs that felt right in the beginning aren't right anymore, cause that's just how it works. But yeah that made me really happy!
And, since they were in the same room at the same time, they chatted about their collaboration on Charli's recent mixtape Pop 2, "Out of My Head":
Charli XCX: I mean, I was so happy when I sent you this sketch that you were into it. I was just super stoked that it happened. And ALMA's on there, one of my favourite people ever. And I feel like the combination of us three in like a party scenario is very dangerous. Like in a huge way. So yeah I'm really happy that we got to do this song. I hope we get to do a tour together based on the song. Only this song.

Tove Lo: We're only performing this one song only.

Charli XCX: Oh yeah. No, that would be really great. I love how you just texted me the lyrics that you wrote and I just felt it.

Tove Lo: Those are like when it's real because you know collaborations can be like when it goes through like five different people and I'm likem 'Actually can I just get the contact, you know, of the person I'm actually writing with.' That's so great when you're like 'Hey! I have this song idea,' 'send it to me,' and 'Oh me and ALMA want to be on this' and we're like texting each other back and forth different ideas and versions and images. I love that. So that's you know how you should collaborate.
You can hear the rest of their conversation here at 8PM GMT (12PM PT/3PM ET/9PM CET). It'll be major.
Follow Lauren on Twitter.