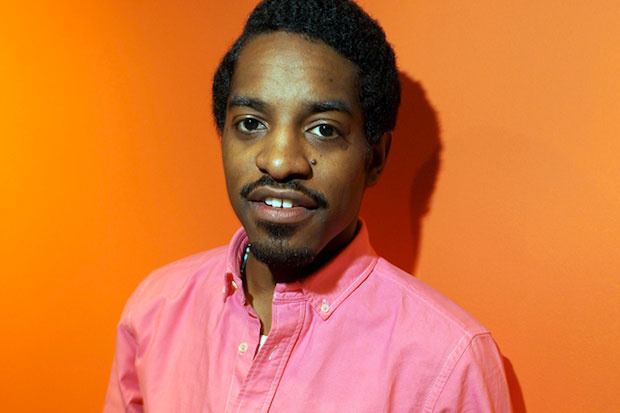 Thankfully, The Last Skeptik made us a mixtape to remind us of all the good Andre times.
Oh, Andre. It sure does seem an age since Southernplayalisticadillacmuzik caused more stutters than a substitute teacher pronouncing an ethnic surname. Outkast have contributed some of the most funk-drenched hip-hop debauchery to ever schmooze an iPod playlist.
But, I'm sad. I'm sad because in the past few years Andre has been relegated to the lower echelons of the song format. Everyone and their varicose-veined aunty has tried to get him on the latter end of a musical soiree of sorts and I'm tired of it. He's one of the most overlooked hip-hop artists of all time and should be fronting tracks with the type of double-time rap mastery he made his name with.
Could it just be that he's run out of steam? Are the proverbial juices no longer flowing? Maybe it's time he changed his name to Feat. André as an MBE-type ode to his "designated rapper" status.
See, bar his addition to Frank Ocean's "Pink Matter" in 2012 and a few others, the past few years have seen A3K leapfrog onto the buttocks of too many tracks. Mediocre ones at that. I don't like the idea of Andre being the farting coda of Beyoncé's "Party". In fact judging by Bey and A's recent collaboration, a botch job of Amy Winehouse's "Back To Black" for The Great Gatsby soundtrack, I'd rather they stay a suitably safe distance apart. Preferably the distance between West and East Egg.
We have to back track to 2007 for prime time Dre, when the likes of "Everybody" with Fonzworth Bentley had my replay button frazzled. (2008, at a stretch, if "Green Light" had you frothing with excitement every time you paused at a traffic signal.) For an original ATLien, that is far too long.
So rather than present the drivel of recent times, we've excavated the depths of the Outkast discography. In homage to the brighter days of The Love Below maestro, The Last Skeptik collated a playlist containing some of Andre 3000's best verses into a handy one-hour mix. There's snippets of "She Lives In My Lap" and "Art of Story Telling Part 2" buried in there to mull over, as well as a couple of the more acceptable cuts from his more recent "three grand and I'm anyone's" phase. While you listen to it, clasp your hands together and pray for The Prototype to return.
TRACKLIST
1) Outkast - "Elevators"
2) Tash ft. Outkast - "Smokefest 99″
3) Rick Ross ft. Andre 3000 - "Sixteen"
4) Kelis ft. Andre 3000 - "Millionaire"
5) Outkast ft Lil Wayne - "Hollywood Divorce"
6) Jay Z ft. Andre 3000 - "30 Something Remix"
7) Outkast ft. Babyface - "Jazzy Belle Remix"
8) Outkast - "Playas Ball"
9) Outkast - "She Lives In My Lap"
10) Gwen Stefani - "Bubble Pop Electric"
11) Q Tip ft. Andre 3000 - "That's Sexy"
12) Big Gipp ft. Andre 3000 - "Boogie Man"
13) Fonzworth Bentley ft. Andre 3000 - "Everybody"
14) Outkast ft. Mystikal - "Neck Ov The Woods"
15) Outkast - "Rosa Parks"
16) Outkast - "Art of Story Telling Part 2″
17) Outkast - "Skew It On The Bar B"
18) Outkast - "Humble Mumble"
19) Lloyd ft. Andre 3000 - "Dedication To My Ex Remix"
20) Lil Wayne ft. Andre 3000 - "Interlude"
21) Outkast - "Spottyoppydopalicious"
22) Drake ft. Andre 3000 - "The Real Her"
23) Devin The Dude ft. Andre 3000 - "What A Job"
24) Rich Boy ft. Andre 3000 - "Throw Some D's"
25) T.I ft. Andre 3000 - "Sorry"
26.) UGK ft. Outkast - "International Playas Anthem"
27.) John Legend ft. Outkast - "Green Light"
28.) Outkast - "Liberation"
29.) Frank Ocean ft. Andre 3000 - "Pink Matter"
30.) Outkast - "Prototype"
You can download The Last Skeptik's new album here and watch his new video here
Follow Errol on Twitter: @errol_and