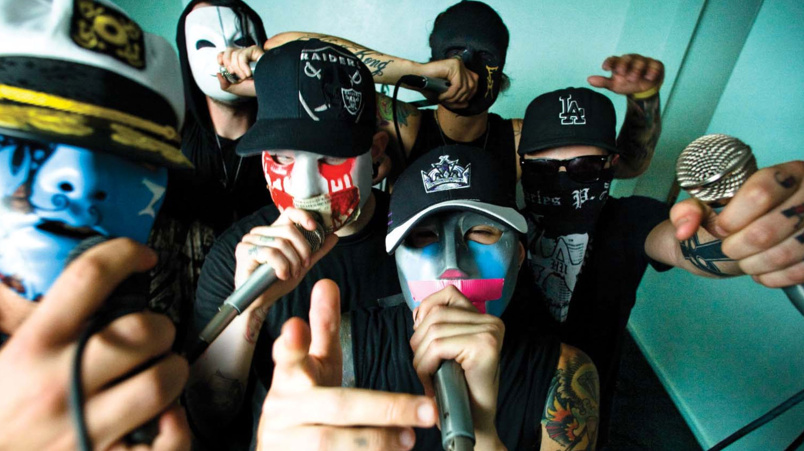 THIS IS A NAUSEATING COMBINATION OF KORN AND SLIPKNOT AND LINKIN PARK AND A BAG OF CIRCUMCISED DICKS.
[Play along by listening to Notes From the Underground on Spotify!]
"YO DUDE BRO I FUCKIN WEAR ADIDAS SHELLTOES BRO AND I DRINK JACK DANIELS *VIOLENTLY SCRATCHES RECORD ON TURNTABLES* I LISTEN TO RUN FUCKIN DMC BUT I ALSO PLAY THIS MOTHERFUCKING GUITAR *DOES STUPID FRED DURST SHUFFLING DANCE HEADBANGING SHIT* BITCH!"
WOW SON I THOUGHT THIS SHIT WAS OVER WITH LIMP BIZKIT/KORN/LINKIN PARK? I CAN HEAR THESE NIGGAS WEARING HUGE DICKIES ON THIS SHIT B. YESTERDAY I REVIEWED AN ALBUM BY A BAND THAT DRESSED LIKE CRISS ANGEL IN AN ANIME MOVIE ABOUT MOTLEY CRUE. I REMEMBER BEING A TEENAGER AND SHIT AND THINKING THIS SOUNDED CRAZY AND REBELLIOUS AND NOW I'M LIKE WOW DAMN THIS SHIT IS EMBARASSING. I KNEW THE SHIT WAS EMBARASSING THEN BUT NOW THIS SHIT IS EXTRA EMBARASSING.
WHY MERO?
BECAUSE THESE NIGGAS ARE WEARING NUMETAL BRO COSTUMES WITH MASKS & SHIT. NIGGAS LOOK LIKE THEY WENT SHOPPING AT ZUMIEZ AND THEN BOUGHT OUT THE SEASONAL HALLOWEEN STORE. THIS MUSIC IS TERRIBLE UNLESS YOU'RE THE NIGGA THAT "CURATES" THE SOUNDTRACKS FOR JASON STATHAM MOVIES, THEN YOU LOVE THIS SHIT BECAUSE IT MAKES YOUR JOB TREMENDOUSLY EASY. IS SLIPKNOT NOT AROUND ANYMORE? CUZ THESE NIGGAS ARE BASICALLY SWAG JACKING SLIPKNOT B. THIS IS A NAUSEATING COMBINATION OF KORN AND SLIPKNOT AND LINKIN PARK AND A BAG OF CIRCUMCISED DICKS. LOLOLOL THIS NIGGA SAID "I AM A LION AND I WANT TO BE FREE" OVER A SOMBER PIANO TUNE, WHAT A DICK. THIS IS UFC TRAINING MUSIC FOR NIGGAS THAT'S NOT IN UFC. THIS IS FOR ANY MOVIE THAT HAS A SLOW MOTION TIGHT ZOOM OF A DUDE IN A RING DOING THE LITTLE SIDE TO SIDE HOP THAT BOXERS DO WITH BLOOD AND SWEAT DRIPPING OFF HIS FACIAL. SO BASICALLY NOTHING I WOULD EVER WATCH.
WE ARE WE AAAAAAARE WE ARE MADE FROM BROKEN PAAAAAARTS OUR HEARTS OUR HEARTS WE ARE BUILT FROM BABY FARTS WE FARTS HEARTS HEARTS SHARTS MARTS CAAAAAAAAAART *INDUSTRIAL SOUNDING BREAKDOWN THAT SOUNDS LIKE A TV ON CHANNEL 3 WITH A HARPSICHORD*
YO THERE'S ALSO SOME CORNY FAKE TYGA SOUNDING SHIT ON HERE ABOUT TOUCHING A GIRL'S BODY AND HER DROPPING IT LOW. WHICH USUALLY I FUCK WIT BUT THIS SOUNDS LIKE BABY BASH WROTE IT FOR EMINEM AND THEN GOT SKRILLEX TO REMIX IT AS A FAVOR. THESE DUDES ARE TRYNA DO LIKE 3 DIFFERENT GENRES OF MUSIC BUT THEY PICKED THE WORST FUCKIN GENRES AND THEN THEY DON'T EVEN DO THEM GOOD. THESE LYRICS ARE COKEDREAM LYRICS TO THE FULLEST B. LIKE THESE NIGGAS DEFINITELY GOT WILD COKED UP AND THEN WROTE "DEEP" LYRICS. "SOME PEOPLE DIE SOMETIMES I AM JUST A SHADOW OF A SOUL" NIGGA PLEASE PUT AWAY THE YAY YOU SOUND LIKE A 14 YEAR OLD WHITE GIRL'S LIVEJOURNAL.
*DOES BACK HANDSPRING FATAL KARATE KICK TO THIS WHOLE ALBUM*
I GIVE THIS 1 PILE OF DUTCHGUTS OUTTA 5. I GAVE THEM 1 PILE BECAUSE THERE'S A SONG CALLED "KILL EVERYONE" WHICH SUCKS BUT I LIKE TO PRETEND IT'S AN UNCLE MURDA SONG AND NOT FRED DURSTS FETAL ALCOHOL SYNDROME COUSIN.
STANDOUT TRACK: "CRUNCH TIME" ON THE MEMBERS OF BYRDGANG MIXTAPE IS A GREAT SONG. THERE'S NO SONGS ON THIS AUDIO METH LAB THAT I WOULD EVEN LISTEN TO TO ATTRACT A SUBURBAN BITCH WITH TATTOOS AND A PICKUP TRUCK WITH GIANT TIRES.
THE KID MERO is unimpressed with most music, which is fine because most music is unimpressive. Find him on Twitter - @THEKIDMERO