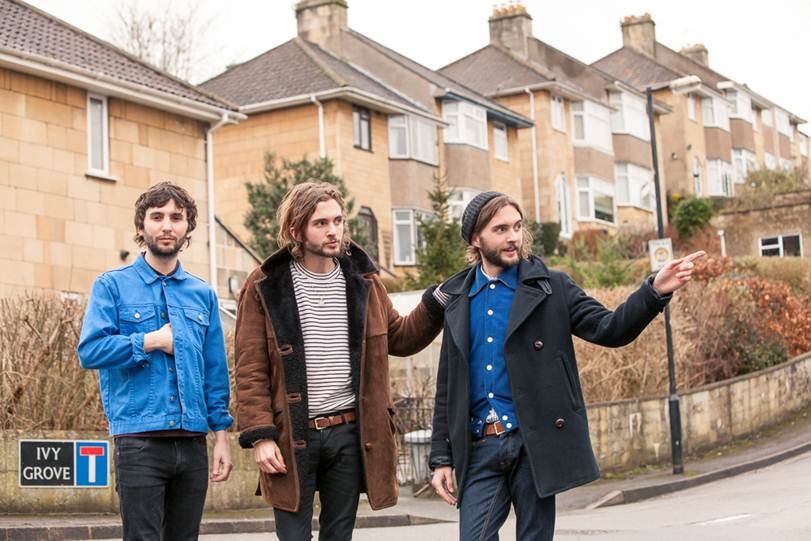 We caught their show at the Komedia, despite the fact they'd been previously banned for life from the venue after an incident involving an Elvis Presley tribute act.
"How, unless you drink as I do, can you hope to understand the beauty of an old woman from Tarasco who plays dominoes at seven o'clock in the morning?"
Malcolm Lowry the author of Under The Volcano, a strange and beautiful novel from which that quote is taken, was a dipsomaniac, which is a lot like being an alcoholic except you don't have to go to meetings. Something about his tale of a Mescal-soaked Englishman living out his final days in the Mexican heat must have appealed to The Family Rain who stole the title for their debut record, which is out next month.
The Family Rain are a rock'n'roll band in the old fashioned sense . They're called 'The Family' because they're three brothers and 'Rain' after Sister Rosetta Tharpe's timeless blues number "Didn't It Rain". The oldest brother, Ollie, plays guitar riffs that strut and stumble like Keith Richards leaving a nightclub. Tim beats the living shit out of the drums while his identical twin Will plays bass and wails like Jack White in a custody hearing.
I first met them in Berlin early last year when they were recording their album at Bowie's infamous 'hall-by-the-wall', Hansa Studio. We'd gotten blind drunk and run amok, so I didn't hesitate when Noisey asked me to go to Bath to watch them play their homecoming show last November. I figured even in the sleepy West Country we'd be able to cause trouble.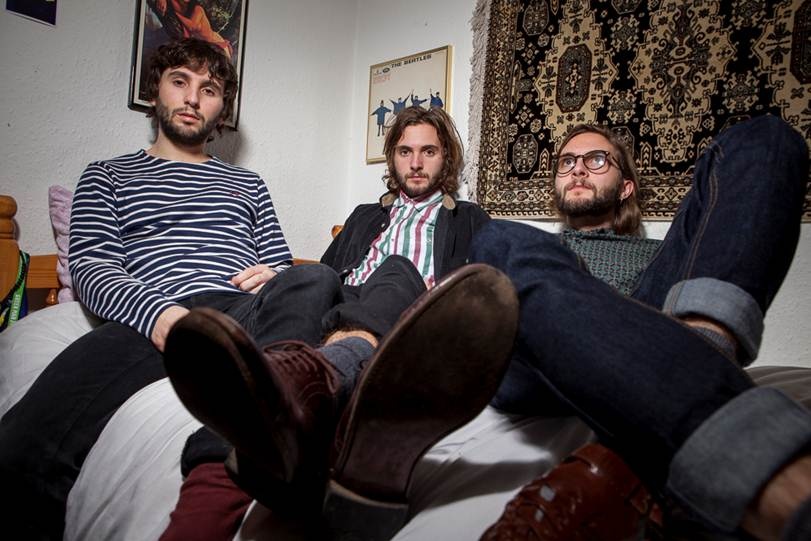 The brothers were lucky to get booked to play the Bath Komedia at all. They'd been banned for life from the venue after an incident involving an Elvis Presley tribute act, a series of hurled drinks and an officious bouncer roughly the size of the three brothers stood on each others' shoulders.
"After they threw me out the first time, I had a brilliant idea," Will explains backstage. "I reminded the bouncer I had a massive bar tab left to pay. He just picked me up, dragged me inside, made me pay, and then dragged me straight back out again." He rubs his beard ruefully. "In hindsight, maybe that wasn't such a brilliant idea."
Luckily the brothers are better at writing tunes than they are at outwitting security. They recorded their album with Jim Abbiss, who produced the Arctic Monkeys' debut and worked on both of Adele's absurdly successful albums. He's generally considered to be a decent man to have in your corner if you want to make songs that get played on the radio.
The Family Rain sound good on the airwaves, but it's playing live where they've made their name. They've built a reputation by playing every charming little shithole in the country. Their reward was a major headline tour at the end of the year, an opportunity the brothers took seriously and soberly. "The first night of our tour was a heavy one," Ollie explains. "It was in Sheffield, and we had a really good show in Queens Social. Afterwards, we went for a drink with a few of the audience. It got real late so we invited people to join us back at our hotel but the guy at reception was being a dick. He didn't want us to take our party upstairs so he called the police. Four cars turned up, which was a bit much, but they were surprisingly cool. The police gave us a lift down the road to another hotel where we could keep partying…"
Tonight's show at their hometown's biggest venue is a marker of how much they've grown as a band during their months on the road. They're on punchy form. Afterwards I catch up with Ollie who's still buzzing from the adrenalin. "Tonight was a big step up for us," he says. "We would usually play Moles Club which is around a quarter of the size but we filled that in the summer. It was a good moment when the tour dates came through and I saw we were playing Komedia. It's an old cinema which we can remember coming to as kids, so to be stood on the stage where we once saw Aladdin was a nice moment." I want to tell him it's "A Whole New World" but think better of it.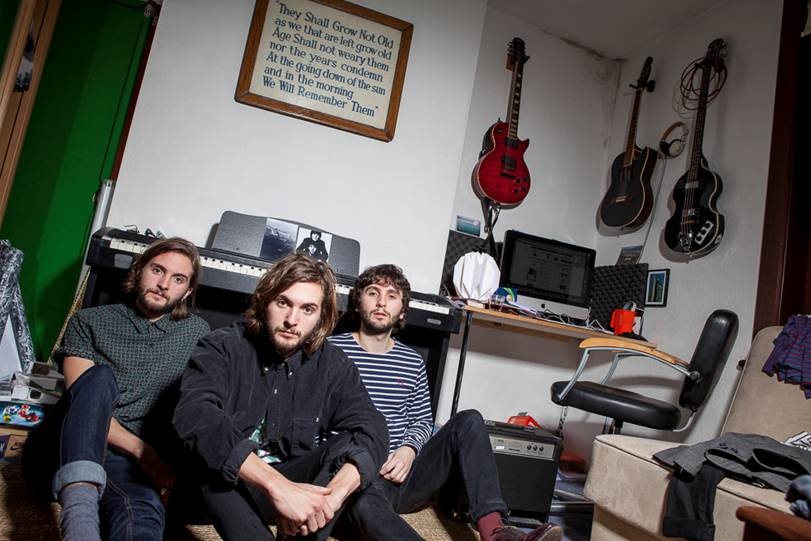 Their show kicks up into another gear when they played "Don't Waste Your Time On Me" and Ollie says that's the song they're most looking forward to people hearing. "It always goes down really well live," he says, "and when we were working with Jim we really morphed it into this break-beat, Spaghetti Western monster."
After the band load their gear back into their tour bus, we head off so they can show me what Bath has to offer in the way of sticky-floored indie discos. I ask Tim whether its weird being in a band with your brothers, but he talks about it as if it's the most natural thing in the world. "Our music is literally home grown," he says. "We write together in the basement of our parents' house while Mum is cooking in the kitchen. We've been doing it for so long now that any of us can come up with an idea, a riff or a title and then we'll develop it together."
They chalk the day up as a success. "It was nice to shake up Bath for the night," says Ollie. "It's a pretty sleepy town and stuff like this doesn't happen that often. Showing off your new tricks to your friends and family is what a homecoming is all about."
A few nights later we meet up again before their headline show at Heaven in London. It's another step-up from Bath, but there's no nerves on display. In fact, the schedule of a breakout band is such that tonight is also the night they're first handed a master copy of their finished record. The minutes before they go onstage are spent locked in a complicated discussion with a video director about the fine details of their next shoot.
While they discuss colour palettes, I get talking to a man in a racing jacket who looks uncannily like Formula One legend and noted ladies' man James Hunt. It turns out to be his son, Tommy, who discovered the band when a montage of his dad winning races and talking about his "big balls" appeared on YouTube, cut together by the band with their song 'Feel Better (Frank)'. He's been a fan ever since.
The Heaven show is even better than the Komedia. Watching the brothers onstage gives that high-wire thrill of watching tight musicianship that could at any moment spill over into chaos. The celebration party continues well into the early hours. The next day's hangover is, as Ollie sagely points out, "one badass motherfucker."
So almost a year since we first met in the studio in Berlin, the time is finally coming for them to release their debut. It must be a hell of a thing to be stood on that precipice: it could make them stars, alongside Bath musical royalty like Midge Ure and The Orb, or they could be run out of town like dogs. Either way, they're confident they've crafted something in their own image. "We're immensely proud of the child we are about to release into the world," says Ollie. "The 10 tracks were easy to piece together because we wanted each song to be unique. Nothing is repeated and each song has its own feel. The bands we're in love with do this so it's something we were keen to recreate. The songs all come from and are about real moments in our lives, so it's a kind of a diary."
So why is the record named after Under The Volcano? Ollie calls the book a "wicked story", but I think there's something about Lowry's hard-drinking roman à clef, with its mixture of hedonism and escapism, that fits the band like a glove. Talking to Will about what the band want to do after the album comes out, he says: "My dream is to buy a house in Mexico with a lot of instruments and write the second album on the beach. There's a whole world to see out there. If we can play music and see the world because of it – well, I can't think of anything better than that."
Follow Kevin on Twitter: @KevinEGPerry
Read more like this:
Finally, a Night of Live Music in London That Doesn't Suck