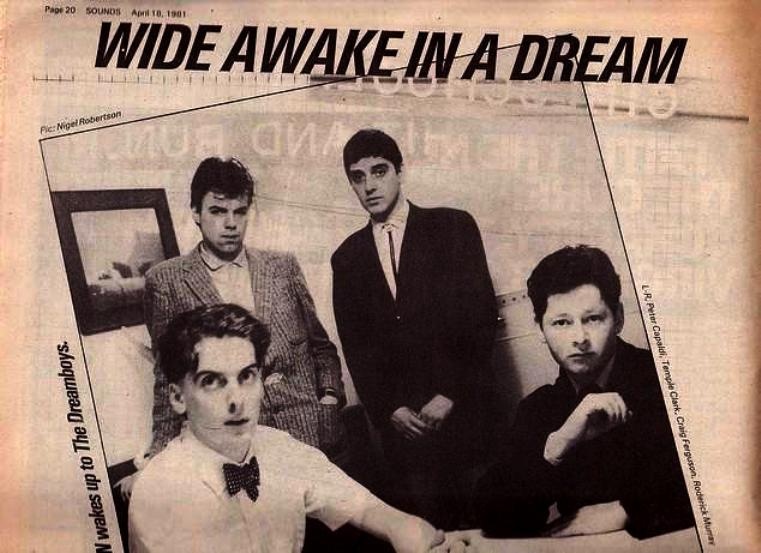 They were called The Dreamboys and you can listen to them here.
Photo by Harry Papadopoulos - buy his book here
Peter Capaldi, aka Malcolm "'I'd love to stop and chat to you but I'd rather have Type 2 diabetes" Tucker, is going to be the twelfth Doctor Who. It's a brave, inspired choice from producers - changing gears from Matt Smith's animated, boyish Doctor to a part that will surely become more psychological.
But guess what? Peter Capaldi wasn't always in his mid-50s! He used to be young! And not just that, he was in an Eighties punk rock band called the Dreamboys. He was the lead vocalist. And Craig Ferguson, one of the biggest chatshow hosts in the US, played the drums. (Some other people who aren't famous - Roderick Murray! Temple Clark! Robert Livsey! - were in it too.)
Clipping from Sounds, 1981
Even the cool bits of Glasgow were pretty grim in the late 70s. Most people wore twin sets, read fanzines and complained about living in Glasgow a lot. So a 22-year-old Capaldi moved from Glasgow to Edinburgh in 1980 and started playing gigs at the Nite Club alongside post-punk bands like Altered Images and the Twinsets. Because of Alan Horne's short-lived label Postcard Records – which, signed up Orange Juice and Josef K – Scotland had a brilliant underground music scene in the early Eighties. A lot of politically minded musicians wrote belligerently utopian, sardonic songs that had a humour and heart that was often missing from London's concurrent new wave scene. John Peel was a champion of the Postcard bands on his Radio 1 show, but wouldn't give a break to the Dreamboys. "We were the only band John Peel never gave a session to in Glasgow," a sadfaced Peter Capaldi once told an interviewer.
The Nite Club, whose name is more meta than a Wes Anderson film about a Wes Anderson film, sounds brilliant. On a promotional poster from the early Eighties, it lists "air conditioning" as one of its attributes. And on Sunday's they had Ital Reggae Disco nights.
The Dreamboys, in a more derivative early incarnation, called themselves the Bastards From Hell, which makes them sound like a cleft of male stippers. But as their sound developed, they became one of the spikier bands on the scene, songs like "Outer Limits" doubling the BPM of many of the bands around at the time, Capaldi's tormented screeches drowning out thick-cut overdrive.
I looked them up to find out whether they were any good. It took a while to find them, because they only have a few songs on YouTube, but I discovered some musical gems along the way.
The Dreamboys… Officer and a Gentleman… Skegness Embassy
These Dreamboys are a trio of oiled-up musclemen performing an out of synch gym routine while removing military uniforms in Skegness. This video has, I imagine, been filmed on a lilac Blackberry Bold by an overweight 55-year-old wearing a pink cowboy hat on a hen night.
Jugu Jugu by Dream Boyz New Rwandan music 2012 Ugrecords 1
I don't know what language they are singing in, but Dream Boyz are the future. A JLS alternative coming to a water aerobics class at an all-inclusive holiday resort in Crete soon.
The Dreamboys: Bela Lugosi's Birthday
Finally, Peter Capaldi's band. Just like how the Guardian live blogged the Doctor Who announcement, I'm going to live blog my experience of this track.
0.09: Someone is putting on a record.
0.12: A Johnny Marr guitar line starts up. It is brooding and Scottish. I think I fancy it.
0.39: A man has started singing. I think I fancy him. Oh wait I know I do because it is Peter Capaldi. He sounds moody and bored.
0.48: I might describe this as the sound of young Scotland, if I had been alive in Scotland in the early Eighties and had the authority to identify its sound.
1.01: This is the song that Matthew McCounaughey would listen to as he drives away from a heated argument with Kate Hudson in a film about in-laws or women with shopping addictions or something.
1.24: I wish the lyrics were a bit more audible so I could scrawl them in the margins of my notebook.
1.49: Peter Capaldi has stopped singing.
2.02: There's not been any singing for a while. Just a long, instrumental pause.
2.18: Still no singing.
2.56: Still no words
3.11: It ended.
Listen to the other tracks below: