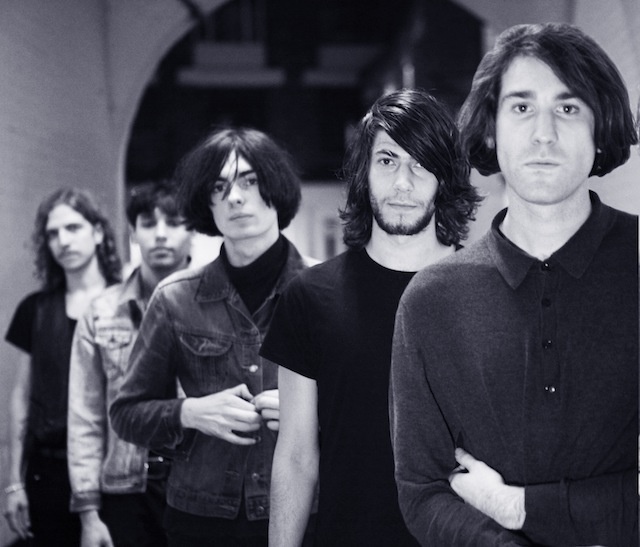 Charlie also tells us about his favourite glamorous music videos.
Charlie Boyer and The Voyeurs remind us of a time when music was a little more glamorous. Instead of skirting through off beat clothing shops for torn skinny jeans and throwback five panels, Charlie Boyer and The Voyeurs are more likely to be found raiding their Mother's dressing tables. Because we've never raided our Mother's make up cupboards and had an unfortunate run in with a tube of eyeliner in our youth, we asked Charlie to explain things to us.
"The words 'British Guitar Music' conjure up a macho plodding nothing. The whole beauty of a guitar is that you can use three chords and run in any direction. There is no need for anything safe and no particular thing that you have to remain loyal to. That's where the glamour and danger come from... not specifically from the feather boas, but the ambiguity. I'm not saying that all the bands in Britain should sparkle and pout, but maybe there is a little twinkle of the eye needed."
We've got the exclusive on the new video from the group, titled "Be Glamorous" which is taken from the Edwyn Collins produced debut album Clarietta.You can take a look below.
Also, as a little extra from Charlie, we asked him to send us a list of groups that excite him. The words that follow have been plucked directly from his brain and placed upon this here page.
John Leyton: "Johnny Remember Me"
"Joe Meek songs always have a glamorous but ghostly feeling. I love the stories about his studio on Holloway Road. I picked this one because it was the first one I heard. The backing vocals are beautiful."
The Jesus And Mary Chain: "The Hardest Walk"
"To me, they had more glamour than any group. And they did it all without makeup."
Pulp: "Babies"
"They changed Serge and Brel and all that into this go-to British love song. Really wonderful."
Todd Rundgren: "International Feel"
"Todd Rundgren is a ridiculous artist. I think he made such considered music. The song is perfect and the lyrics are heart breaking."