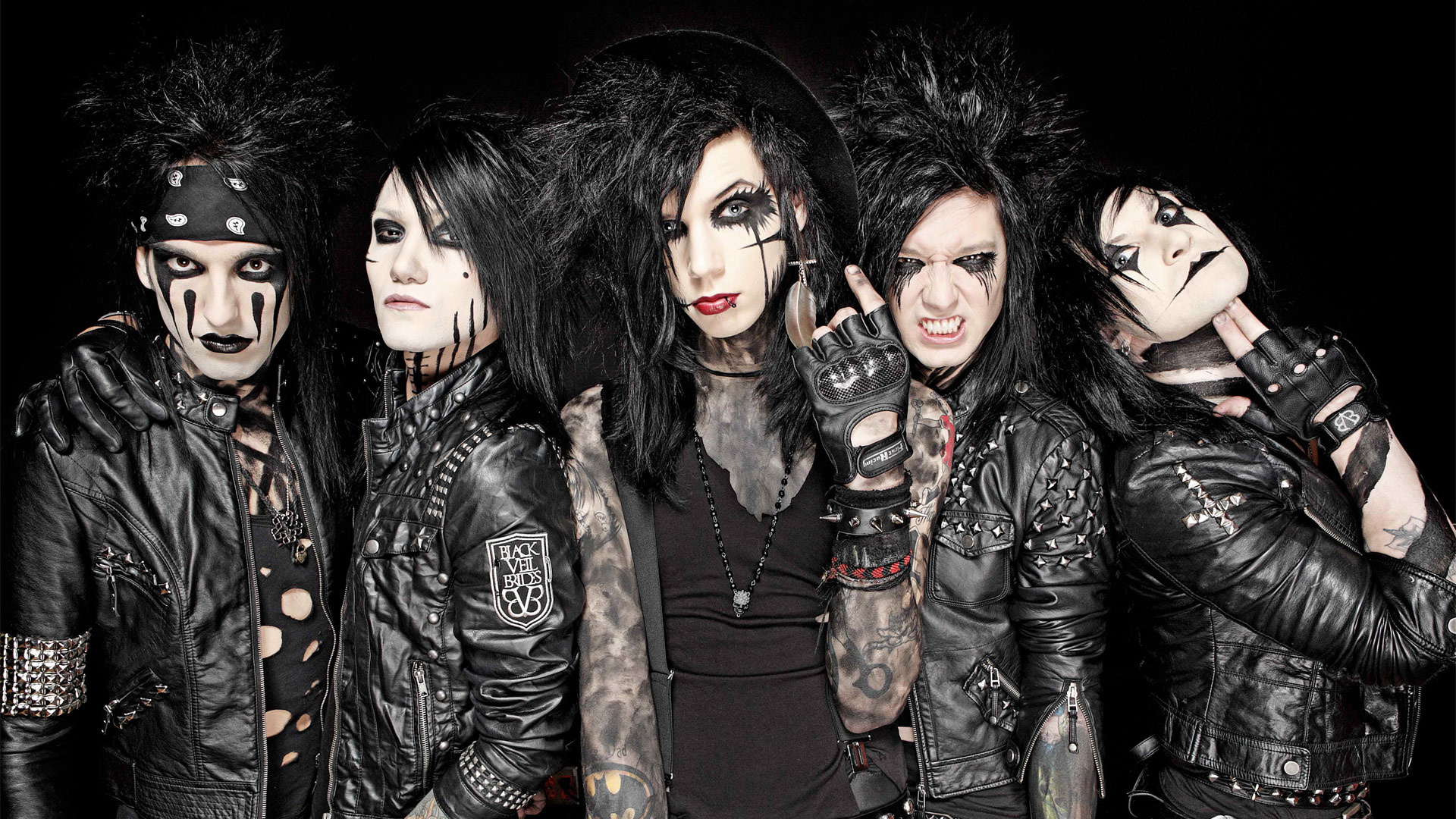 I CAN SEE DIRTY FINGERNAILED PROTO-INSANE CLOWN POSSE FANS WITH LIP PIERCINGS STOMPIN MUDHOLES INTO EACH OTHER TO THIS SHIT.
[Ed's Note: Listen along to Black Veil Brides on Spotify, because you probably have not heard of them even though they are hilarious.]
YO HAVE YOU SEEN THESE NIGGAS BRUH? THEY DRESS LIKE MAGICIANS WHOSE ONLY TRICK IS PULLING AN INFINITE STRING OF ANAL BEADS OUT THEY ASS. HOW AM I SUPPOSED TO TAKE YOU SCREAMING AND YOUR INTENSE GUITAR RIFFS SERIOUSLY WHEN YOU LOOK LIKE A GOTHIC FIGURE SKATER B?
THESE NIGGAS BE ON STAGE DOING TRIPLE AXELS INTO "CHUNKY GUITAR BREAKDOWNS" LOOKIN LIKE A TIM BURTON SEX SLAVE CARTOON. YO THIS MUSIC IS PRETTY BAD ACCORDING TO ME BUT THESE NIGGAS ARE WILD POPULAR (DREW TOLD ME THAT I'MA TAKE HIS WORD FOR IT). I CAN SEE DIRTY FINGERNAILED PROTO-INSANE CLOWN POSSE FANS WITH LIP PIERCINGS IN FLYOVER STATES STOMPIN MUDHOLES INTO EACH OTHER TO THIS SHIT WHILE WEARING GIANT PILLOWY DC SKATE SHOES THOUGH, SO HE'S PROLLY RIGHT. THIS DUDE'S THROATY MARLBORO RED GROWL IS WILD INCONGRUENT WITH THE IMAGE OF THIS BAND B. I KNOW IN THE 80'S NIGGAS STRAIGHT UP DRESSED LIKE WOMEN BUT SON THE 80'S IS OVER.
HOW MUCH WORK DOES IS TAKE FOR THESE NIGGAS TO GET DRESSED? I BE WAKIN UP TO GO WORK AND I DONT EVEN WEAR A REAL SHIRT UNDER MY HOODIE, AND I WORK WITH NIGGAS THAT WEAR TIES & SHIT.
IMAGINE GETTING UP IN THE MORNING AND HAVING TO APPLY BLACK LIPSTICK AND PUT PANTYHOSES ON MY ARMS AND SHIT? CMON MY NIGGA THAT'S MAD WORK I AIN'T ON IT LIKE THAT. I WAKE UP LATE, FALL IN THE SHOWER AND PUT ON JEANS IN THE CAR ON MY WAY TO WORK. THESE NIGGAS MUST WAKE UP AT 3AM EVERYDAY AND START RIPPIN HOLES IN FISHNET STOCKINGS AND SEWING TOGETHER GARBAGE BAGS TO USE AS PANTS. THEY SHOW THE SAME AMOUNT OF DEDICATION IN CRAFTING SONGS THAT SOUND LIKE THEY WERE WRITTEN BY AN ELF IN WORLD OF WARCRAFT. "WRETCHED AND DIVINE" SOUNDS LIKE THE TITLE OF SOME GAME OF THRONES FAN FICTION WRITTEN BY A NIGGA WHO NEVER SAW A HUMAN AREOLA IN REAL LIFE. NIGGAS ARE KILLIN ME WITH THE HIGH PITCHED GUITAR SHIT I DONT EVEN KNOW WHAT THAT SHIT IS CALLED BUT I FEEL LIKE I'M ABOUT TO FIGHT DR. ROBOTNIK IN A GIANT ROBOT SUIT.
THIS SHIT IS FOR THE SCENE IN THE MOVIE THATS A MONTAGE OF THE DEMURE ASS DUDE THAT GOT BULLIED TRAINING WITH SOME UFC NIGGA FOR THE "BIG TOURNAMENT" WHERE HE'S GONNA FIGHT THE BULLY WHO HAS TORMENTED HIM FOR YEARS. *CUT TO SCENE WITH BULLY TAPPING OUT IN SLOW MOTION & REF HOLDING UP NERDS ARM IN VICTORY WHILE HE STANDS BLOODY BUT UNBOWED*
I'LL SHOOT THIS SHIT B I GIVE THIS 0 PILES OF DUTCH GUTS OUTTA 5 BECAUSE I CAN'T GIVE THESE NIGGAS ANY POINTS B THEY HAIR LOOKS LIKE THEY STYLE IT WITH MOOSE SEMEN.
STANDOUT TRACK: WHEN I TURNED THIS SHIT OFF AND PUT ON FRENCH MONTANA'S "THRILLA IN MANILLA" THEN I MIXED INTO 2 CHAINZ'Z "I'M DIFFERENT."
THE KID MERO dispenses #KNOWLEDGE on Twitter - @THEKIDMERO