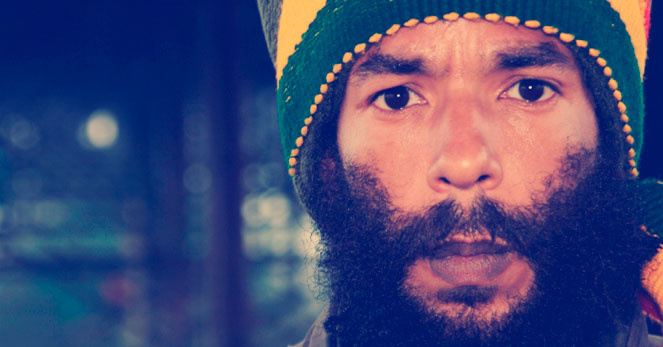 We spoke to dub luminary Congo Natty about his new video "UK All Stars"
Dub luminary and stalwart of the jungle scene, Congo Natty, has gathered fellow dub heavyweights General Levy, Top Cat, Colonel, Tippa Irie, Tenor Fly, Daddy Freddy and Sweetie Irie on hype new track "UK All Stars". We've got the premiere on Noisey today, so we spoke to Congo about working with grime, dubstep and hip-hop stars on his forthcoming album and why jungle will never stop being underground.
It's sort of like jungle week on Noisey. As well as the premiere and this interview we've got an in-depth piece about the origins of the genre from legendary underground DJ Tayo Popoola coming tomorrow. We also had a track premiere from an artist called Jungle, but that was more of a coincidence.
Noisey: Hi Congo!
Congo: Bless
You're best known for classic jungle tracks you made under the name Rebel MC. What's the difference between the music you make as Congo Natty and the stuff you did as Rebel?
It's more like a growth again bro.
How do you mean?
You know when you see a picture of Rebel, you don't really see much beard. When you see a picture of Natty you see the beard has grown and that. It's more like a growth ting. The lyrics are fundamentally peace and love same way and also awareness. What's happening now is just growing into where I am now.
But you've never taken a break from live MCing though have you? People can still see you on the mic at jungle nights?
Nah, I've never taken a break from anything musically. In fact I've done more work since the time of Rebel when I went into running my label. When I started to run with Congo Natty that's when I started working even harder with the production and went even deeper into the music. There's a time when you lose yourself in what you're doing and that was Congo Natty with jungle.
How did jungle emerge as a genre in the late 80s?
Have you seen that documentary The Windrush is about when the first West Indians came to the shores of England? This whole energy came to England and it manifested itself through sound systems and music. Even the term 'rave' was something that we brought over. That whole sound system culture that I was born into wasn't the norm in England. It was only for the people that were around it and maybe in that inner city area. That sound came through in the 80s and early 90s that whole sound system vibe. You had a whole set of different mans doing their thing and the sound system culture was seeping through. Now the sound system is the norm, so youths have grown up knowing about the bass speakers and all them ting there.
I guess that's why there's been a resurgence of a lot of 90s dance genres of late - a lot of new acts say they're influenced by that era of R&B, garage and house. Jungle hasn't had that kind of fresh attention though, certainly not in the mainstream.
There's a whole new generation that's getting into jungle music. They didn't hear it on TV, they didn't see it in the magazines, it wasn't everywhere on the radio because if certain mans were dropping tunes here and there, jungle music is not everywhere on a commercial level. It's still underground. A real jungle soldier and MC still have to work very hard to get through and survive. I would say a new generation discovered it because it's the kind of music that it could be your uncle, it could be your mum, it could be your dad that is playing it and then it's just carried on. Now there's a new generation of junglists that are youths so it's mystical music.
How did the UK All Stars video come about?
That came about just as a way of showing maximum respect and love to the sound system and MCs. Without that, you wouldn't have a jungle scene in the same way that we have a jungle scene. This track was really paying homage to them as very special artists that inspired different MCs in very different styles of music, not just jungle. There's hip-hop mans and there's dubstep mans out there and there's grime youths out there that these artists here have inspired them. I wanted to get them together because unity is strength bredrin. What happens over a set of time is that everyone gets fragmented so you don't get to speak to people for a long time and then you realise its time to link up again and get the energies flowing. That video there was more than a just video, it was like a family reunion
You grew up in Tottenham but have lived in Ethiopia and Jamaica. What's it like living back in London? Shit, I'd imagine.
London is a place that you love and hate. The beauty of London is that some of the toughest music in the world has come from London so there must be something going on with the people that when we get together we're very powerful. Jungle is that challenging music, we're not going with the mainstream pop ting. That's bullshit. We're not running with the whole ice cream, candyfloss, chocolate fudge business. This is a deep ting and we're deep in London. In London, we've got some serious soldiers in music and we're carrying the torch.
When you first started there was nothing like commercial dance music, all club music was underground. Now you have billionaire DJs, do you think this makes it harder to make commercially resistant music?
I feel it's more important now than it's ever been to have music that's real and that has a real heart and soul message that is worth more than material things and fantasy and illusion. At the same time, they're flooding the world with this kind of cheesy music that in a way is gonna get rejected anyways. Music always happens in cycles. When reggae music first came about, if you think about where it stood, it was that uprising, revolutionary music that was fighting against the system. Eventually, reggae became an international music. Hip-hop did the same thing. It came, then it fought against the system in a way that it was a rebel. With what's happening now, you can see the revolution is here. That's why we're speaking because the revolution is taking place. The youths are the revolution. They're gonna stand up and they're gonna say what they need to say because it's in their heart anyway.
Congo Natty's new album, Jungle Revolution, is out on July 1st. Pre-order on iTunes or Ninjashop