"YOU ARE NOT BETTER THAN POP MUSIC"
My mate who runs a rock night got sent the best hate mail ever.
What with the advent of, like, the internet and social media, it's been ages since I've received typed-up, printed and signed hate mail in the post. Which is why I'm totally jealous of this impassioned rant that was sent to @LastResortClub in defence of pop music.
Highlights include:
"If you think you are superior to a One Direction chorus then you are a cunt."
and
"Sean Paul is cat nip for sluts."
Both valid points. Read it for yourself anyway.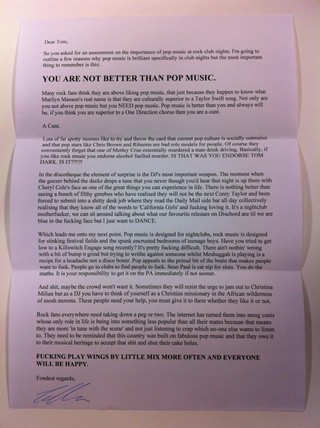 AGREE / DISAGREE?