The Evolution of Clipse
"From ghetto to ghetto, to backyard to yard..."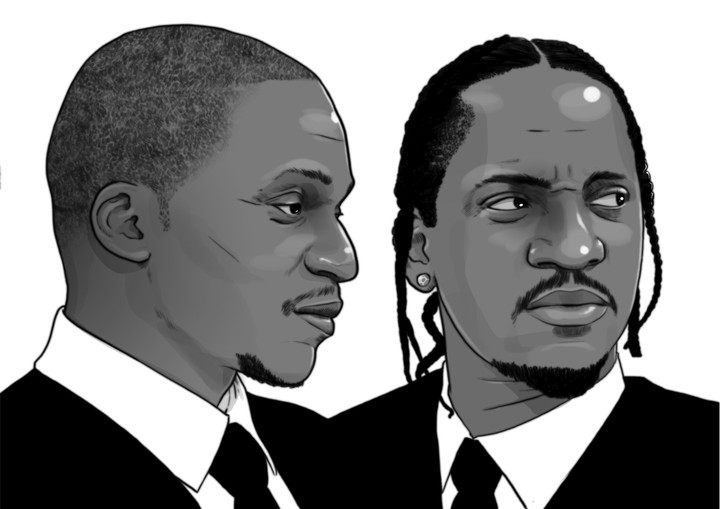 Illustration by Dan Evans
Bronx born and Virginia raised duo, Clipse, otherwise known as brothers Gene "No Malice" Thornton and Terrence "Pusha T" Thornton, put coke rap on the map. Working with childhood friends The Neptunes, who were to become one of the most lauded production teams in modern music, they made their mark on the rap game using the bare bones of Neptunes' signature style, delivering devastatingly cold stories of life dealing drugs in America. At their height their approach to lyricism was chilling and methodical but yet totally enthralling. During a time where hip-hop was making a bid for the pop charts by monopolising the mainstream with charismatic choruses and bottle poppin' club anthems, Clipse's unrelenting, matter-of-fact tale telling of their lives pushing weight were delivered so vividly that Clipse provided a refreshing, if at times menacing, respite from the radio friendly leaning of noughties hip-hop.
Now, as younger brother Pusha firmly establishes himself as a stellar solo artist with the release of debut LP My Name is My Name, here's a look back at rap's most formidable brother duo.
The birth of Clipse and Exclusive Audio Footage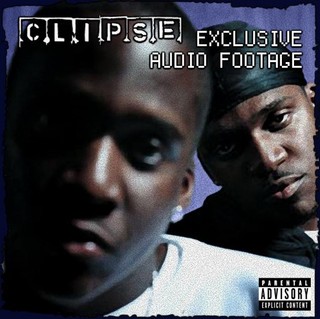 Though raised in Virginia, a place of more than solid musical standing having birthed the likes of Timbaland and Missy Elliott, Clipse have always cited their East Coast roots as key to their music. In an interview with Pitchfork, Malice spoke about how New York's influence never left him:
When I'd go back to the Bronx my cousin Snapper was still there. I was telling him about how much I liked Run-D.M.C., and he was like, "What? Run-D.M.C.?" They were so mainstream. He would hit me with the underground stuff— like Rakim at the time— and put me onto that, so when I'd go back to Virginia I was always one-up on everybody. I'd let them hear new songs, or whatever was on "The Rap Attack" from DJ Red Alert...Big Daddy Kane all day. Big, Nas, Jay-Z, we'd trip over those all day long. Large Professor definitely. Kool G Rap, KRS-One. The Juice Crew were just hot to me. Cats like those.
Still, it was once settled in Virginia that the brothers first immersed themselves in rapping, eventually crossing paths with Pharrell in 1993. Impressed with their dense lyricism, Williams introduced them to his production partner, Chad Hugo, and the working relationship that ensued with The Neptunes marked the start of Clipse as a duo. By 1997 Williams had helped secure them a recording contract with Elektra Records, and they began work on Neptunes-produced first album Exclusive Audio Footage, releasing what should've been their lead single "The Funeral" in 1999, which sampled Blood, Sweat & Tears "God Bless The Child", to a promising reception. Speaking to Complex, Pusha looked back at the Clipse's first offering saying:
"'The Funeral' was written at a time when a few of my friends had died. It seemed like we were going to an abnormal amount of funerals all at once. So we decided to make a song eulogising ourselves. The beat was so dynamic though that it really caused a stir. It was just loud and chaotic and it sounded like the second line that they do in New Orleans funerals where they march down the streets."
Though the track and its energetic visuals were met with praise from rap fans, Elektra were having second thoughts and eventually shelved the recording of Exclusive Audio Footage all together, worried that the single hadn't made enough of a commercial dent.
Lord Willin' 2001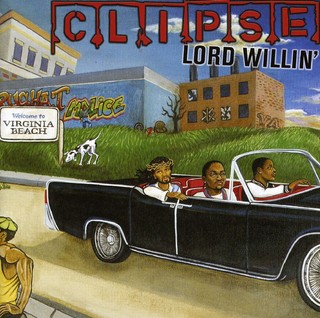 By 2001, The Neptunes' star had risen dramatically and Pharrell signed Clipse to his Arista Records imprint, Star Trak Entertainment, kicking off with their first full release Lord Willin' in August 2002. The album debuted at number one on Billboard's hip-hop chart with cuts like catchy single "When the Last Time", and hometown anthem "Virginia" seeing the brothers quickly garner rap fans attention, as well as features away from the LP on Birdman's "What Happened to That Boy" and, strangely, popping up on Justin Timberlake's first ever single as a solo artist , "Like I Love You". But it was lead single "Grindin'" that became the definitive Clipse track. Though the Neptunes were carving out a fearsome reputation for making chart topping R&B-cum-hip-hop, "Grindin'" went back to basics, coupling aggressively sparse beats with Clipse's cocaine heavy bars, their remorseless one liners providing an unparalleled cold-bloodedness. When Pusha recalled the moment he first heard it he said:
"I remember being at home and Pharrell saying, 'Listen, I got this record and if you don't come to the studio right now I'm gonna give this record to Jay-Z.' And he just knows that it would burn me up inside if he did something like that. I'm very territorial about Neptunes' production. I'll leave text messages, voice messages, and emails of pure disgust and disrespect when they give away records that I feel like I should have had.
When I heard 'Grindin'' I was like, 'How do you rhyme to this?' It was was so unorthodox that I couldn't really catch it. People don't understand that I did every $5,000 show with every drug dealer in the United States of America behind that record. Things start in the streets and the hustlers of the world resonated with ["Grindin'"] so well that they were just booking us. It was an underground cult kinda thing. It was like, 'Come to Detroit, five racks, wear a bulletproof vest' and 'Come to Milwaukee where you need armed security.' And this isn't a radio-driven thing. This is something that's basically brewing in the streets."
The Clipse hiatus and formation of Re-Up Gang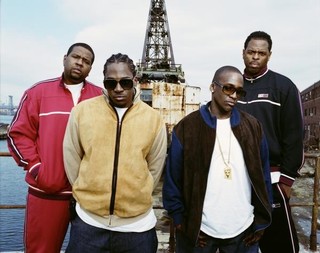 Though still riding the high of "Grindin'" at the end of 2003 work had already started on their second album Hell Hath No Fury. But it was during this time that Sony had entered into a merger with BMG; in turn Arista Records was dissolved into sister label Jive. But while the rest of Star Trak's roster found a new home at Interscope, Clipse were forced to stay at Jive to honour contractual requirements.
Hell Hath No Fury had been completed by 2004 with seemingly no hope for release, Clipse accusing Jive of favouring their more chart friendly acts and grounding the album to a complete halt. The bad blood resulted in the brothers requesting a formal release from their contract. Jive refused and Clipse proceeded to sue the label. As litigation began and the future of Hell Hath No Fury was up in the air, Malice and Pusha began to release music alongside their long time friends and Philly rappers Ab-Liva, of Major Figgas, and Sandman as The Re-Up Gang. Though they later dropped a studio album in 2008 as The Re-Up Gang, it was the We Got It 4 Cheap mixtape series during Clipse's hiatus that became underground classics of the mid 00s, as Clipse were praised for embracing their break from Jive. On the move to mixtapes Malice noted:
"Connecting with the fans is definitely one of the high points of being in this industry. We were gone for four years, and the fans were what kept us alive, kept lighting the fire to Jive's ass, lighting the fire to Pharrell's ass, lighting the fire to everywhere...Even in the beginning when we couldn't buy our way onto a mixtape, [we were] just trying to get exposure, trying to get on all the hot DJs' mixtapes, and we just couldn't do it. So we said, "Okay, we'll go the Outkast way." Outkast were from Atlanta, and we're from Virginia. And they didn't get in the rat race with all the New York MCs. They stayed in their zone, and we were forced to pretty much stay in our zone, so now it's like the mixtapes for us have proven to be vital, keeping us alive and relevant."