What Would These Pop Wannabes Do To Get A Sony Record Deal?
Including BDSM, slavery and agreed mandatory sex with elderly female music execs
Xenomania, the songwriting powerhouse that was home to Girls Aloud (RIP) as well as a host of forward-thinking but largely failed popstars like Florrie, Mini Viva and Alex Gardner, held an open audition in Shoreditch today. Around 300 unemployed people started queuing from the early hours of this morning, replete with instruments, pushy parents and the fashion sense of an Italian first-year King's College student with a Bicester Village store credit card. They were all hoping for a chance at international stardom (or at least a "Song Of The Day" on Popjustice and an inevitable follow-up career as a backing singer in a more commercially viable project).
In a mean-spirited attempt to mock the fame-hungry and suburban, we went out with our best X Factor interview questions (Where do you see yourself in five years? Who could you be as big as? etc) to find out who had what it takes.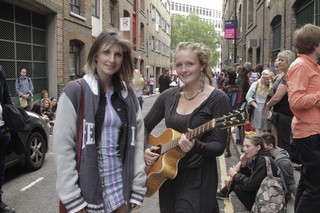 Laura and Tereza
Are you ladies a group together?
We were going to go in and see if we could do it as a duet, but if not we're going to go in separately.
So you're willing to disband for the cause?
Absolutely.
What sort of stuff do you make then?
It's kind of acoustic R&B, mixed with rock and power ballads. We do covers together on YouTube.
Do you get much good traffic?
Our cover of La La La by Naughty Boy is on about 150,000 hits.
Nice! What's your stage name?
L+T. Our names are Laura & Tereza.
Good luck!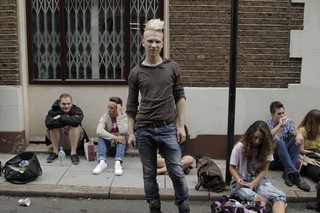 Long lost Jedward bro from Russia

Hi! Nice look. How would you describe your style?
Pop and dance.

That's how you'd describe your style? I think it's a bit Jedward.
Yeah, I want to change my hairstyle. Actually I came up with this idea before they were using it on X Factor. When I saw them on the telly I was like, argh, no way.
What if you went in to the audition and they were like "we love you but you have to change your hair"?
Yeah, I'd do it.

Would you dye your hair pink?
Yeah. I did it a couple of years ago. And green, black, ginger, it's been all the colours.

What about if they asked you to shave it off?
Yeah, I've been bald. Like, three years ago.

Who would you say is your style icon?
Madonna.
So, will you be performing a Madonna song? One of the classics from MDNA perhaps?
I'm doing my own song because I have my own stuff and I wrote my own album last year. I'm just promoting myself. Back in the day I used to sing Madonna stuff and ABBA.
Okay...what would you do for success?
What do you mean?
What if the label said you could be famous, but only if you sleep with Sharon Osbourne?
Just once?
Yeah.
I'd do it.
What if she was really kinky and into BDSM?
Yeah, go for it.
What would be your cut off point. What if she wanted to wee on you?
No, I wouldn't do that.
Fair enough.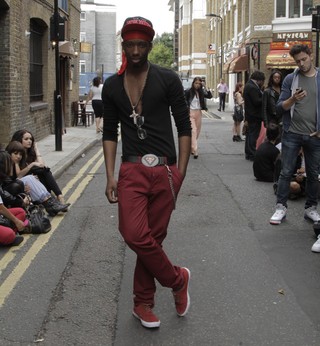 Kelvin aka J Star
Dude. I love your hip-hop style! So if the record big wigs wanted to change you into some rockstar dude, would you do it?
Yeah. I think some rock star looks are kinda nice. The younger rockstars are cool.
What about changing the style of your voice though?
Oh, you mean like...[makes weird, indescribable growling noise]? I like all genres, but pop is my thing.
OK. Big question, are you in this for the fame or the music?
Fame.
What would you do for fame?
Anything.
Anything?
Anything!
So if Sharon Osbourne wanted you to be her servant on a leash, you'd do it?
Yeah [then he woofed :(]
What if it was Simon Cowell?
[Nods] Simon Cowell is Simon Cowell.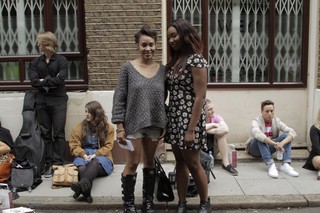 Britney and friend
Could you sing something for us? If you get signed you'll have to do it all the time. Think of it as a test.
That sounds cool, but I think I'll wait.
If you got signed but the first thing they told you to do was wear Gaga's dress of offal, would you do it?
I wouldn't do it because I'm vegan. You do have to understand from the beginning that there are going to be changes, but you can't lose your soul with it. I'm sorry. I wouldn't do that.
How about six months of free labour?
Six months is nothing in the music industry. Sometimes it doesn't matter, you have to see what's in front of you.
If your number one single was in front of you, but all you had to do was spend a cheeky five mins with Simon Cowell?
No. You don't have to sleep with anyone these days.
O RLY? Thanks for the memo.

Leo Jonah

What sort of music do you make?
Stevie Wonder kind of stuff, soul, mainly R&B influences.
How long have you been doing it for?
12 years. I'm 18 now. I used to do competitions when I was really young.
Is this the biggest thing you've ever done?
Yeah. I don't really know what's going on, they didn't give that much information. They just said there's this and that, come. It's an open audition.
That sounds a bit Casting Couch Teens to me. Are you going to do one of your own songs or a cover?
I'm going to do "The Lady in My Life", but the Ne-yo version. I might do Stevie Wonder, but I haven't decided.
What would happen if you went in there and they signed you, but said you had to do a song with David Guetta, would you do it?
I'd do anything to get signed.
Would you do bitch jobs for six months to get a number 3 with David Guetta?
Yeah, probably.
How about joining the illuminati?
What? Let me get there first. Why would the illuminati want me anyway?
That's the thing with the illuminati isn't it — you just don't know.
Nah, I probably wouldn't do that.
Well it seems "anything" really doesn't mean anything with you Leo. Best of luck.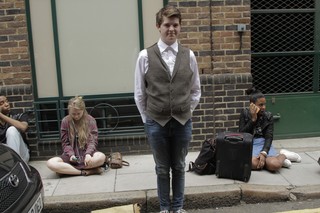 Mumford and Sons Junior, 16

I like what you're wearing. What went through your head this morning when you decided to wear this?
I dress like this normally. I quite like Victorian fashion.
What, like top hats and canes?
Yeah, I've got a top hat, but I don't have it with me today. I don't have a cane but I'm thinking of getting one.
If they signed you straight away but told you you had to start dressing like JLS, would you take it?
No way. I'd rather not be signed at all than have to change who I am.
That's very honest. How about Michael Buble? You could still wear tweed.
I like suits anyway, so that would be okay.
So what song are you going to do when you get in there?
A cover of "Wonderful World", I think.
How far would you be willing to go for the right contract? Would you feed Louis Walsh's dogs for six months for free?
I already have dogs, so it wouldn't make any difference.
If you had to go and feed his parakeet, would you do it?
If I was to get signed, I wouldn't expect to be having to do any of these things.
You gotta start somewhere. Who do you compare yourself to?
I'm a bit like Frank Sinatra.
You go girl. Good luck!
Follow Tamara and Errol on Twitter @tamararoper and @errol_and
For more like that read:
Has Justin Bieber Gone Off The Rails?